A costumed protest against the candidacy of Nigel Brown for the post of auditor of the National Anti-Corruption Bureau was held on Monday, 20 March in front of the parliament.
The head of the anti-corruption committee of the Verkhovna Rada Yehor Sobolev, the head of Transparency International Ukraine Yaroslav Yurchishin, and MP Serhiy Leshchenko came to support protesters, who were dressed in the costumes of cartoon characters Peppa Pig, Panda, Shrek, Mignon, Pikachu and Ninja Turtle.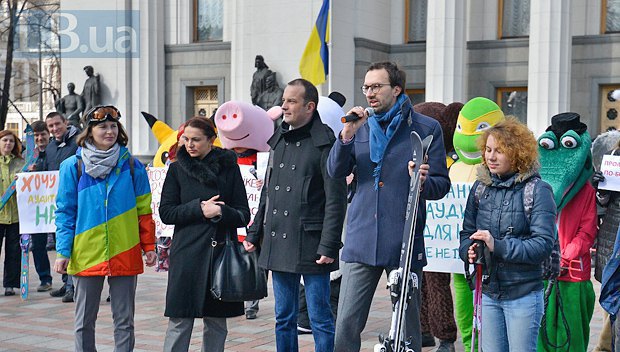 In the words or organisers, these characters are just as fit for the job of NABU auditors as Nigel Brown.
The appointment of the NABU auditor from the Verkhovna Rada came to the prominence after the parliament's anti-corruption committee has put forward one of the candidates in bypass of its chairman Yehor Sobolev. The members of the committee have suggested the parliament to consider two candidates: British Nigel Brown and American Robert Storch.
Some lawmakers believe, however, that Brown is a pocket candidate who will ensure the governments control over the NABU and even initiate the dismissal of the Bureau's chief Artem Sytnyk.
On Monday, deputy chairman of the faction of Petro Poroshenko Bloc, Iryna Lutsenko, said that the Rada may discuss the candidatures of NABU auditor on March 21.