President proposes to abolish MP immunity after 2020
The decision will concern new convocation of parliament.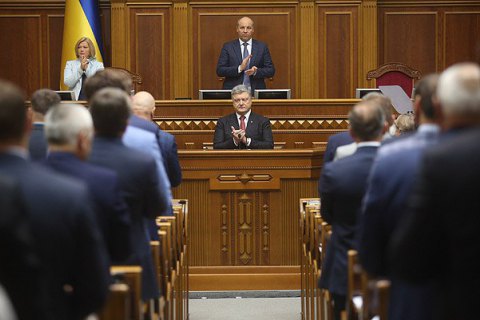 President Petro Poroshenko urged the Verkhovna Rada to abolish the parliamentary immunity starting from 2020. "I urge you to finally adopt changes to the Constitution and abolish the immunity of deputies. To make it easier for you to take this decision so that you do not have a feeling that it is somehow aimed against you, I have a very simple proposal: let's vote to make this decision effective from January 1, 2020, for the deputies of the new Verkhovna Rada," the president said in his annual address to the parliament on Thursday, 7 September.
In 2015, President Poroshenko proposed in a bill to abolish the immunity of people's deputies and judges. The bill also provided that the Constitution should retain a provision that people's deputies cannot he held responsible for the results of voting or statements in parliament and its bodies, except for the responsibility for insult or libel.