More than 92 percent of Ukrainian citizens consider themselves ethnic Ukrainians while only 5.5 per cent feel themselves Russian. The younger the respondents, the more often they position themselves as Ukrainians. In the western part of the country, 98.3 % of respondents stated their Ukrainian national identity; in the north – 94.8, in the central Ukraine – 94.2, in the south part – 87.5, in the east – 84.6 percent.
These figures are part of findings of a joint sociological research "Ukrainian Society and European Values" by Gorshenin Institute and Fridrich Ebert Foundation's Representation office for Ukraine & Belarus, an expert of Gorshenin Institute, Svitlana Balyuk, said during the presentation and discussion of the poll results on 24 October.
In the course of the last population census in 2001, 77.8 percent of Ukrainian citizens identified themselves as ethnic Ukrainians and 17.3 percent – as the Russian.
The unveiled poll found that 55 percent of those who now identify themselves at Russians consider themselves citizens of Ukraine. About a quarter of this group are respondents residents of the east of Ukraine aged over 60.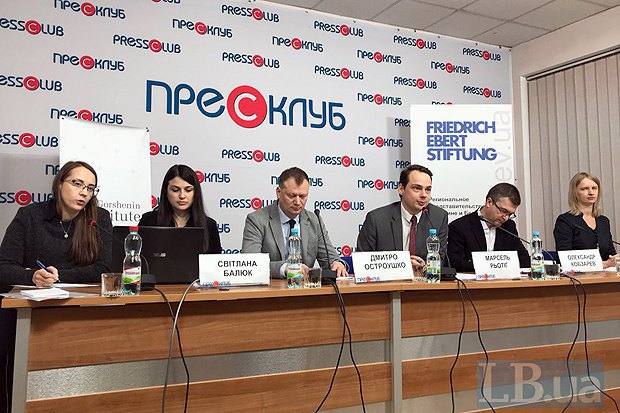 Photo: Lb.ua
Over 60 percent of respondents speak Ukrainian at home, 37 percent speak Russian. However, the fact that residents of the occupied territories, who are mostly Russian-speaking, did not participate in the survey, may have significantly affected the picture.
Director of the City Institute, Oleksandr Kobzarev, reminded during the discussion that the proportion of Ukrainians barely changed in Ukraine in the last hundred years beginning from 1900.
"In spite of the [man-made famine of 1932-33] Holodomor and other dramatic moments, the percentage of Ukraine's residents who identified himself as Ukrainians, remained unchanged. The share of Ukrainians jumped dramatically over the past few years, and was definitely in response to the ongoing war [in Donbas]," he said.
The study "Ukrainian Society and European Values" was held in April-May 2017. Within the framework of the survey, 2,000 respondents aged over 18 were interviewed in all regions of Ukraine (except the occupied territories of the Autonomous Republic of Crimea with the city of Sevastopol, and Donetsk and Luhansk regions).