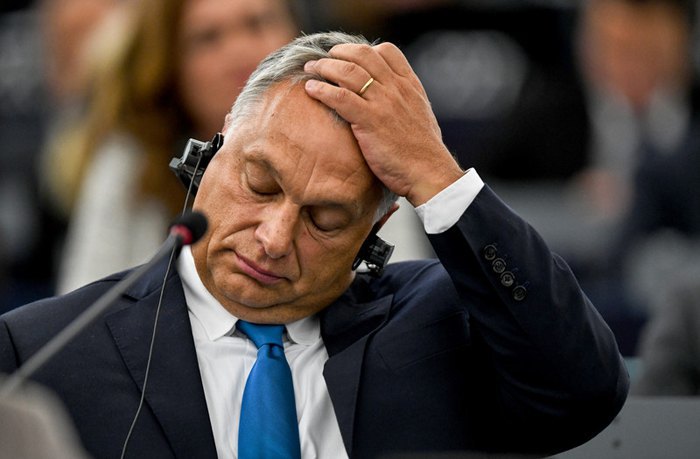 Hungarian Prime Minister Viktor Orban at the EP plenary session in Strasbourg, 11 September 2018
The European Parliament has launched disciplinary proceedings against Hungary for financial abuse, non-transparency and breaches of core democratic values.
In its report, the European Parliament accused the Hungarian leadership of corruption, including abuse during the distribution of EU grants, attacks on the independence of the judiciary, the freedom of speech and religion.
The EP resolution called on the Council of Europe to consider sanctions (including stripping of its voting right in the EU Council) in accordance with Treaty Article 7, which describes recommendations how a country can correct any revealed violations.
However, Hungary is unlikely to have its voting right suspended because some decisions require a full consensus. In this situation, Hungary's ally is Poland represented by its ruling party Law and Justice (PiS). A similar procedure was launched against Poland, though not by the European Parliament but the European Commission, and Orban promised to veto any attempt to discipline Poland. PiS, for its part, stands up for Hungary.
Thus, the EP's move is rather symbolic like rebuking a rowdy boy. The patient EU is unlikely to take more serious steps in order not to undermine the shaky European unity.
However, the very fact that the EU launched these proceedings against one of its members for the first time in its history is the best evidence that European got seriously tired of Orban's behaviour.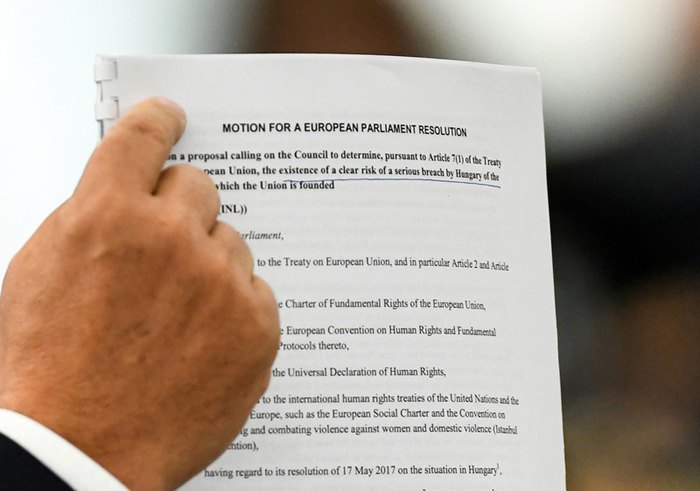 "A friend in need…"
In the meantime, Orban has been getting away with its destructive behavior with regard to Ukraine, there is no leverage against Budapest.
The entire modern policy of Hungary (alongside Russia) with regard to Ukraine has been focused on escalating the situation in Transcarpathian Region to the highest possible extent, creating a critical mass of local people loyal to Budapest in the border region, and fueling public discontent with the Ukrainian authorities.
The Hungarian authorities have used Ukraine's shortcomings to foment separatist sentiments in Transcarpathian Region. Orban is not relying on military power, Russia's favourite tool, but on "soft power", that is bribing of Transcarpathian residents.
One of the most recent steps taken by Budapest in this area is the unilateral creation – without coordination with Kyiv – of the post of an "authorised minister responsible for the development of Transcarpathian Region". This step can easily be called unfriendly because the new minister's authority concerns a part of Ukraine's sovereign territory. Although after Kiev protested and promised to block the appointment of a new ambassador to Ukraine, the Hungarian Foreign Ministry made concessions and promised to rename the post, the problem did not disappear (Orban has not confirmed the renaming, there are rumours that he is flatly against it).
It is especially so since Kyiv clearly remembers Hungarian leaders' inconsistent statements: at a meeting in Uzhhorod, Ukrainian Foreign Minister Pavlo Klimkin and Hungary's Péter Szijjártó reached certain agreements but at the next NATO summit Hungary blocked a NATO-Ukraine meeting anyway. Certainly, Ukraine and NATO found a way out of the situation by convening a meeting together with Georgia (that is a real partnership), but there is an aftertaste. No-one in Kyiv has any illusions about the Hungarian leadership.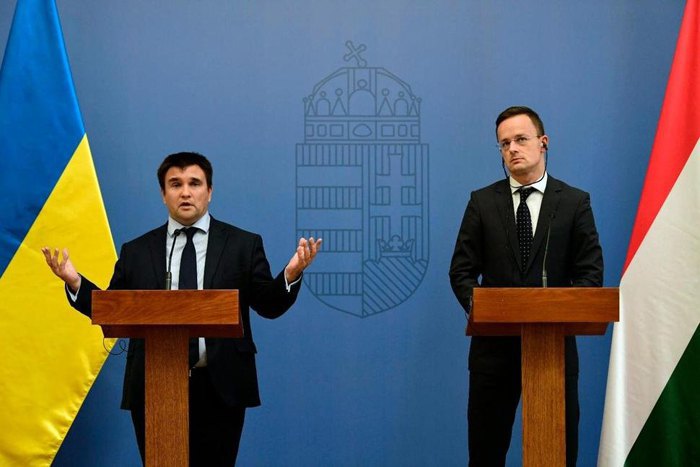 All of this is happening amid Orban's scandalous statements that he does not believe that "Ukrainians realistically aspire to join the EU or NATO" and that he will block Kyiv's European and Euro-Atlantic integration.
There were other unfriendly steps with regard to Ukraine too. First of all, this concerns the issue of Hungarian passports to Ukrainian Hungarians in Transcarpathian Region.
"I, [name], do solemnly swear that I shall consider Hungary my homeland. I shall be a loyal citizen of the Republic of Hungary, and shall honour and observe its Constitution and laws. I shall defend my homeland in function with my force, and shall serve it to the best of my ability. So help me God!" reads the oath of citizenship, which every recipient of a Hungarian passport in Transcarpathian Region pronounce on camera.
Also, there are active loan programmes for small business, education in Hungarian only, financing of infrastructure projects (for example, 50m dollars was allocated to the construction of a bypass around Mukacheve), social facilities (schools, hospitals and so on). An interesting fact: to settle the problem of water purification caused by disrupted chlorine supplies, Transcarpathian regional governor Hennadiy Moskal turned for help to Hungary, not Kyiv.
In fact, the "minister in charge of Transcarpathian Region", regardless of its new name, will have to bring together all these different programmes, streamline them and intensify Budapest's investments in this part of Ukraine.
Budapest's interests. Bet on autonomy
Hence the logical question: why should the Hungarian authorities in Budapest spend so much on the Ukrainian region?
It is clear that such steps are usually taken before elections. The Hungarian diaspora's support for Orban's ruling party makes it popular in the eyes of the Transcarpathian population and a patriotic part of Hungary, which can give his political party two or three additional seats in parliament from all foreign Hungarians.
But the main thing is that such economic support for the Ukrainian region is Budapest's way of preventing the departure of Hungarians from Transcarpathian Region - Transcarpathians with Hungarian passports migrate to Europe for study or work. However, the reduction in the number of ethnic Hungarians in Ukraine's Transcarpathian Region would call into question any further justification of Budapest's territorial claims to the Ukrainian region.
Whereas earlier, it was not acceptable to talk loud and clear about Budapest's desire to gain control over Ukraine's Transcarpathian Region, last year the Hungarian leadership expressed this intention this several times at different levels.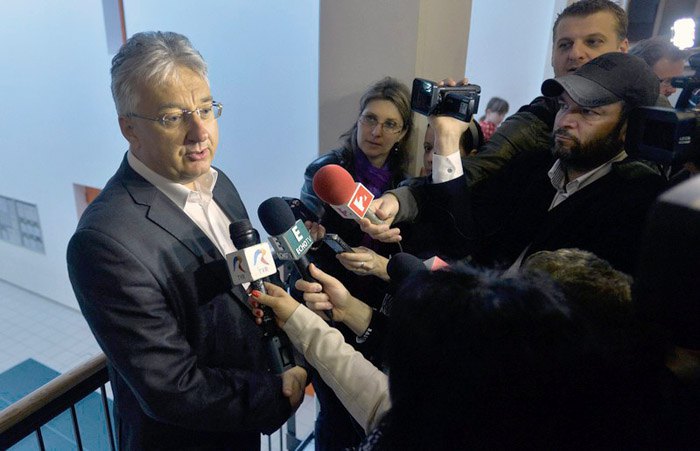 Hungarian Deputy Prime Minister Zsolt Semjén (left)
"The survival of Hungarians living abroad depends on whether they can succeed in moving towards autonomy," Hungarian Deputy Prime Minister Zsolt Semjén said.
A former Hungarian ambassador to Ukraine, Ernő Keskeny, followed the central line by saying that there is nothing wrong about an autonomy. "We believe that there is nothing wrong about an autonomy. In the European Union, there are very many practical examples," he said. However, he did not say that there are so many examples because all such countries are members of the EU. In the meantime, Budapest does not want to see Ukraine in the EU.
Keskeny recalled that in December 1991, in parallel to the vote on Ukraine's independence, there was a vote on the autonomy of Transcarpathian Region and on the autonomy of Berehove District. "The majority in the country supported independence. At the same time, 78% of Transcarpathian residents supported the autonomy for the region, and 82% [the autonomy] for Berehove District," the ambassador said.
Using others to pull chestnuts out of the fire
I would like to point out that an annexation of Ukrainian territory by direct Hungarian military incursion in Ukraine is hardly possible now or in the near future. And any parallels with the Russian aggression in Crimea and Donbass are hardly appropriate, there are different conditions.
First, it is enough to at least look at the map and compare the sizes of both countries.
Second, the Hungarian army's offensive capability is not enough for Orban to attack Ukraine.
Third, Hungary's international partners in NATO, of which it is a member (although it uses its membership), will not allow Budapest to launch any military action. We could recently see that Budapest can listen to Washington at it happened before the NATO summit in Brussels.
In addition, the reaction of NATO and the EU to direct aggression against Ukraine will be extremely unpleasant and costly for Budapest, which is more vulnerable in this respect than Moscow.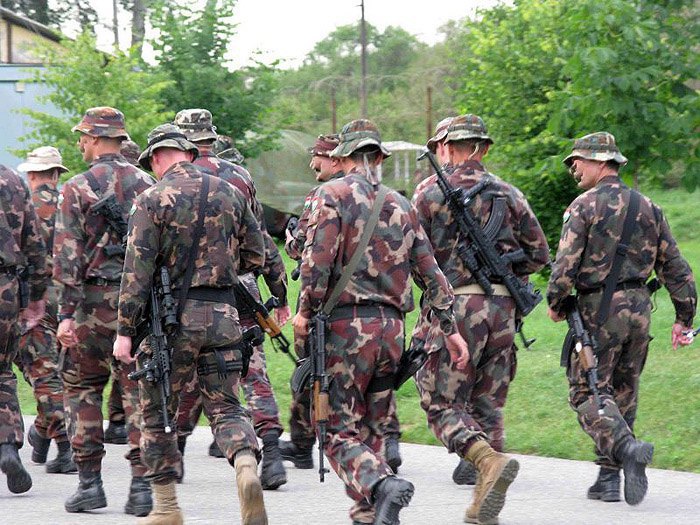 However, one should not fully rule out the emergence of Hungarian armed formations at the border with Ukraine. At least because Orban once checked the possibility of such a scenario, having instructed his Defence Ministry to analyse what Hungarian law-enforcement agencies can do to protect the Hungarian diaspora in Ukraine. However, he received a disappointing answer from the military: Hungary does not have enough military resources or international support, and the consequences can be unfortunate.
The only possible scenario Hungary may use is to arrange reception points for refugees from Ukraine for those "affected by the anti-Hungarian actions of the central authorities". Hungary tested this option during the hot phase of the Revolution of Dignity in 2013-2014.
But this step should be preceded by serious structural shocks in Ukraine: hacking off of other Ukrainian territories by Russia or mass protests. As a result of any of these scenarios, Kyiv is expected to lose control of its regions while Transcarpathian Region with its special separate position is to register its course for secession, having received all sorts of support from Hungary (and Russia).
By the way, back in 2014, some Hungarian politicians did not act in a partner-like manner towards Ukraine, urging ethnic Hungarians who were citizens of Ukraine not to protect the country from the Russian aggression in the antiterrorist operation area.
At the moment, none of these scenarios looks plausible. Therefore, it seems much more realistic for Budapest to hope to achieve autonomy for the Hungarians of Transcarpathian Region as a result of internal political processes in Ukraine. Namely after Ukraine transforms from a unitary state into a federation/confederation. Russia has long been an ally of Hungary in this regard, trying long (and not without success) to split Ukraine this way.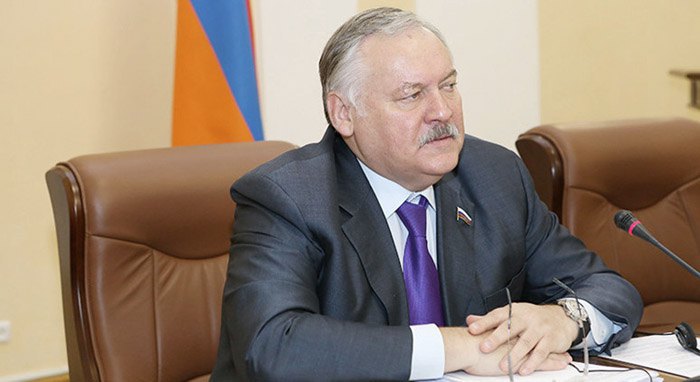 Konstantin Zatulin
"... We understand that after we removed Crimea from the internal Ukrainian context, removing Donetsk and Luhansk too means depriving that part of pro-Russian Russians and Ukrainians who remain on the other side of Ukraine of their allies.
In this case, we proceeded from the premise that Donetsk and Luhansk should be returned to the common political field with Ukraine, but on decent terms. That is, without reprisals, without setting scores, but with a special status - as an element of a federation or confederation. And it is the return of Donetsk and Luhansk in this status that will become the catalyst of the chain reaction of the federalization of Ukraine. And federal Ukraine is something that will soothe the heart," Russian State Duma MP Konstantin Zatulin explained the current tactics of Moscow towards Ukraine in September 2018.
Thus, under the Russian scenario, a special status of the self-proclaimed Luhansk and Donetsk people's republics should become the catalyst for a split of unified Ukraine. And having secured a "special status" for their "protegees" in Donbas, the Kremlin will launch a "parade of sovereignties" in Ukraine using this example - by stimulating other regions to demand a similar status from Kyiv. And Budapest will be the first to demand autonomy for the Hungarians of Transcarpathian Region.
Orban eagerly expects Moscow to put to life its plan with regard to Ukraine because it is easier to pull chestnuts out of fire using others.
At the same time, Orban wants to achieve autonomy for the Hungarians of Transcarpathian Region, ideally by 2020, by the 100th anniversary of the Treaty of Trianon (1920), which marks the disintegration of the Austro-Hungarian Empire. The incumbent Hungarian prime minister wants to go down in history as "the father of all Hungarians" and "collector of Hungarian lands".
Is this scenario really impossible? By no means. The 2019 elections in Ukraine, first the presidential one followed by that of parliament, open this "window of opportunity" for Hungarians and Russians. This can happen if a new president of Ukraine, supported by a new coalition in parliament, agrees with Russia to take back the occupied LDPR, provided that they are given a separate status. In fact, this will become an agreement that would turn Ukraine into a federation or confederation. And given that there are already plenty of Ukrainian politicians ready for a "compromise" with Russia or "peace at any cost", the scenario is shaping up clearly.
Transcarpathian ghetto?
Despite the obvious external interference in the affairs of Ukraine in Transcarpathian Region (as discussed above), one should not turn a blind eye to Kyiv's lack of attention to the region, which nourishes separatist sentiments.
"This situation stirs up discontent with the central government and the growth of separatist sentiments in the population – Kyiv's administrative failures actually created a threat to national security in Transcarpathian Region. Therefore, I am calling on representatives of the country's top authorities to act and rectify the situation," said the mayor of Lviv and leader of the Self-Reliance party, Andriy Sadovyy, in his letter to the president of Ukraine.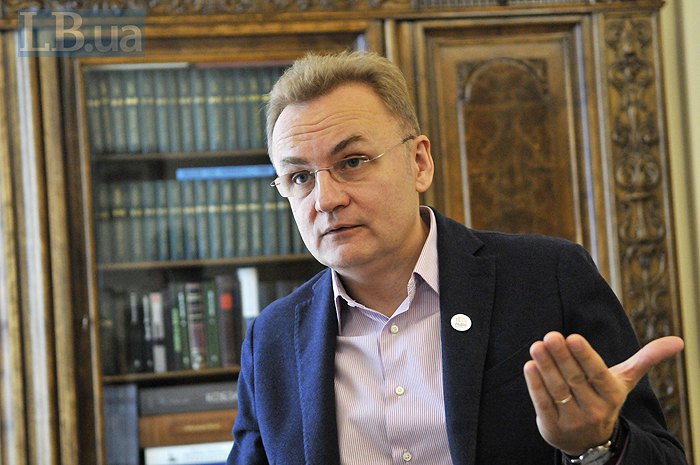 Lviv mayor Andriy Sadovyy
There is only one way out of this situation: Kyiv needs to take systemic steps to carry out the "Ukrainization of Transcarpathian Region": to eliminate the transport, language and other kinds of gaps between the region and "mainland Ukraine".
It should also create conditions for a decent life of local residents. We must proceed from the obvious fact that Transcarpathians accept the citizenship and material assistance from Hungary not because of hatred for Ukraine or an unexpected passion for Orban's new Hungarian empire. The Hungarian patriotism of a significant part of the Transcarpathian population is largely based on "sausage values" - an EU passport provides for better terms of study and higher salaries than what regular migration workers may expect. Thus, they become Hungarians for reasons of essential convenience and comfort.
Therefore, even now, every ministry and department of the Ukrainian government - from the Ministry of Transport and Ministry of Education, from the Ministry of Defence to the special services and police - should develop and begin to implement their proposals for strengthening ties with this region of Ukraine.
First of all, this concerns the modern transport infrastructure which would tightly fasten this remote region to the general logistics of the whole country. "After the temporary loss of Crimea, this region could become an alternative health resort of Ukraine. But it is more convenient for residents of Kharkiv or Kyiv to go to Hurghada or Mallorca than to Berehove thermal baths or Kostryno ski lifts," Sadovyy says in his letter.
So, the lack of a normal transport connection between Transcarpathian Region and Ukraine is one of the main problems.
First, there are no regular flights to Uzhhorod. Because of the airport's location, planes must enter the Slovak airspace, so Kyiv needs to reach an agreement with its neighbour.
Second, the only international highway M06, which connects Ukraine with Transcarpathian Region and South-Eastern Europe, is not up to capacity and often jammed. Three more roads running through the mountain passes are in a deplorable condition.
Third, after the opening of the Beskydy Tunnel this year, Transcarpathian Region expected to see the launch of Intercity fast trains, which would ease logistics in the region. But so far this has not happened and a train trip from Uzhhorod to Kiev takes more than 12 hours.
On the other hand, it would not be fair to say that nothing is being done.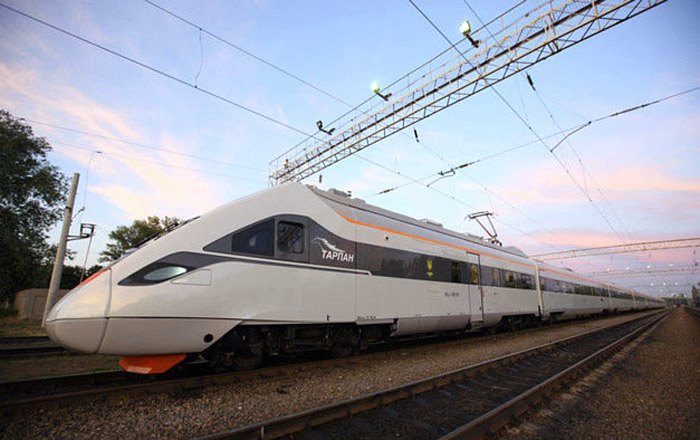 The Ukrainian railway company Ukrzaliznytsya has already tested a high-speed train Tarpan on the stretch from Lviv to Uzhhorod. "The test trip was made to determine if a new Kyiv-Lviv-Mukacheve-Uzhhorod train service can be launched, verify the dynamic characteristics of the rolling stock and determine the maximum speed of movement," Ukrzaliznytsya said.
As for the airport, Infrastructure Minister Volodymyr Omelyan promised to deliver on the president's instruction to establish a full-fledged air connection to Transcarpathian Region by the end of 2018. The last legal obstacles have been practically removed: Ukraerorukh and the European Aviation Safety Agency (EASA) signed a contract on certification in line with EU standards in Strasbourg on 10 July. This certification will give Ukraerorukh the right to provide aeronautical services in that part of Slovakia's airspace that is used during take-offs and landings at the Uzhhorod airfield.
"The issue of restoring the full-fledged operation of Uzhhorod airport is a priority," the minister insists.
As soon as possible, we should sort out the problem of the education law which caused such a desperate resistance from Orban. This document should pull out young Ukrainians of Hungarian origin from the "language ghetto" which leaves them with very limited capacity to study and work in Ukraine. We should provide teachers, textbooks and other programmes, financially stimulating the teaching of the Ukrainian language.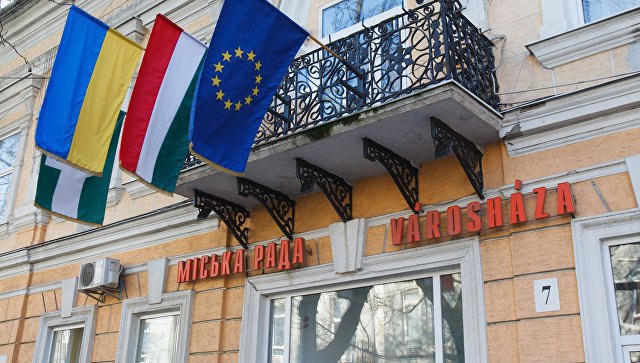 All signs in Berehove are in Ukrainian and Hungarian.
By the way, the former Hungarian ambassador has already asked almost every political party in the Ukrainian parliament to abolish the law that was unbeneficial to Hungary, but was rejected. The next composition of parliament is unknown, therefore, education reform must be completed by current MPs.
We also need to give incentives to study the Ukrainian language: increases in salaries for teachers, internships, exchanges, etc. And also a programme of support for Ukrainians in Transcarpathian Region.
It will not be superfluous to strengthen the presence of Ukraine's uniformed agencies, especially in places of compact residence of Hungarians. Large military units may not be necessary, but several reinforced units of the National Guard will not be superfluous. Officials in Budapest should clearly understand that in case of an external stimulation of unrest, there will be an immediate and decisive response. And for the local population the deployment of military units means a guarantee of security and the opening of new jobs.
Eventually, Transcarpathian residents should stop feeling as if they live in a ghetto - linguistic, domestic or transport one. Then the policy of Orban's government will have no luck with the absolute majority of the region's residents.
By the way, similar steps are applicable to other border regions of Ukraine: Transcarpathian is not the only region with similar problems. In other cases, we are blessed to have more peaceful neighbours. For how much longer?