How the russians were taking Kyiv
"During the first week, we were not of big interest to them. They bypassed us and drove to the Lyutizh bridgehead. They have a kind of zombification of that bridgehead. I do not know how to explain this, but the russians followed the path of the Germans in World War II and the Lyutizh bridgehead was their main goal. It is located 15 kilometers from us. But in the absence of electricity, the pumps on the dam stopped working, and the Irpin River has regained its former volume. It was not part of the russians' plans; they did not expect it. They were trying to cross the river, and there they were met by our military. The Russians were coming back very angry," Olga says.
"And when we were told at school that ships used to sail on the Irpin River, we didn't believe it," she laughs.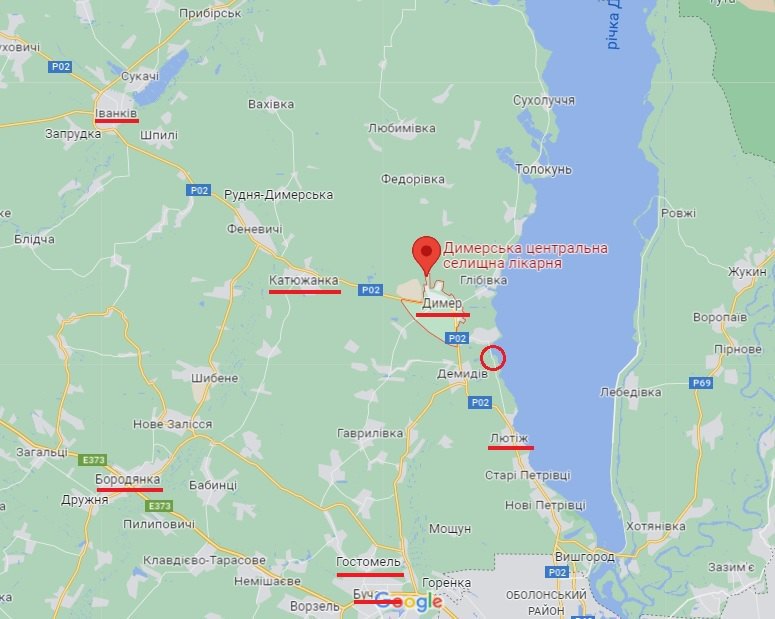 Near Dymer, from the bottom right - Kozarovychi; the mouth of the river Irpin is marked in a circle
During the first few days, locals had the opportunity to evacuate from Dymer to a small town in the direction of Ivankov – not by car but on foot. All bridges were blown up.
Within a week, the Russians began to dig in Dymer already. "I finally learned what a trench looks like in reality," Olga recalls. - The russians liked staying at us, as there were still a few shops. There are also many factories where it was convenient to store equipment. They occupied the "Viknaland" plant, a business that moved to us from Donetsk 8 years ago. The russians set up their ammunition depot at the plant and began to put locals in the basement frequently. They were detained and tortured there."
Initially, the russians stated that they came to "save" the Dymers. "And when we didn't agree to be saved, they became very aggressive," Olga says. – People were taken away. In "Viknaland", men and women had been lying on the concrete floor for 20-30 days. "
Olya also says that the russians were longing to learn how to pump water from the Irpin River to finally reach the Lyutizh bridgehead. An engineer from Kozarovychi was captured and interrogated about how to pump out water. "He explained that they need electricity to make the pumps work. They asked, "How else to pump water?" He said, "Well, drink it." Then his fingers broke. But at least he's alive, and thanks for that. "
A local rescued prisoners from "Viknaland".
"When the Ukrainian Armed Forces of Ukraine had bombed "Viknaland" very nicely – because there was an ammunition depot, everything was in flames and burning – he took a risk and opened the door. I don't know who this man was, but he somehow knew prisoners were being held there. Thanks to him, they were able to get out," Olya says.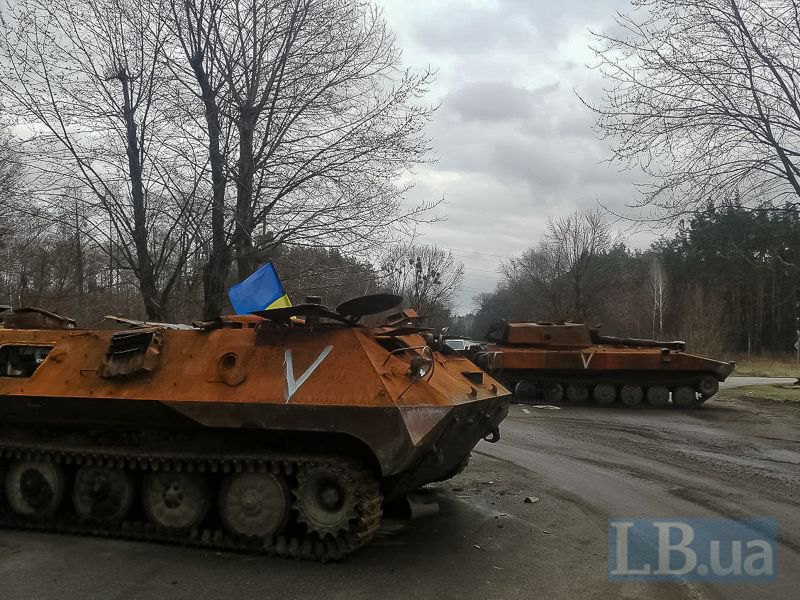 Russian equipment smashed in nearby Ivankiv
Work in the hospital
Throughout the occupation, Olga helped her mother in the hospital. Mom is an ultrasound specialist. Olga herself graduated from the medical university named after Bohomolets, specializing in "clinical psychology", but she did not work in her specialty. She has also received a law degree and, in recent years, has been working on the rights of children affected by the war in eastern Ukraine.
"I always felt guilty when I talked to them. They said, "Olya, you don't know what it's like to be under shelling." After we had those strikes, when we climbed into the cellar and pulled the dogs there, I remembered these conversations and thought that now I already knew how it was. When they shoot at you."
When hostilities started, the wounded began to come to the hospital.
"But with medications, we had a disaster. There were no surgical wards in our hospital, and there were no appropriate medications, - Olga says. - I knocked everywhere to find the right medicines. People responded, but how could we deliver these drugs to us? All the bridges were blown up, and the only crossing we had was closed already for two weeks."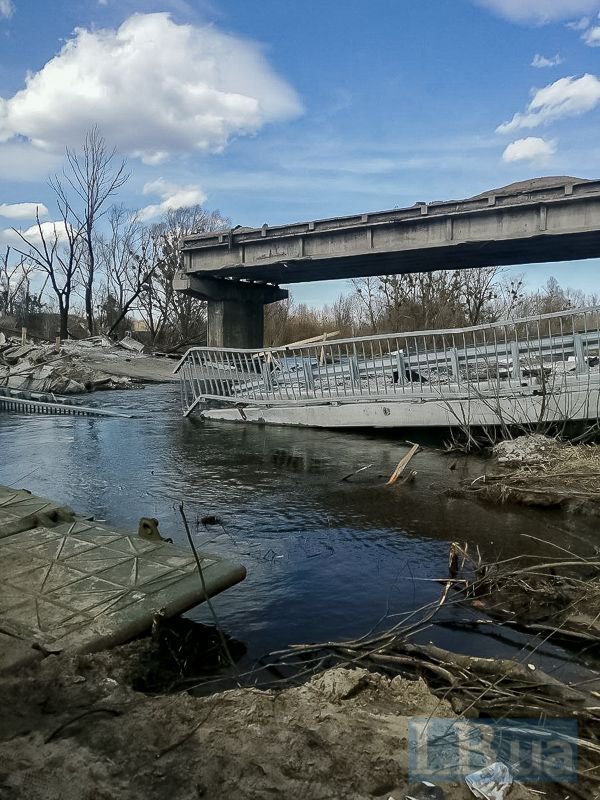 All this did not prevent the hospital, which did not have an operating room and the necessary medication, from receiving and rescuing the wounded. Olga says that a pediatric traumatologist from Okhmatdyt, who lives in Dymer, stayed in the hospital - he took the most of the work with the wounded:
- Without him, our wounded would not have a chance to survive.
We also had to assist in giving birth - 5 boys were born in Dymer during the occupation. "Before that, there were no births in our hospital, perhaps for the last 25 years. We made one large corridor department - and they all were born there," Olga says.
Olga once received a call from friends who said that the Ministry of Health was compiling a list of medicines to send to the occupied territories. "Mobile connection was blocked. We could only catch it under the hospital's roof, where the pigeons lived. And I ran there, trying to send information and photos of the victims to the Ministry of Health," Olga says.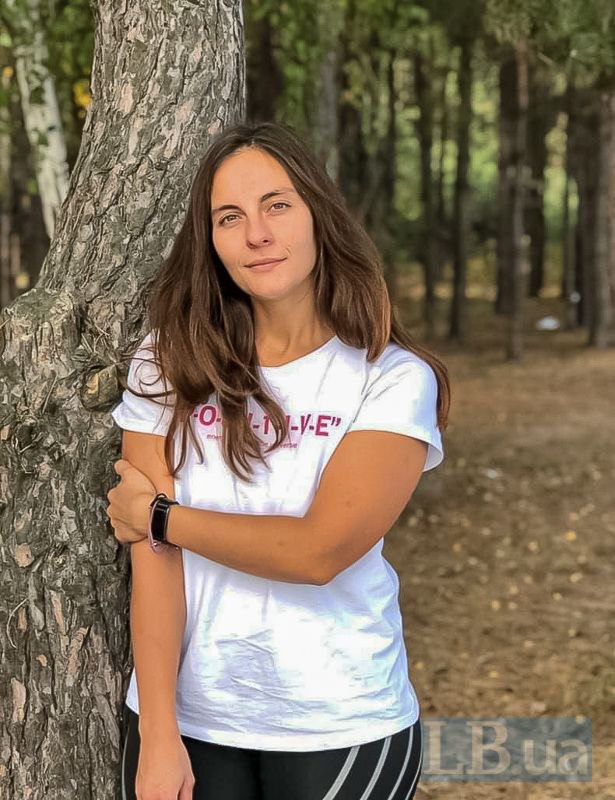 Olga Simonova
But one of the locals reported her to the russians – that she allegedly passed the coordinates for the shelling. "I explained what data I was passing on. And a Russian from the checkpoint told me that he would believe me if I could have shown my diploma. For the first time in my life, my diploma from Bohomolets was really useful," Olga laughs and adds:
- If it were in Bucha, I would probably not be alive.
During the conversation, she often mentions Bucha and compares the occupation's consequences for different settlements. He repeats several times that compared to Bucha, Dymer was a paradise.
At the same time, many people were killed and wounded in this paradise, 30 prisoners went missing. Locals are discussing that a mass grave for 40 people was found in Katyuzhanka, but this information has not yet been officially confirmed.
Killed and wounded
"Three people died directly from the shelling. But people died not only from shelling - Olga remembers. - One man needed hemodialysis. He came to Kozarovychi from Kyiv to hide from hostilities. Nobody knew that there would be an occupation. And he needed blood filtration three times a week. "
The man died.
"We had cases when parents came running and said that an asthmatic child was suffocating. Or someone with diabetes who needed insulin - continues Olga. - This was the most difficult because there is no substitute for an inhaler or insulin. We were looking for something in the pharmacies on the shelves that had not yet been stolen."
About thirty people were hospitalized during this time.
"There was a 27-year-old girl, bad luck. She was sitting in the basement in Kozarovychi, and when they seemed to stop firing, she went out either for firewood or to fire the stove to keep warm – because it was cold in the basement. And at this time, a shell flew in and shattered her spine. Everything above the navel – she feels. Below – all paralyzed," Olga says.
Later, it became possible to send the wounded with the Red Cross - the russians let them through. This woman was also taken to the hospital "to the big land" as Olga says.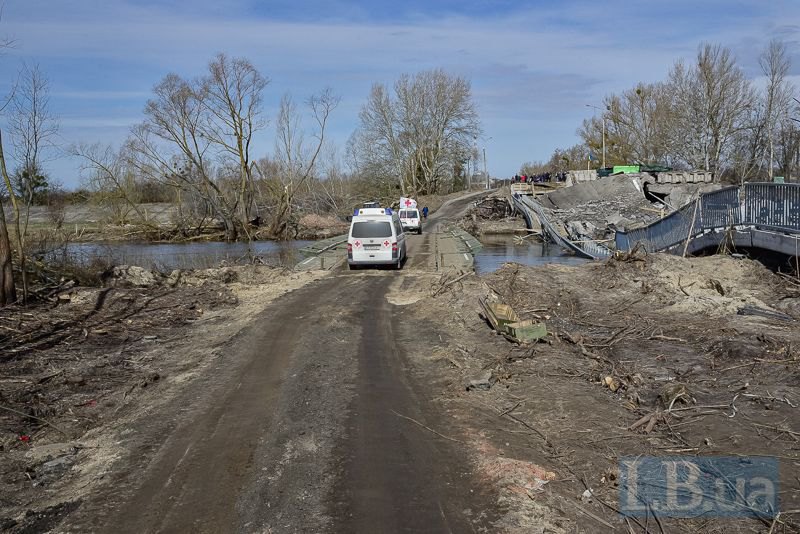 "We often joked that there is a big land, and there is us. We live without electricity, the Internet is sporadic, and money means nothing - neither electronic nor paper. The shops are all bombed. Right now, we don't have a single shop that survived. There was only barter - one could exchange a pack of cigarettes for something else, like in prison."
Olga goes on to mention the wounded who were rescued:
"There was a 14-year-old girl Dasha. She was in the car with her father, stepmother, and grandfather. When the russians started firing at the car, her father and stepmother died. And the grandfather closed Dasha with his own body, opened the door, and told her to run away. She crawled into the ditch. The russians shot at her and laughed. They said, "the goal!" 
Dasha was found by a priest, who bandaged her wounds and kept her at his place. "Then he managed to come to us from Katyuzhanka – this was the first time someone came to us from Katyuzhanka. He somehow begged the russians at the checkpoint to let him bring Dasha to our hospital. He was given an hour to bring her in and return. The priest left, and Dasha stayed with us – Olga says. – She had a badly broken arm and a splinter in her leg. We applied plaster, and later we managed to send her to the hospital with the Red Cross."
Just 20 minutes after Dasha was sent away, her grandfather, considered dead, arrived.
"Can you imagine? In 20 minutes! We thought he had died, but he survived. He was also wounded, stayed at home, and came to us through the woods." Dasha had successful surgery in Kyiv.
Olya tells touching stories one after another.
"Here in Dymer, a shell flew into the house where an elderly man and woman lived. Fragments of glass hit the woman in the eye. The old man was afraid to take her to the hospital under fire. He sat over her for three days, applying some gauze to his eyes. Then he managed to persuade someone to bring her to us by car. They drove to us under shelling and passed her to us. The woman had a very severe condition after craniocerebral trauma. She fainted and woke up. When we took her to the operating room, the old man just sat down on a chair and fell asleep because he hadn't slept for three days before," Olga recalls.
She tells how happy they were that the woman survived and seemed to have some sight in one of her eyes. She was also sent to the hospital "to the big land."
"I really hope that she had surgery there and she survived. This was such big love that she must survive – Olga says. – This old man was given a tangerine. He came with that tangerine to his wife and waited for her to wake up. He stood over her once for three hours. He said when she woke up, "I brought you a tangerine. Let me clean it for you." And he was standing and cleaning a tangerine for her. They lived together for 50 years. He says, "I can't exist without her."
Olga tells stories very similar to those of other people from occupied villages and towns: cars were shot, and people were killed for unknown reasons.
"A guy died, my friend. He carried food, and they made a sieve out of him. We did not know where he missed. In the morning, his wife went up with her hands up to the russians who shot him and for two hours begged them to let her take the body for burial," Olya recalls.
It was also difficult to bury - the cemetery was mined. People had to persuade russians to demine and allow burial. "But after we learned about Bucha and Irpin, we realized we had paradise," Olga repeats.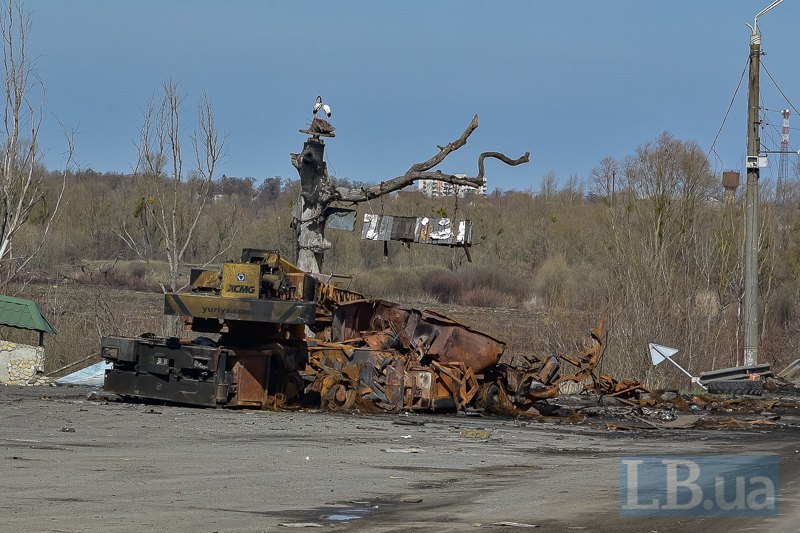 Near Ivankiv
Buryats-warriors
Without heating and electricity, it was very cold. People went to sleep and woke up at sunset and sunrise.
"The absence of information takes away hope. Without communication, we did not know what was happening in other places, and the russians told us that they had already captured half of Ukraine and would soon capture the rest – Olga says. – We didn't believe everything because we knew we had our Armed Forces, our guardian angels. Our biggest dream was to see our military."
The occupiers appointed a new local leader in Dymer. "We don't know where he is now, but the Security Service came for him first," Olga says. - He wanted to become the chief and applied earlier to become the chairman of the territorial community. But he was not voted for because of his past drug addiction experience. And then, finally, he received an opportunity to become the chief. He told us that he volunteered to help. And then we saw russian videos in which he said against the background of cars with humanitarian aid that everything was fine thanks to russia, and there was no help from Ukraine."
The russians built a new hierarchy and took down Ukrainian flags. However, they could not explain to the locals what exactly they were proposing instead of Ukraine – russia or the Dymer People's Republic?
"We had Buryats-warriors stationed – that's what we called them. They said they came to free us and lift us from our knees. And they were surprised that we have toilets in houses: "Toilets are in the houses???" "Do you have such thin TVs?!" "Do you have asphalt?" "Where I come from, there are no such cars." And they would tell me that they came to lift me from my knees. Seriously?" - Olya laughs.
"There were also Rosguards and Kadyrovites in Dymer. After Hostomel, they returned and regrouped. There were mercenaries and conscripts, and there was military personnel. But the most absurd was the Buryats-warriors," she recalls.
Olga says that the Russians returned very angry from their trips to Hostomel: "They were bombed there - and they return angry as dogs, evil as wasps. And in three days, they went to Kyiv again. Interestingly, they didn't even know what was going on at their other checkpoints – they had no contact with each other, as their command forced them to shoot their phones before they came here."
Three days before Russia announced that it would withdraw troops from the north, the occupiers began to check all houses and pull things out.
"It's a pity that I didn't take a picture of that armored personnel carrier - it had everything in the world: armchairs, carpets, chandelier. Everything was piled up, tied with ribbons, and THEY were sitting on top," Olga says Olga. They have also stolen SUVs and"proudly" taken away the property of the Dymers.
She says they have stolen everything from the gymnasium in Katyuzhanka – and shot all they could not take away. And they left a message on the board with chalk to the children: "Children, we're sorry, we didn't want to, we were bombed." "At the same time, they took away everything: cooking panels, clothes, tables!" Olga notes indignantly.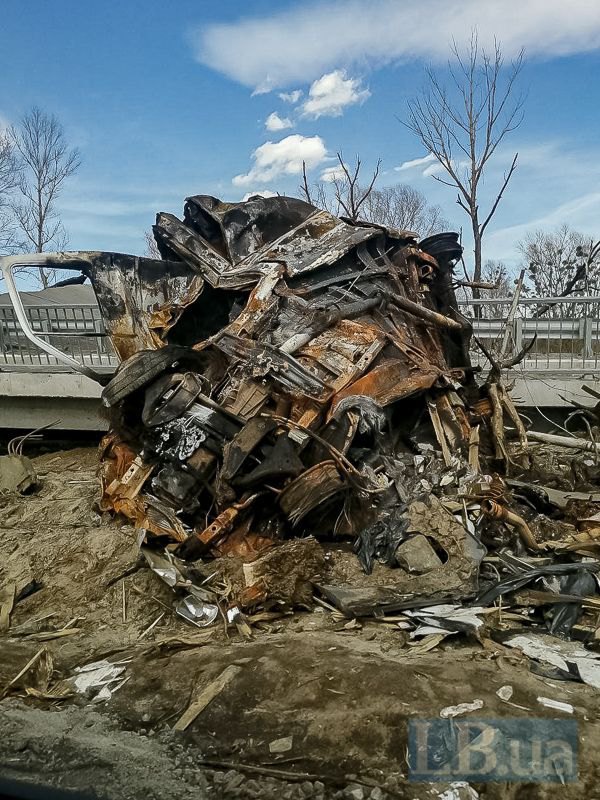 Dymer today 
About 30 men and women who were imprisoned went missing in Dymer.
"Currently, the Armed Forces and the Security Service of Ukraine are inspecting the entire infrastructure. A mass grave was found in Katyuzhanka, and there were about 40 people [this information has not yet been officially confirmed - LB.ua]. Exhumation is performed. We still don't know who is there – are there people who disappeared? A Red Cross volunteer was also taken prisoner, and we have no news about him. That's scary. Where to look for them and how to find them? So far, no one knows. "
Dymer itself is more or less intact. The russians burned many houses. "In Katyuzhanka, one house burned down because the russians got drunk and raced military vehicles so that the ammunition came off and flew into the house. That's how they burned down someone's house," Olga says.
When Dymer was liberated, first of all, Ukrainian flags were raised. And they made a pontoon bridge across the river so that deliveries of what was needed became somehow possible.
"I do not even have the right to say that we are bad. Yes, there is no electricity, but our soldiers are smiling, and one can approach them with anything – they will help! And they are all so handsome! I don't understand why our military is so handsome?"