After Stand up for Ukraine
On 3 May 2022, the Ministry of Finance published an infographic with revenues to the state budget after 24 February 2022. The IMF, World Bank, EU, and EIB have received a total of more than $ 3.8 billion. More than $ 1.3 billion from the United States, France, Canada, Germany, and Italy. The NBU and military bonds gathered to the state budget the most - $2.3 billion and $2.2 billion, respectively.
However, even in total, it is much less than collected during the Stand up for Ukraine campaign. In an approximate calculation, Stand up for Ukraine managed to raise more than 282 billion hryvnias, which is approximately 5% of Ukraine's GDP.
According to the website Global Citizen, 4.1 billion euros raised through Stand Up for Ukraine in the form of grants should go to support UN grassroots organizations and agencies working with refugees and internally displaced persons. Another five billion will be spent on loans that should "support Ukrainians with housing and provide economic security." The United Nations has called for another $1.7 billion to "resolve the multifaceted refugee crisis, but much more may be needed due to the scale of the crisis."
To clarify which loans, grants, and organizations that can receive them, LB.ua submitted a request to Global Citizen a week ago and is waiting for a response. So now it is difficult to say where exactly 9.1 billion euros have gone or will go.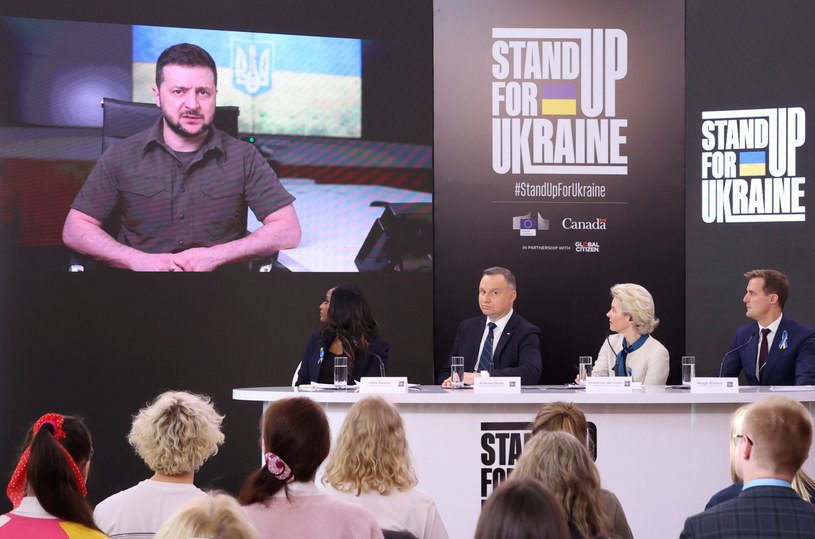 President of Ukraine Zelensky speaks at the event Stand Up for Ukraine, Polish President Andrzej Duda, President of the European Commission Ursula von der Leyen, Director General of Global Citizen Hugh Evans, Warsaw, 9 April, 2022
In addition to the funds raised by Global Citizen, the UN emergency call issued in March 2022 also includes $20 million in humanitarian aid to Ukraine provided by the Central Emergency Response Fund (CERF). Another $18 million was to be provided by the Humanitarian Fund for Ukraine (UHF). This money will definitely go to creating new UN humanitarian programs for Ukrainians.
But it should be noted that speed and urgency are relative concepts. And for people in Ukraine and the UN, time runs differently. That is why in the first month of the war so little was heard about the work of the UN in Ukraine. The United Nations is a global organization with a myriad of other global subsidiaries operating around the world. Like all global organizations, it is clumsy, slow, and bureaucratic.
So what is the UN planning to spend money on and what has it already spent on?
To find out, LB.ua decided to analyze the reports of various UN-affiliated organizations operating in Ukraine. Their network is very extensive. The funds raised for the UN are scattered among them all. They are mostly spent not on direct, targeted support, although such projects also exist, but on long-term programs. In addition, UN organizations do not work on their own, but in cooperation with the Ukrainian government, as well as with non-governmental partner organizations in Ukraine. Directly on the ground, services are provided mainly by partner organizations, ie Ukrainians to Ukrainians.
The most understandable thing now is multi-purpose financial assistance to the victims - simply put, payments on Ukrainian banc cards. These payments will cost $288.6 million. However, one should not expect huge fortunes here. The amount that can be obtained is 2220 hryvnias for each family member for three months, ie 74 dollars per month. 131,000 Ukrainians have already received them, and a total of only 215,000 people have registered for the program, although the support is designed for 1.3 million people.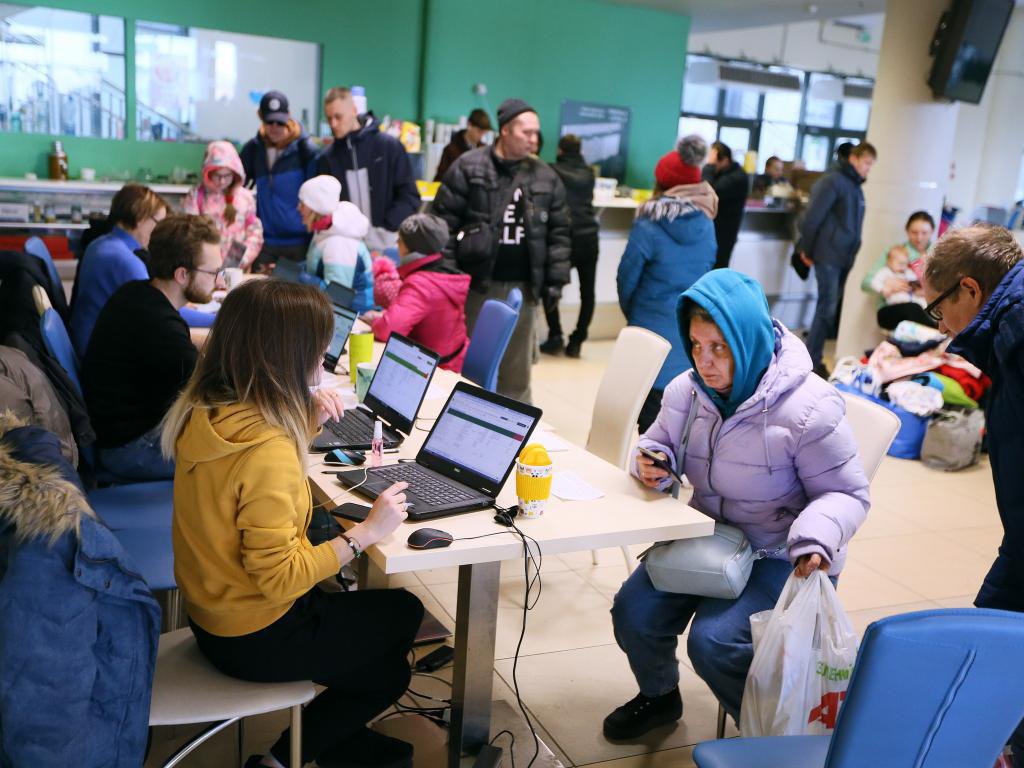 Humanitarian hub for migrants in Zaporozhzhia
In second place are the costs associated with housing and basic household items. It is about supporting both displaced people and those who remain in hotspots. This is done by the Office of the United Nations High Commissioner for Refugees. $242.3 million for 2.8 million people, or $86.5 for each one in need, is earmarked for temporary housing repairs, shelter support, and three-month financial support for rental housing. According to a UNHCR report, repairs have been made to 24 homes in the Luhansk and Donetsk regions since 24 February, and more than 23,000 emergency repair kits have been received, including tarpaulin, plastic film, rails, foam, and other materials. 271,000 people in other regions received additional non-food items.
For example, there is no data on how many people were able to receive compensation for rent. At the same time, in early May, UNHCR reported that more than 35,000 beds had been created in 149 shelters. This is only 8.75% of the total number of IDPs in the Lviv region as of March 2022 and only 0.25% of the total number of IDPs in Ukraine.
Another sector under UNHCR is protection. We are talking about social support, legal advice, psychosocial assistance, and more. Such services are provided in Kyiv, Donetsk, Odesa, Lviv, Zakarpattia, and other regions. According to UNHCR, 125,000 people have been able to receive them since 24 February. A total of 2.8 million people are planned to receive the aid, which will cost $218 million, or $77 per person. Given the current pace, it will take at least four and a half years to meet UNHCR's needs.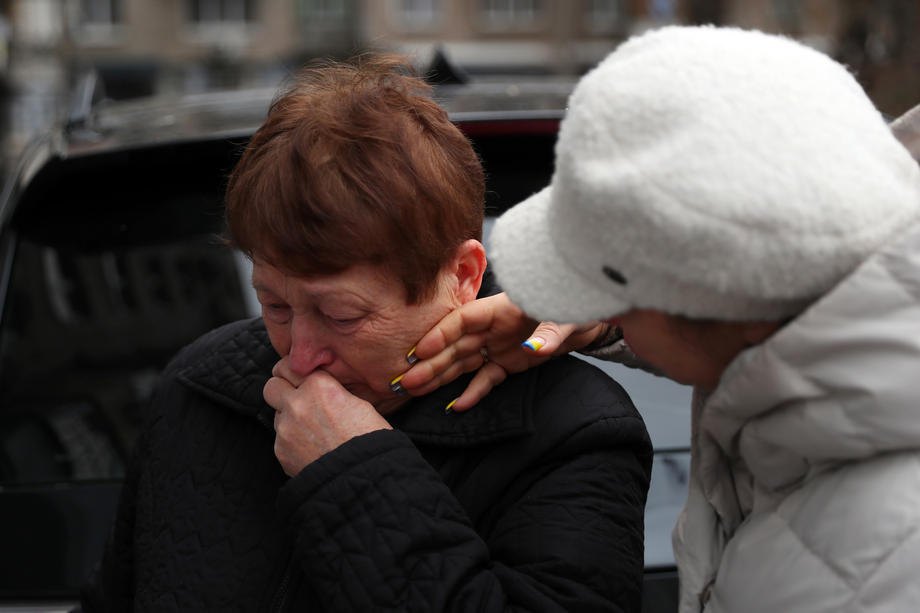 Another $183.5 million is needed to cover food security and livelihoods. The Food and Agriculture Organization of the United Nations (FAO), a subsidiary of the United Nations World Food Program, is responsible for unblocking Ukrainian ports to resume supplies of Ukrainian grain. On 11 April, the FAO published a brief report on what they had managed to do in Ukraine during the two months of full-scale war. Among the specific items are the supply of seed potatoes to farms in the eastern regions of Ukraine and the packaging of vegetables.
However, the remaining items are connected to the monitoring and assessment of the situation, the increase in FAO staffing, and deep concerns about food shortages in Ukraine. The FAO also plans to distribute food packages and hot lunches to IDPs, but it is unclear to what extent this item has been implemented.
UNICEF is another organization within the United Nations that supports education in Ukraine, as well as providing various regions with drinking water, sanitation, and hygiene items. According to the UN emergency plan, $25.1m is needed for education programs and $83m for HCV. However, other programs also work. In the first report, UNICEF expects total funding of $276m, in the latter the plan has grown to $624m per year. And, of course, the volume of aid is gradually increasing, as logistics supply chains are being established. But will the organization be able to respond quickly and effectively in a crisis situation?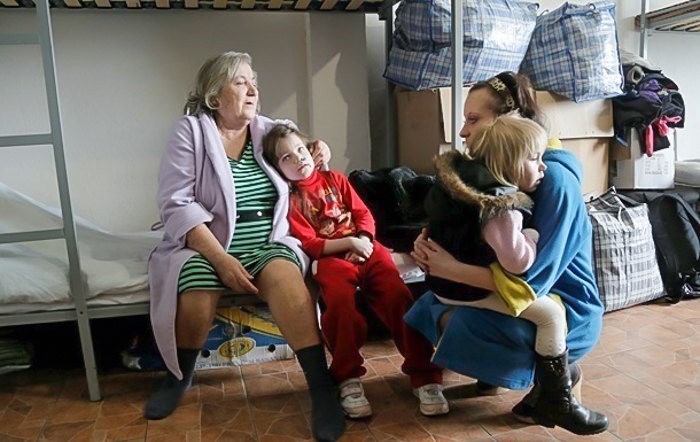 It is difficult to say what UNICEF did in the first month of the full-scale war, as the initial public report on the organization's activities is dated 5 April. It deals with psychosocial support of people in the Donetsk and Luhansk regions, supply of first aid kits, surgical kits, and basic medicines to medical institutions, as well as delivery of bottled water and purifiers for water utilities, educational kits for children, and more. The latest report expanded aid, for example, by saying that as of 20 April, UNICEF had provided assistance to more than 9,000 people evacuated from Mariupol and the frontline, including 115 evacuated from Azovstal.
Another $89m cluster is health and nutrition. It is cared for by the WHO, but various UN agencies are involved. The range of needs is huge, it is planned to help six million people with UN forces. Roughly speaking, it's $15 per person.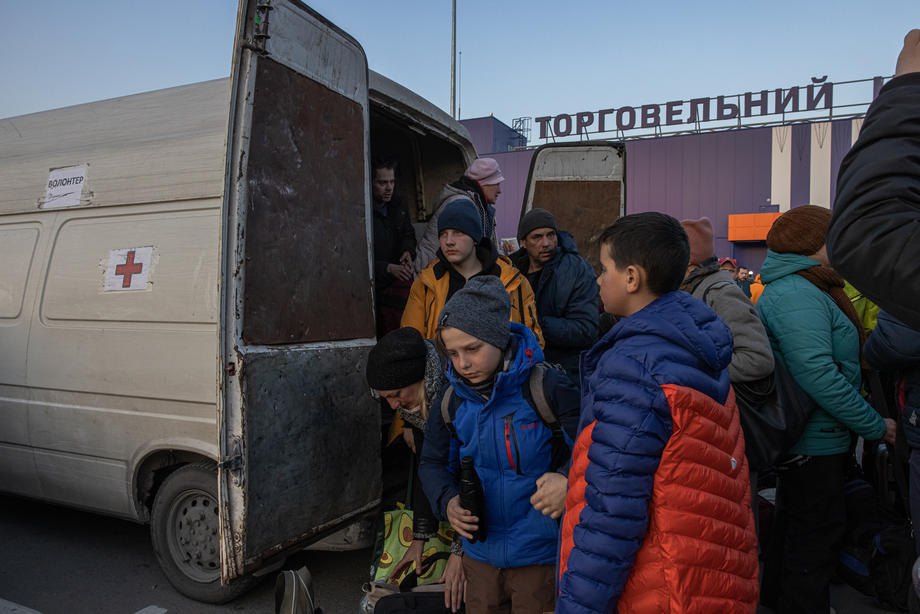 People from occupied Mariupol and Melitopol arrived at the evacuation point in Zaporizhzhia on March 25, 2022.
Let's assume that those programs related to health care that used to work in Ukraine will continue to operate. Yes, hospitals still receive payments from the NHS and can cover some needs on their own. But the number of wounded is increasing every day, the number of medical staff in Ukraine is declining, hospitals are constantly suffering from shelling, and many medical facilities have been destroyed. WHO could act and respond already by supporting institutions and staff or at least closing its office in russia. But even to bring such an issue to light, the WHO took almost three months of full-scale aggression.
Expenditures on logistics, communication, and coordination are planned separately - a total of another $10.4m is planned to be allocated for this.
It is important to understand that when it comes to funding UN humanitarian programs, one should not expect immediate results. It is because of clumsiness and bureaucracy that aid from UN agencies is often stretched over time. In other words, when it comes to plans to spend money on the humanitarian needs of Ukrainians, it may be at least until August 2022, or even until the end of it, even if it means an emergency. Global organizations are about long-term, a certain system, and relative stability, but not about the crisis.
International Red Cross Society
At the beginning of the full-scale war, there were many questions to the organization, including a vague stance on the war in Ukraine, meetings of committee chairman Peter Maurer with Sergei Lavrov in Moscow, and reports of an office in Rostov-on-Don to receive Ukrainians. Perhaps the most outrageous was the fact that the mission left Mariupol on 15 March.
What now? Currently, the ICRC website is replete with reports of assistance in evacuating people from Mariupol, including Azovstal. Together with the UN representatives, they are really involved in the organization of humanitarian columns.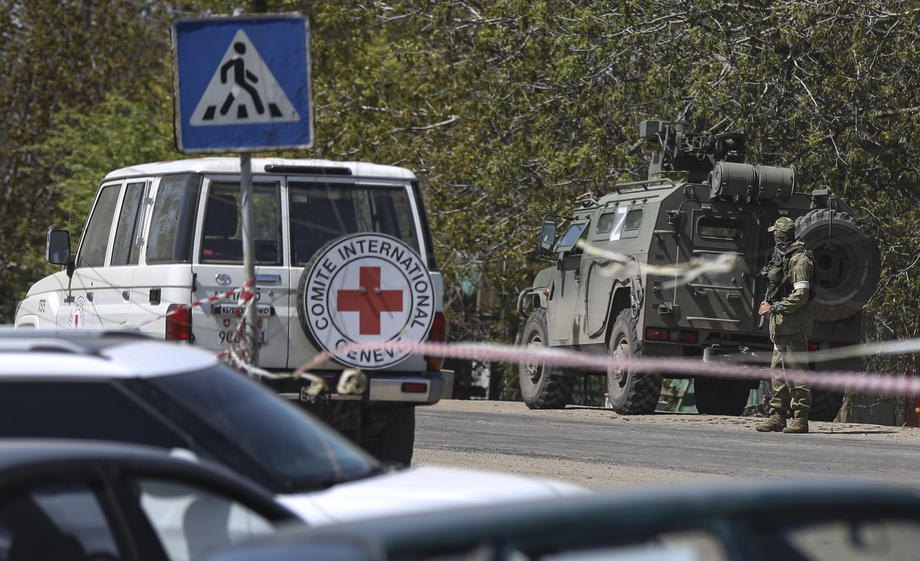 According to Forbes, to the ICRC donated LVMH (five million dollars), the Icelandic food company Marel (250,000 euros), the large American retailer Southeast Grocers Inc (250,000 dollars), and more. To find out how these funds were spent and what specific programs to support Ukraine and Ukrainians the ICRC currently has, LB.ua has sent a request and is waiting for a response.
Some conclusions can be drawn from previous ICRC financial statements. The ICRC's total field budget for 2020 is 1.69bn francs, with another 246m being spent at Geneva headquarters. According to Forbes, in 2020 the ICRC spent $68m on Ukraine. Of these, 73% of funding was directed to humanitarian needs, and another 16% - to fund programs to search for missing persons in the occupied territories of Donetsk and Luhansk regions. In 2022, the ICRC plans to spend $267m on Ukraine.
On 9 May, the ICRC published an infographic on its work in Ukraine from February 24 to April 24. It can be concluded that in general, the RC does the same as the UN humanitarian missions: providing food, water, IDP assistance, psychological support, assistance with the repair of housing and critical infrastructure, and so on. There is another part of the work - the evacuation of people. During the two months of russia's full-scale war against Ukraine, the ICRC facilitated the evacuation of 9,900 people from Sumy and Mariupol. Most of the work concerns the financial support of the families of the missing, wounded, or dead. However, it is not specified what the amount of payments is and how many people already received such assistance. Another part of the work is focused on conducting various training on safety, explosive injuries, etc.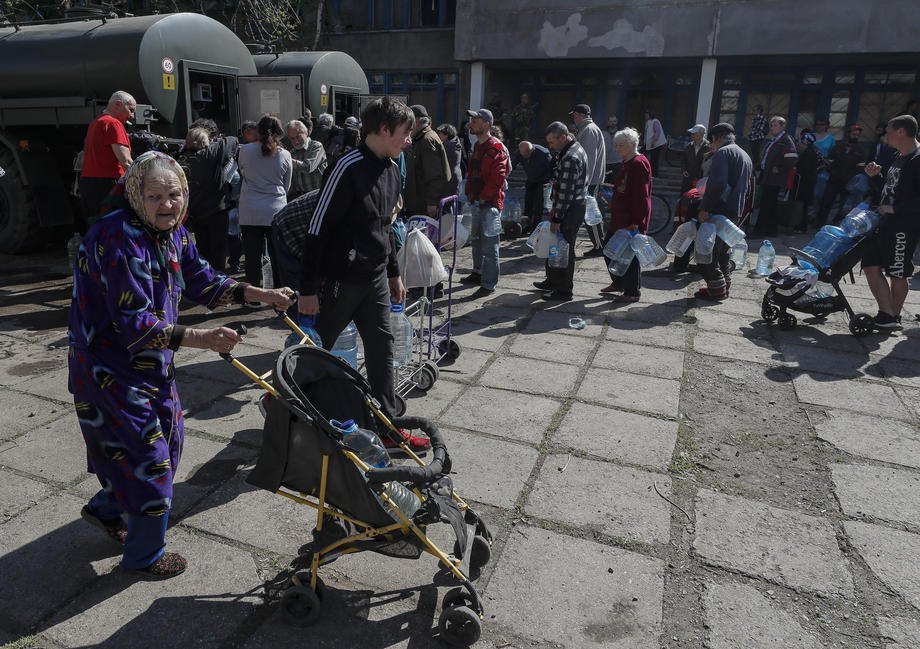 People in line for water in occupied Mariupol
A large part of the work concerns cooperation with partner organizations, in particular with the Ukrainian Red Cross Society. It should be reminded here that the International Committee of the RC and the Ukrainian Society of the RC are two different organizations that work separately. The national team made of rapid response teams, which consist mainly of volunteers. These volunteers have long been involved in the evacuation of people from Bucha, Gostomel, and Borodyanka. You can read about their work in detail on the website LB.ua. At the same time, the International Committee, which is headquartered in Geneva and has been attracting huge sums for its activities for years, in particular through charitable donations, has not participated in this work.
But in the ICRC infographic, cooperation with the UCRC is indicated in a separate block. For example, 134 wounded and sick received assistance with transportation and evacuation from the Mykolayiv, Donetsk, and Luhansk regions, 30 people were evacuated abroad, and for Mariupol UTRC volunteers received as many as three cars from the International Committee. Are the three cars and several hundred evacuees with a total of five million refugees really the same support you expect from an organization that collects giant donations around the world, has international support, and an extensive network of volunteers?
At the same time, like the UN, the ICRC works with governments. In other words, the effectiveness of their work in Ukraine largely depends on how our government cooperates with the ICRC.
Ours abroad
LB.ua also decided to see how other non-governmental organizations that raise funds for Ukraine work. Most of them have been helping since 2014, but since 24 February, they have been able to mobilize resources at full capacity and effectively strengthen the Ukrainian army and support civilians.
The fund "Come Back Alive" attracted the most funds, which since 24 February has managed to raise more than 2.9bn hryvnias for the army, as well as more than 24m dollars in cryptocurrency. How the fund spends and raises funds, read on LB.ua in an interview with the head of the fundraising direction of "Come back alive" Oleg Karpenko.
As of 2 May, the fund of the Kyiv School of Economics has collected $22.2m in donations, including from businesses. These funds are used, according to the fund's reports, for the purchase of drones, first aid kits, ammunition, armored vehicles, pickups, and other military needs. The fund also helps civilians, for example, by purchasing generators for affected cities. Full reports from 24 February can be viewed on the website.
Other Ukrainian structures that operate on smaller amounts, but also effectively help both the military and civilians, are the Serhiy Prytula Foundation, Help Ukraine.Center, Voices of Children, SOS Army, Vostok SOS, and many others.
At the same time, there are many foreign initiatives that also attract a lot of donations and know how to manage them. For example, the American charity Razom has been operating since 2014. It has already raised $36m and spent $20m on crisis assistance. The fund delivers first-aid kits, turnstiles, medical backpacks, and various medical equipment from the United States to Ukraine, which then travels to Kyiv, Sumy, Poltava, and Kharkiv. The fund also sends more than 50 pallets of humanitarian aid every week. In the first month of the war alone, more than 218 tons of humanitarian aid were delivered to Ukraine thanks to Razom.
Another US non-profit organization, Nova Ukraine, has also been operating since 2014. The fund focuses on helping the civilian population. Collaborates with UNICEF in the United States and mainly collects charitable assistance, targeting American citizens. During the first month of the war, Nova Ukraine managed to raise more than $15m, and most of this money has already been spent on humanitarian aid to displaced persons and refugees, tactical medicine kits, medicines, water, and more. Currently, the fund continues to raise money for various assistance projects in Ukraine. You can get acquainted with them here.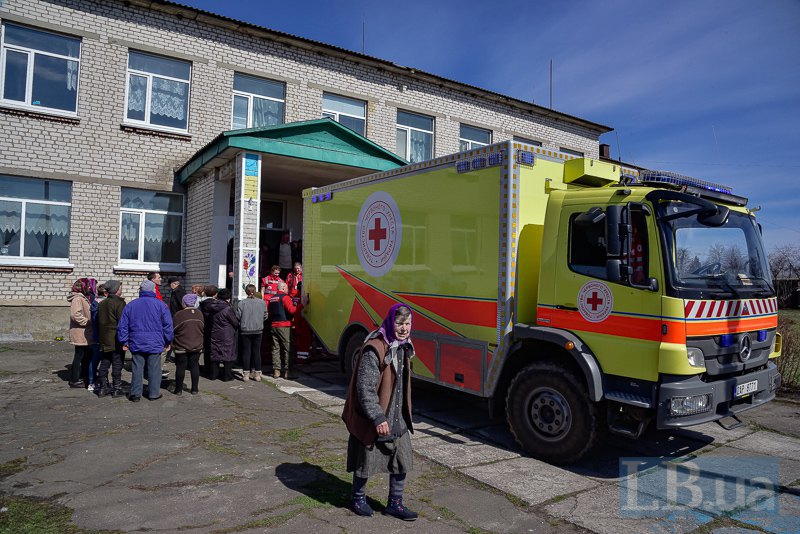 United Help for Ukraine cooperates, in particular, with Razom and Nova. In a report for the first week of the war, UHU wrote that it managed to raise more than four million dollars in aid and deliver bulletproof vests, tactical first aid kits, food kits, medicines, etc. to Ukraine. Then the amount of aid only increases. The latest report on 1-18 April, UHU, said the fund had delivered 16 ambulances, three fire engines, 18 VAC systems for the wounded, 1,300 radios, 14 drones, 5,000 IFAK first aid kits and more than 90 tons of humanitarian aid to Ukraine. And it didn't take billions of dollars in annual support.
The World Congress of Ukrainians Unite with Ukraine has raised more than $21m for fighters defending Ukraine. Most of the funds have already been spent on first aid kits, bulletproof vests, helmets, thermal imagers, communication equipment, etc. for armed units in the Kyiv, Dnipro, Kharkiv, Kramatorsk, and other regions of Ukraine.
In general, there are many such initiatives. They are much smaller in the number of employees and have small budgets. But they have already proved that they are ready to react quickly and support their own in crisis situations.