After talks with Russian dictator Vladimir Putin, Turkish President Recep Tayyip Erdogan said that he believes it will soon be possible to resume the Black Sea Grain Initiative, Reuters reports.
"As Turkey, we believe that we will reach a solution that will meet the expectations in a short time," Erdogan said.
According to Anadolu Ajansı, the Turkish president believes that the alternative proposals to this agreement "cannot offer a sustainable, secure and permanent model based on cooperation between the parties."
"We believe that the initiative should be continued by addressing the shortcomings. We are determined to continue our efforts to establish lasting peace, stability and prosperity in our region," Erdogan said.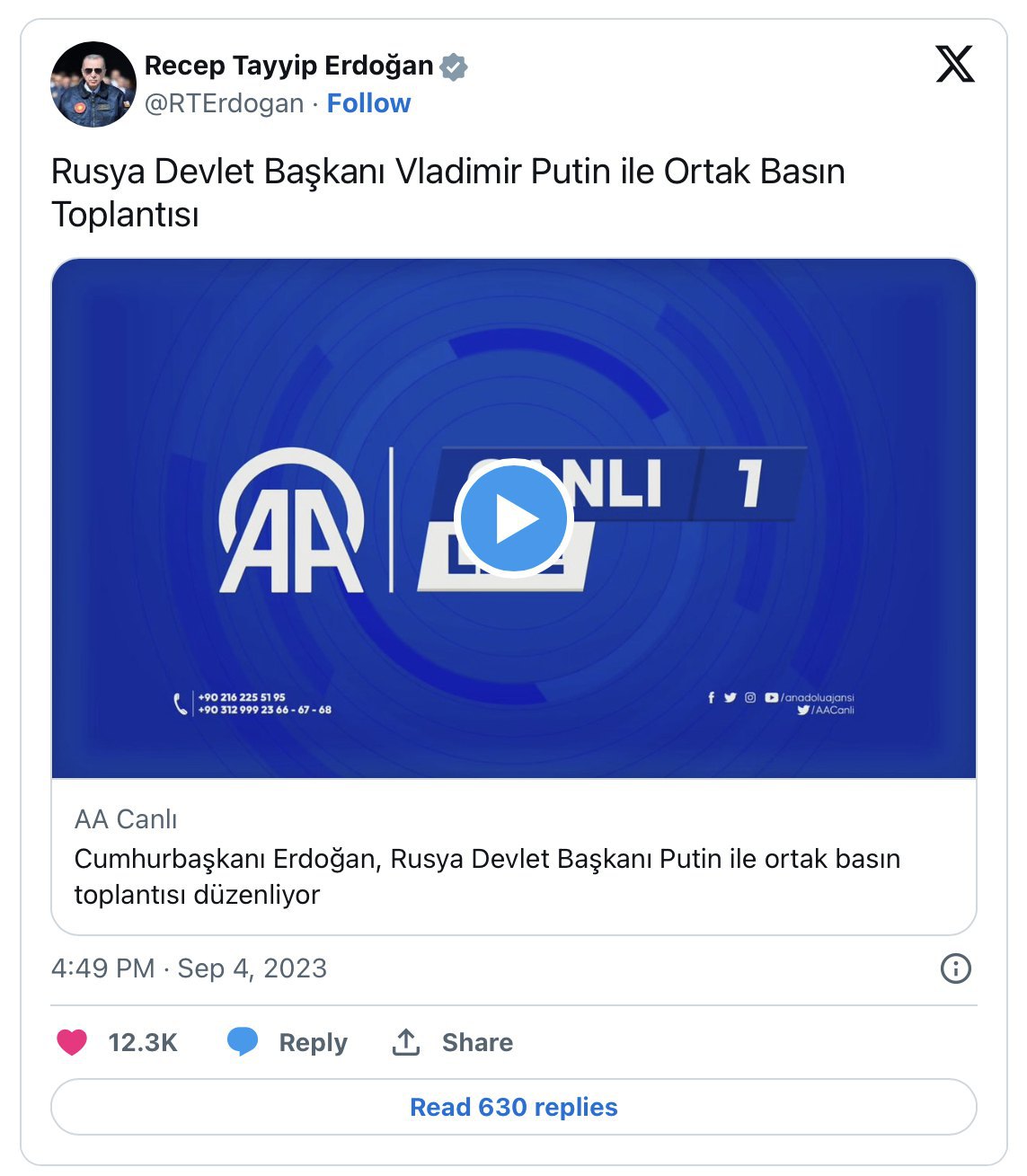 He said that Turkey has prepared a "new package of suggestions with the UN that includes significant progress". "I believe that it is possible to get results through this new process. Ukraine needs to especially soften its approaches in order for it to be possible for joint steps to be taken with Russia," the Turkish president added.
Putin complained that the West was restricting Russian agricultural exports. 
"We will be ready to consider the possibility of resuscitating the grain agreement, and I told Mr. President once again today that we will do this as soon as all agreements on lifting restrictions on the export of Russian agricultural products are fully implemented," the Russian dictator said.
Erdogan arrived in Sochi on 4 September for talks with Putin on the renewal of the grain agreement.
When the Turkish president announced his meeting with Putin, he emphasised that it was important that the meeting take place in person. To prepare for the talks, Turkey sent Foreign Minister Hakan Fidan to Russia.
At Fidan's press conference with Russian Foreign Minister Sergei Lavrov, he offered Turkey a million tons of grain at a reduced price and increased gas supplies.