President Volodymyr Zelenskyy proposes that the Verkhovna Rada appoint Rustem Umerov as Ukraine's Defence Minister.
The corresponding draft resolution No. 10004 was registered in the parliament on 5 September.
The Rada is expected to vote on Umerov's appointment on 6 September.
The head of the Mejlis of the Crimean Tatar people, Refat Chubarov, expressed support for the president's decision and called on MPs to support Umerov's candidacy.
"All the stages and successful results of Rustem Umerov's professional and political activity, his human qualities and principles, which he shares, allow us to express support for the proposal of President of Ukraine Volodymyr Zelenskyy and to call on the Ukrainian MPs to make a decision on the appointment of Rustem Umerov as the Ukrainian Minister of Defence," Chubarov said and published a statement of the Mejlis.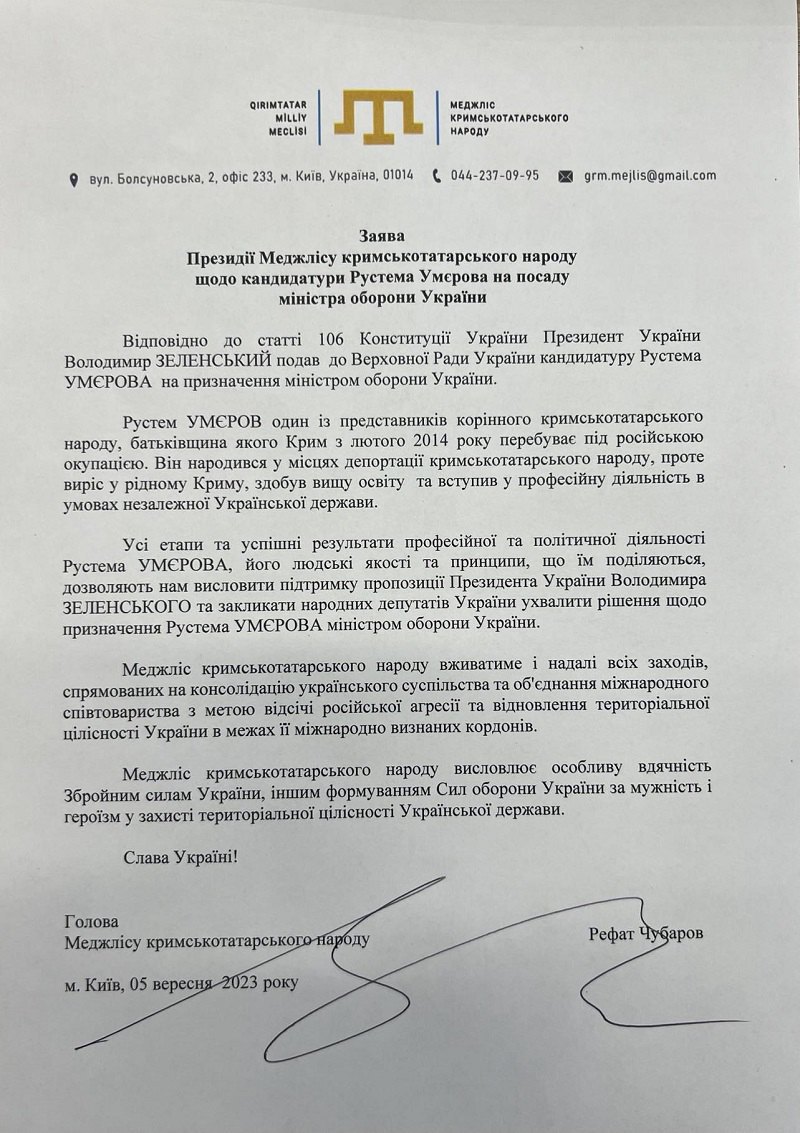 Today the Rada supported the dismissal of Umerov from the post of head of the State Property Fund and dismissed Defence Minister Oleksiy Reznikov. 
Umerov is to become the next head of the Defence Ministry.
Rustem Umerov is an ethnic Crimean Tatar, born in Alushta. He received a bachelor's degree in economics and a master's degree in finance from the National Academy of Management. He started his career at lifecell, holding various management positions from 2004 to 2010. He was in charge of legal support and logistics. At the same time, he started to engage in investment activities.
In 2013, together with his brother, he founded the ASTEM investment company and the ASTEM Foundation.
In 2019, he was elected as a Member of Parliament of the 9th convocation from the Voice party, number 18 on the list as a non-partisan. He is a member of the same faction. On 7 September, 2022, the MPs appointed Rustem Umerov as the head of the State Property Fund of Ukraine.
After the start of the full-scale invasion, he was a member of the negotiation group with the Russians. He participated in negotiations with American allies on arms for Ukraine.
According to LB.ua's sources, Rustem Umerov is an important communicator between Kyiv and the Turkish authorities and the Saudi royal family.
Read LB.ua's interview with Rustem Umerov: "A lot of people are ready for guerrilla warfare in Crimea".