On the night of 21 September, at about 3:40 a.m., the Russian occupiers attacked Ukraine with X-101/X-555/X-55 air-launched cruise missiles. A total of 43 cruise missiles were launched from 10 T-95MS strategic aircraft from the area west of Engels.
This was reported on Telegram by the Ukrainian Air Force.
According to the report, the missiles were launched in several waves. They entered the airspace of Ukraine from different directions, constantly changing course along the route.
As a result of combat operations, 36 cruise missiles were destroyed by the Air Force in cooperation with the Air Defence Forces.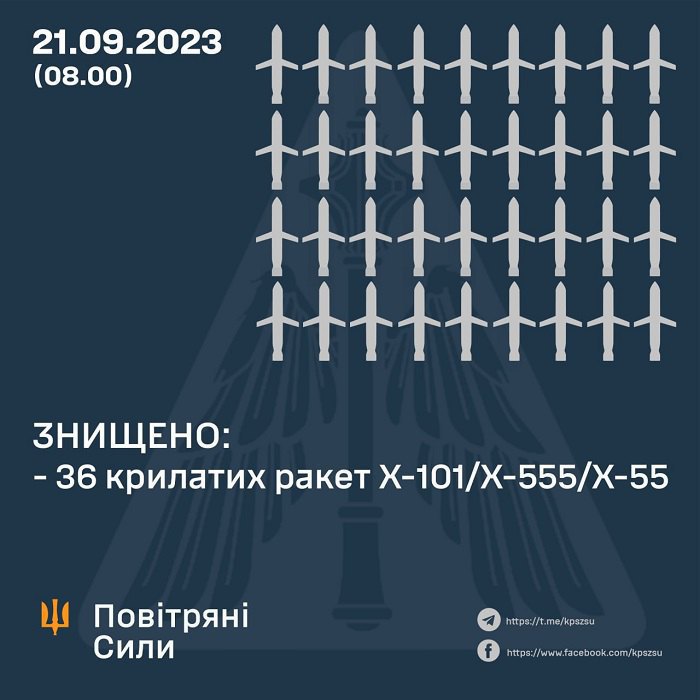 Anti-aircraft missile troops, fighter aircraft, the Air Force, units of mobile fire groups of the Ukrainian Defence Forces and other means were used to repel the attack.
In addition, at about 6:00 am, the enemy attacked Kharkiv with S-300 anti-aircraft guided missiles. Relevant services are working. The local military administration will report on the consequences.
Last night and in the morning Russia attacked Kharkiv, Kyiv, Kherson, Cherkasy, Rivne, Khmelnytskyy, and Lviv Regions. At least seven people were injured in Kyiv, two in Kharkiv, and ten in Cherkasy Region.