New faces in Hroysman's government. Part one: ex-MPs
Volodymyr Hroysman's Cabinet of Ministers has 13 new ministers. Six of them were MPs, three are associates of the incumbent head of government. Check out what connects the new minister for temporarily occupied territories with Oleksandr Tretyakov, which oligarch's company used to employ the deputy prime minister for European integration, and why Hroysman's associate did not join the Euro-Maydan protests.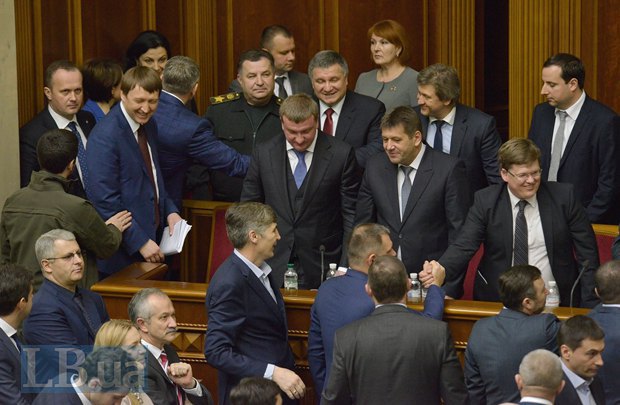 MPs 
Stepan Kubiv, an MP from the Petro Poroshenko Bloc and the president's representative in parliament, has become the first deputy prime minister and economic development minister.
This was the first deputy prime minister's post that made the negotiations go on and on. The main candidate for the post was the first deputy head of the presidential administration, Vitaliy Kovalchuk, albeit with the regional development minister's "portfolio". However Hroysman was flatly against him. As a result, the post of the first deputy prime minister was assigned to Kubiv.
Kubiv's career took off from the Lviv regional committee of the Komsomol and then in the banking sector where he came to work in the 1990s, a typical scenario for Komsomol functionaries of the time.
In 2006, Stepan Kubiv was elected to the Lviv regional council from the Our Ukraine party and in 2010 from the People's Front.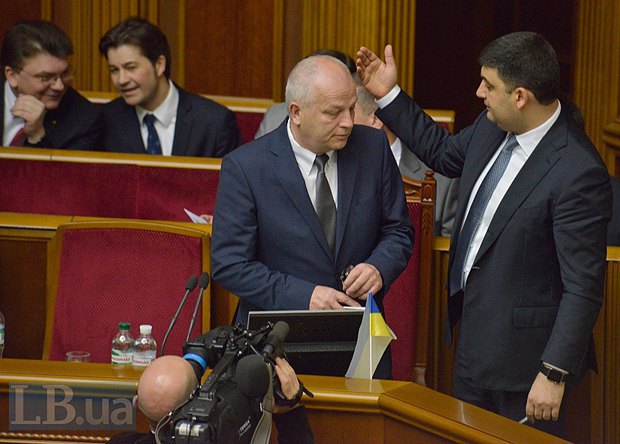 Stepan Kubiv
He entered parliament in 2012 as a representative of Fatherland this time. During the Revolution of Dignity, Kubiv was a superintendent of the Trade Union House. From February to June 2014 he was in charge of the National Bank of Ukraine but resigned when Petro Poroshenko was elected president, thus having vacated the post to his protégé Valeriya Hontaryeva. His acquiescence was appreciated and Kubiv was elected to parliament on the list of the Petro Poroshenko Bloc and became the president's representative in parliament.
"First of all, one of the priorities (of a minister's work – ed note) is to build an effective contact with parliament, profile committees and every single MP. Second, Ukraine must get at least to Top 20 on the Doing Business rating. The third important issue is the fight against corruption, including continuing the work on ProZorro and making decision-making more open to the public. There is a huge layer of problems which need to be tackled. There are state-owned companies, around 1,500 of them. There are enterprises important to the state as they ensure our country's security. There are abou a hundred of them. There are companies which have to be put for sale through the State Property Fund. Unfortunately, there is a great number of bankrupt companies. This means we need to hold at least a basic audit and set our priorities straight – select no more than three to five objectives – and proceed accordingly," Kubiv said about his priorities in an interview with RBC-Ukraine following his appointment. 
Ivanna Klympush-Tsyntsadze is the new prime minister for European and Euro-Atlantic integration. She is the daughter of Orest Klympush, a member of parliament of the second and fourth convocations, a transport minister (March 1992-July 1994), an adviser to Prime Minister Yevhen Marchuk (1995) and Ukraine's ambassador to Hungary and Slovenia. She is a granddaughter of the main superintendent of the Carpathian Sich [the paramilitary group of the short-lived state of Carpatho-Ukraine], Dmytro Klympush.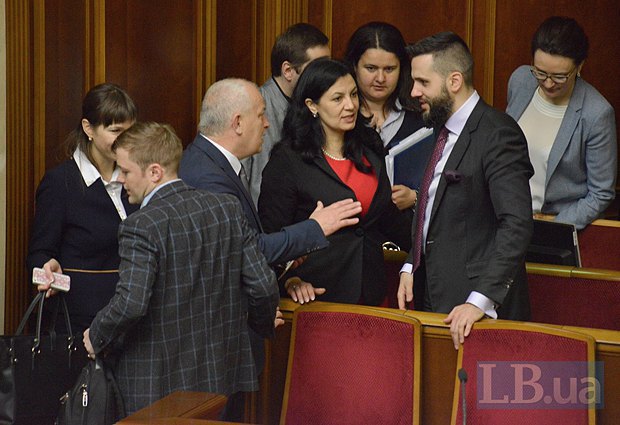 Her husband is a Georgian diplomat and army colonel, Archil Tsyntsadze.
The new deputy prime minister graduated from Dragomanov Pedagogical University and the Institute of International Relations of National Taras Shevchenko University in Kyiv, majoring in international relations. She also studied at Montana State University in 1993-1994.
From 2002 to 2007, she worked as a correspondent for the BBC Ukrainian Service in the USA and the Caucasus. Afterwards, she held senior posts at the Open Ukraine foundation established by Arseniy Yatsenyuk and Polish businessman Zbigniew Drzymala.
Since 2011, Klympush-Tsyntsadze has worked for Viktor Pinchuk's Yalta European Strategy (YES). What is more, while being an MP, she remained the board chairman of Pinchuk's fund.
"I have deep respect for this person and am grateful to him for the opportunity which he gave me by appointing me the YES director. In 2011-2014, when we were in fact in international isolation under President Yanukovych, important and serious people came to Ukraine thanks to the Yalta summit," she said about Pinchuk in an interview with RBC-Ukraine.
Klympush-Tsyntsadze was elected to parliament on the Petro Poroshenko Bloc list, she was a member of the Euro-optimists group of MPs and the first deputy head of the parliamentary committee for foreign affairs. She was among the committee members who did not support the idea of severing diplomatic ties with the Russian Federation. 
The Ecology and Natural Resources Ministry is now headed by Ostap Semerak, an MP from the People's Front faction, the minister of the Cabinet of Ministers in Yatsenyuk's first government (from 27 February to 2 December 2014). Semerak was a member of the Reforms and Order party, when it was chaired by Viktor Pynzenyk, before it merged with Fatherland. He was the head of the Reforms and Order executive committee and the head of the Our Ukraine faction's secretariat in parliament.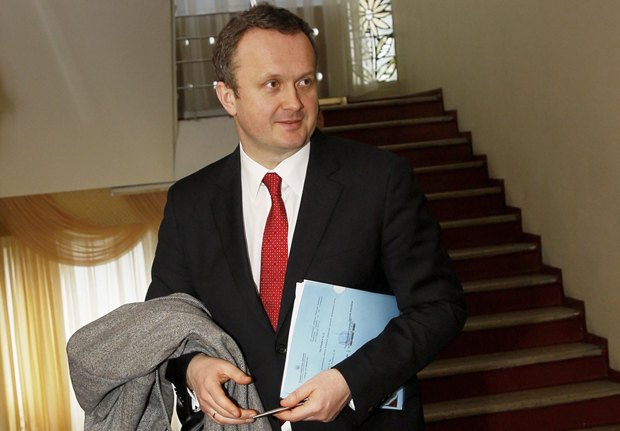 He was a deputy head of the Kyiv regional state administration, Vira Ulyanchenko (from August 2006 to November 2007).
He entered the parliament of the sixth convocation as a member of the Yuliya Tymoshenko Bloc. At the next election, he was too deep down the Fatherland list to be elected. When Yanukovych was in power, he was the minister of sports, tourism and the 2012 European football championship in the opposition government.
Back then he said that almost 80bn hryvnyas had been allocated to the Euro-2012 from the budget, which is nearly 10 times more than was initially booked for preparations to the championship. And 30-40 per cent of this amount was used for kickbacks.
Semerak has two university diplomas: as a physicist after graduating State Ivan Franko University in Lviv and as a political analyst after graduating the National University Kyiv Mohyla Academy.
The new ecology minister did not support the idea of a technocratic government for Ukraine: "Technocrats are robots who work by the pattern. And where is the pattern of a Ukrainian breakthrough? Breakthroughs are achieved by daredevils who do not care about ratings and their own future. Ask [Polish economist Leszek] Balcerowicz about his rating after the reforms. And ask a Pole today if he is a national hero."
He was among the signatories to the bill (registered on 1 April 2016) allowing MPs to simultaneously work as the prime minister or a member of the Cabinet of Ministers.
Semerak's colleague in the faction, Leonid Yemets, described him as an effective manager and administrator. "He used to be a minister, a deputy governor, and oversaw international issues. I would tell you that our international partners are very happy to see Ostap Mykhaylovych in the Cabinet of Ministers where he will see such an important issue as ecology. We are going to Europe, to its standards. We may deem it unimportant but Europeans have a different opinion… Especially since he is absolutely independent, there is no oligarch behind him," Yemets said.
Taras Kutovyy, the minister of agrarian policy and food in Hroysman's government, entered parliament on the Petro Poroshenko Bloc list under the UDAR quota. He received his first MP card as a member of the UDAR faction in the parliament of the previous convocation.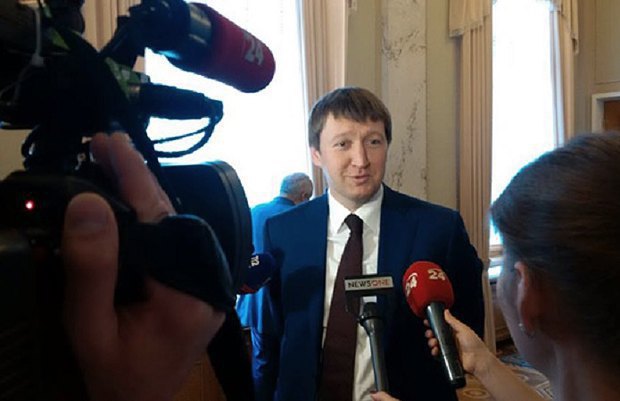 Taras Kutovyy
 From 2004 to 2009, Kutovyy was the financial director of the XXI Century investment company of a Kyiv developer and a deputy head of the Kyiv regional state administration, Lev Partskhaladze. Kutovyy is on friendly terms with Partskhaladze and was his best man at the wedding. 
He later became the president of the Rise company, one of Ukraine's largest agricultural holdings owned then by Vitaliy Tsekhmistrenko, later sold to Oleh Bakhmatyuk, one of Ukraine's top businessmen in agriculture.
Kutovyy provided consulting services to Ihor Kolomoyskyy's PrivatAgro. Later he headed the investment division of Russia's Alfa Group in Ukraine, A1, following which he ran for parliament.
He has three university diplomas: from the National Academy of the Security Service of Ukraine, National Economic University in Kyiv and the International Management Institute.
In parliament, he chaired the agrarian policy committee and was a member of the Petro Poroshenko Bloc party's central council.
He was tipped as a candidate for agrarian policy minister already after Oleksiy Pavlenko tendered his resignation in late January 2016.
Petro Poroshenko Bloc MP Arkadiy Karnatskyy, who recently announced quitting the faction, criticized Kutovyy's performance as head of the committee, of which he is also a member: "All bills detrimental to rural areas passed the agrarian committee when it was chaired by Kutovyy, Even those which should have been sent for reworking based on the conclusions of profile committees. However the majority formed in the agrarian committee under Kutovyy's lead always let these bills through… It is 100 per cent lobbying for big agrarian businesses and some unknown to me people who simply want to destroy the Ukrainian village."
Among such bills, according to Kornatskyy, is bill No 1599 about state support for family farms, which deprives villagers of the right to sell the excess of their produce. "Ukrainian peasants have the right to freely sell their produce grown in households to anyone. But bill No 1599 bans them from doing this unless a peasant becomes a registered businessman. Of course, 99 per cent will not go through seven circles of bureaucracy hell and hire accountants for this. They do not have money for this," Kornatskyy said, suggesting Kutovyy will be as "professional" in the minister's chair. 
People's Front MP Liliya Hrynevych replaced Serhiy Kvit as education and science minister.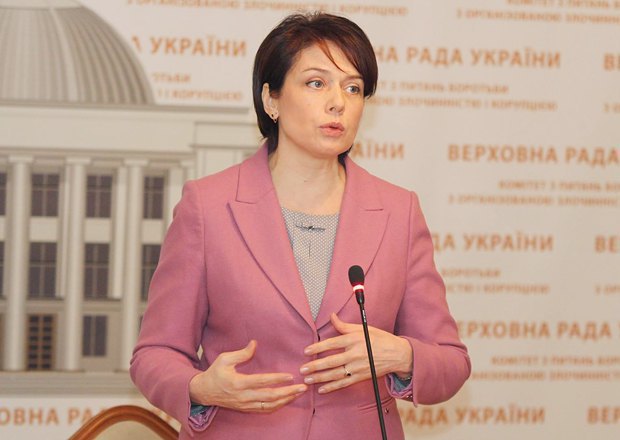 Hrynevych is a renowned education expert. 
She has been developing the system of external assessment [of education] in Ukraine since 2003 and was the first director of the Ukrainian Centre for the Assessment of Education Quality (2006). From October 2007 to August 2009, she was in charge of the main directorate for education and science of the Kyiv city state administration. 
She was an member of parliament twice: on the Fatherland list during the seventh convocation and with the People's Front during the eighth convocation. She was also the head of the parliamentary committee for education and science.
Hrynevych is also one of the authors of the education bill which, following reworking by the profile parliamentary committee, was repeatedly registered with parliament.
According to her first university diploma received from State Ivan Franko University in Lviv, she is a biochemist and teacher. According to second one received from the Intersectoral Institute of Advanced Qualification and Training of Personnel at the Lviv Polytechnic Institute in 1993, she is an economist and manager. She had an internship with the Warsaw and Columbia universities. Her dissertation thesis describes "Decentralization trends in education management in contemporary Poland" (2005).
As the minister of education, Hrynevych has already made several statements.
In particular, she insists on switching schools to a 12-year course within the framework of education reform.
"Children need not only an amout of knowledge but a list of competences which, by the way, were agreed with the EU. This list includes not only those [competences] which are clear to us – languages, math and natural sciences – but also entrepreneurship, financial literacy and teamwork. To master them, we need this additional year of study," she said on Hromadske TV. She stressed that the External Independent Test would not be cancelled. 
According to MP Leonid Yemets, Hrynevych was approved as a new government member to the MPs' applause.
When asked why Serhiy Kvit was dismissed despite Hrynevych being a good expert in her field, Yemets said the following: "I would use only one term, which is perfectionism, longing for perfection. We have this longing. And since, in our opinion, Lilya Mykhaylivna is the best match to the definition of an ideal education minister, and we have taken this stand since the time of the previous appointments, therefore we can only welcome this. There are no complaints about Kvit but one should always aspire for the better."
"Comparing the committee's peformance under Hrynevych's lead with other committees, I can say that it was a very constructive work. Meetings were prepared in advance and were held in a friendly atmosphere. If a decision was raw, it was set aside. No-one took any decisions in a rush… As for Kvit, it is difficult to say because we do not know all the details of negotiations… This (his replacement by Hrynevych – ed note) could be a result of political agreements between the majority factions. They decided to 'shuffle cards'. Although I think that both Hrynevych and Kvit are absolutely professional," a member of the education and science committee, MP Oleksiy Skrypnyk of the Self-Help faction, said.
Ihor Nasalyk, a member of parliament of three convocations (with the Petro Poroshenko Bloc in the latest one), was appointed minister of energy and coal industry.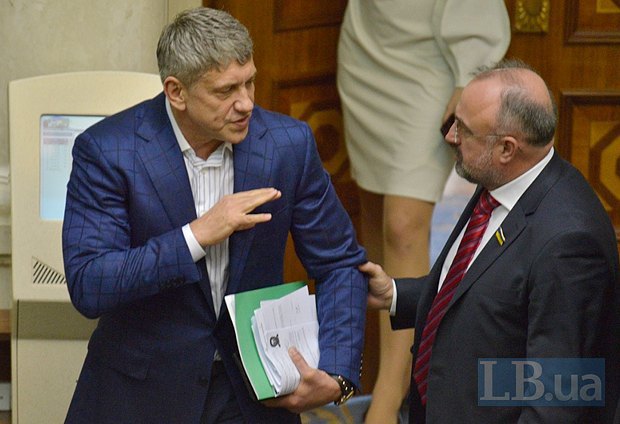 Ihor Nasalyk (left)
Born in Kirovohrad Region, each time he won the election running in a single-seat constituency in the town of Kalush, Ivano-Frankivsk Region. He even was the town's mayor for two terms (2006-2014).
During the third and fourth convocations of parliament, he changed four factions: Our Ukraine, the Regions of Ukraine, the Ukrainian People's Party and the Yuliya Tymoshenko Bloc.
In the last local elections, Nasalyk ran for Ivano-Frankivsk mayor on behalf of the Petro Poroshenko Bloc, however he was defeated by Freedom's Ruslan Martsinkiv.
By the way, Nasalyk was among those MPs in the Petro Poroshenko Bloc faction who did not vote for the bill on amendments to the Law of Ukraine "On joint-stock companies" seeking to decrease the quorum at general meetings of joint-stock companies with majority corporate rights of the state from 60 per cent to 50 per cent plus one share, which directly affected the interests of Ihor Kolomoyskyy. Had the bill been adopted, the state would have been able to influence the activity of Ukrnafta, in which the state owns 50 per cent plus one share and Privat's people less than half. 
When the bill was put to a vote on 13 January 2015, Nasalyk was present in the chamber judging by his voting records on the parliamentary website.
"For now it is difficult to say and evaluate these appointments… He (Nasalyk – ed note) was a deputy head of the committee for fuel and energy. And he revealed his deep insight into the sector. So neither I, nor his colleagues have any concerns about his professional level. As for his action programme, this is a different issue – we have not really seen it. Neither the action programme, nor a step-by-step plan of implementation of these actions… Because this appointment happened very fast, and there was no candidate for the post until the very last moment, Mr Nasalyk took some time to develop this plan and his strategy. I sincerely believe that he would continue implementing reforms concerning gas and electric energy and would not resort to populist steps," a member of the committee for the fuel and energy sector, nuclear policy and safety, MP Natalya Katser-Buchkovska from the People's Front, said.
To be continued…