Read about ex-MPs in the new government in the first part of the article.Team VinnytsyaBefore his appointment as deputy prime minister, Volodymyr Kistion was the first deputy head of the parliament apparatus and chief clerk. It is expected that he will oversee emergencies, man-made disasters and so on.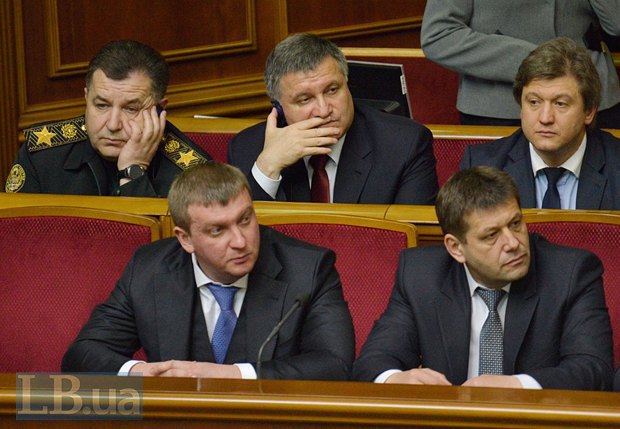 Volodymyr Kistion (lower right corner)
When Hroysman was the Vinnytsya mayor, he was his deputy and first deputy. When Volodymyr Borysovych was appointed the minister of regional development, construction and utilities, Kistion became his deputy.
When asked by the city council's newspaper Vinnytska Hazeta (14 May 2014) why he decided to come to work at the city council, Kistion said: "Then city mayor Volodymyr Borysovych Hroysman is very persuasive. When in 2008 he gave me assignments, I was curious if I was able to cope using my expertise, knowledge and practical experience. It is a pleasure to work for the benefit of the city which I immensely love. Though I have to be frank, I feel better at production site."
In 2010, Volodymyr Kistion became a member of the Vinnytsya city council on the list of the People's Front. In February 2014, a number of faction members, including Kistion, quit and formed a new union of MPs on the basis of the Conscience of Ukraine political party, on behalf of which Hroysman ran for mayor. As the parliament speaker, he presented a new party, Vinnytsya European Strategy.
At the last local election, Kistion ran for the Vinnytsya regional council from the Petro Poroshenko Bloc and was even described as a potential candidate for the head of the regional council. However he was defeated.
Kistion is a construction engineer by education, having graduated the Odesa Construction Engineering Institute majoring in water supply and disposal. He received his Master's diploma in public administration from the Odesa Regional Institute of Public Administration.
He worked as a foreman at the Yampil public utility company and in 2001 he chaired the Vinnytsyavodokanal water company.
Vinnytsya mayor Hroysman's deputy, Andriy Reva, took the post of social policy minister. In the course of the lengthy political negotiations on Bankova [street where the president's office is located] his name was mentioned in the context of a future health minister, however the president's team and part of his faction in parliament flatly opposed this appointment, saying Reva had no experience in health care.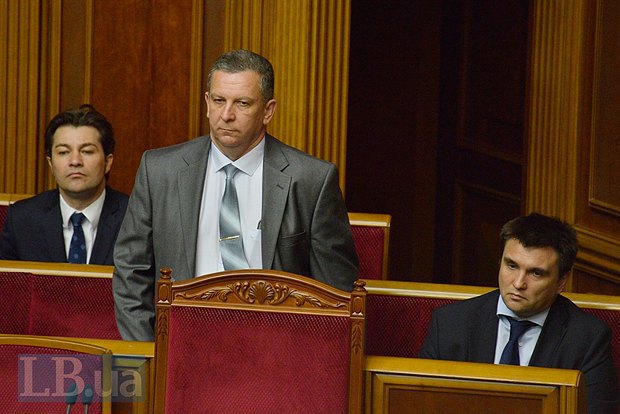 Max Trebukhov
Reva has a track record as an official. From 1998 to 2000, he was a deputy of mayor Dmytro Dvorkis, a member of parliament of the third convocation.
In 2000-2005, Reva was the head of the social security department of Vinnytsya's Zamostyanskyy district council. Later he again took the post of a deputy Vinnytsya city head, where he worked until he was appointed to the government.
Reva is an officer with higher special military education. He also holds a Master's diploma as lawyer.
"I did not join the Euro-Maydan [protests]. This is a political issue. Senior officials like Volodymyr Hroysman and Serhiy Morhunov were there, while I am an official after all. When the solution of political issues is at stake, this is the responsibility of senior officials. When it concerns specific directions of work, it is my area of responsibility… I do not go to Vinnytsya's Maydan because I clearly know what happens next – the same as it was before. Nothing new: the same people, the same mottoes, the same calls and zero result… It is pure populism… I do not want to hear this demagoguery. As a person in power, who knows the situation from inside and sees these problems, I perfectly understand that if a person makes loud statements and ample promises, it will not work out," he said in an interview with the 20 Minutes newspaper last year.
Reva actively criticized the government of Arseniy Yatsenyuk in May 2014 with regard to its policy of preferences.
"The Social Policy Ministry assures us that 4.5 million Ukrainian families are subsidized. At the ministerial meeting, I said that I would resign if they find more than 1 million subsidy holders," he said.
By the way, Reva was a member of the city council's working group on health reform.
Parliament appointed the head of the parliament speaker's office, Oleksandr Sayenko, as minister of the Cabinet of Ministers. By the way, he is also described as Hroysman's man although he is not on the Vinnytsya team of the new prime minister. Sayenko is a Kyivite. He met Hroysman when the latter became a deputy prime minister.
Hroysman introduces Sayenko
Sayenko was first appointed his adviser. After the October 2014 election, the current minister became an assistant to then MP Hroysman. In March 2015, Sayenko headed the parliament speaker's secretariat.
Before he was put in charge of Hroysman's office, Sayenko was a business adviser to the charity Fund for Economic and Social Refors in Ukraine and the director of the School of Senior Civil Service.
Petro Poroshenko Bloc's quota
The new finance minister is Oleksandr Danylyuk who has been the president's representative in the Cabinet of Ministers since July 2014 and a deputy head of the presidential administration since September 2015. Danylyuk was once an adviser to Yanukovych and after September 2010, he chaired the coordination centre for the implementation of economic reforms supervised by the head of the presidential administration, Serhiy Lyovochkin.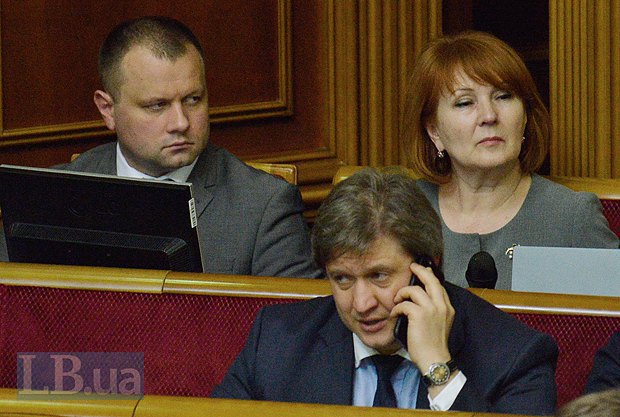 Oleksandr Danylyuk (over the phone)
Previously, Danylyuk was an adviser to Prime Minister Yuriy Yekhanurov (2005-2006) and the director-general of the Rurik Investment fund until the end of 2010.
The newly-appointed finance minister graduated from the Kyiv Polytechnic Institute, the Kyiv Institute of Investment Management. He received his MBA from Indiana University Kelly School of Business.
According to media reports, he is one of the initiators and coordinators of the project on the establishment of the Anticorruption Bureau and was involved in the development of a package of bills aimed at securing EU visa-free travel for Ukrainians.
Last summer, Danylyuk and the head of the Odesa regional state administration, Mikheil Saakashvili, a former editor in chief of Forbes Ukraine, Volodymyr Fedorin, and the vice-president of the Kyiv School of Economics, Yuliya Tychkivska, set up the Kakha Bendukidze Free Market Centre.
"Our goal is to develop the centre into a leading think tank in Ukraine to promote necessary reforms without extra political bends, in Kakha's style. Personally, I am sick of watching how decisions developed by our team long time ago get chewed for months without being implemented," Danylyuk commented on Facebook on the establishment of the centre last year.
He was obviously talking about the so-called Odesa Reform Package presented last year, which proposes amendments to almost 30 bills with a view to fighting corruption and bureaucracy in Ukraine.
The newly-established Ministry for Temporarily Occupied Territories and Internally Displaced Persons is now chaired by Vadym Chernysh, who was in charge of the State Agency for Donbas Reconstruction.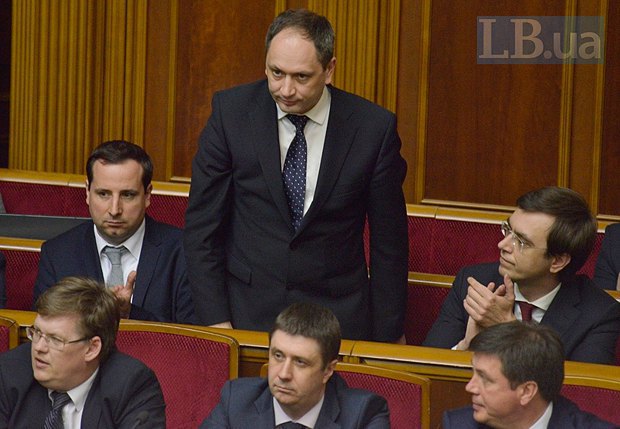 Vadym Chernysh (standing)
Upon graduating from the Kharkiv Law Academy, Chernysh worked as a lawyer and practitioner. From 2002 to 2010, he was a member of the Kirovohrad regional council where he represented the Our Ukraine People's Union party.
At the 2004 presidential election, he was a proxy of Viktor Yushchenko (constituency No 104 in Oleksandriya, Kirovohrad Region, where Chernysh hails from) and as soon as in March 2005, he was appointed a deputy head of the Kirovohrad regional state administration, Eduard Zeynalov, a member of parliament of the fifth and sixth convocations representing Our Ukraine and the People's Union Our Ukraine, who is described as Petro Poroshenko Bloc MP Oleksandr Tretyakov's man. After Zeynalov entered parliament, Chernysh took over his post (from August 2006 to November 2007).
Following his appointment, Chernysh said in an interview with Glavred that he met Zeynalov at the presidential election. And that the two joined Yushchenko's team in parallel. "In 2004, I was Viktor Yushchenko's proxy at the Oleksandriya election constituency while Eduard was at No 100 here in Kirovohrad. During the election campaign we worked and interacted closely," he said.
Yushchenko dismissed Chernysh after the Cabinet of Ministers led by Viktor Yanukovych at the time recognized the work of the Kirovohrad regional state administration as unsatisfactory. However, media suggested that this personnel decision was due to Tretyakov's weakening influence on Yushchenko during that period.
Chernysh later chaired the Centre for the Study of Security Problems and Counteraction to Money Laundering NGO. He was also a member of the civic council under the Higher Qualification Commission of Judges.
It was the president's team which insisted on appointing Yevhen Nyshchuk as culture minister.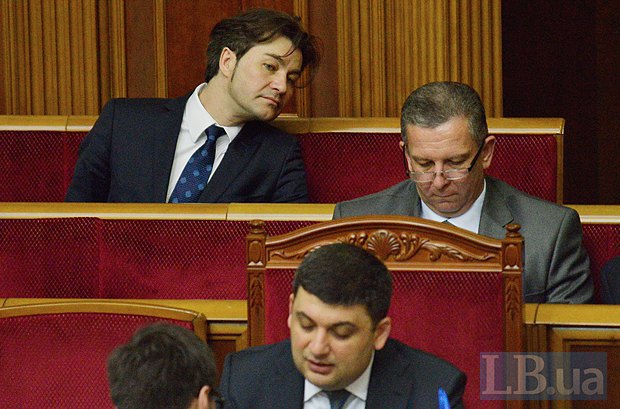 For the first time an actor of the National Ivan Franko Drama Theatre and "the voice of Maydan", as he is called, headed the Culture Ministry right after the Euro-Maydan protests.
After a new government was formed in December 2014, he was replaced with Vyacheslav Kyrylenko.
"I was not canvassing at Maydan and I did not stand for any politician. Certainly, I was not preparing to become a minister and did not stand at Maydan for this. I may have become a hero of the nation faster if I said, when they were announcing the ministers, that 'I did not stand for this and thus I remain at Maydan," Nyshchuk commented on his first appointment as a minister.
At the snap parliamentary election in 2007, he ran on the list of the Our Ukraine-People's Self-Defence [bloc] under "unpromising" No 205.
He was awarded as a People's Artist of Ukraine in March 2015.
People's Front's quota
Volodymyr Omelyan, a deputy infrastructure minister in the previous government, was given a promotion in Hroysman's Cabinet of Ministers – he was put in charge of a ministry under the quota of the People's Front. Omelyan is an experienced official. From June 2012 to March 2014, he was a deputy director of the finance minister's support department. Before this, he held various posts a the Foreign Ministry since 2000 with a two-year break. From 2008 to 2010, Omelyan worked at the Ecology Ministry.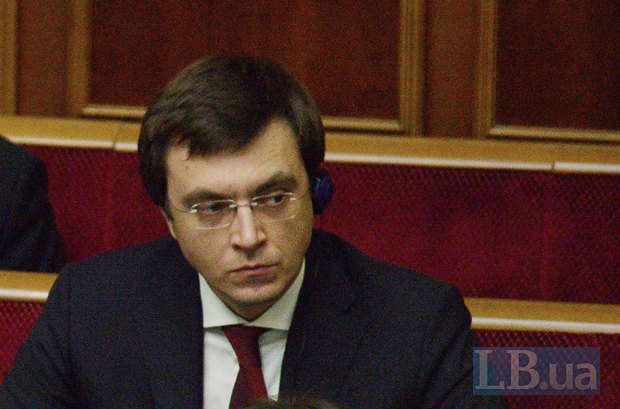 Volodymyr Omelyan
In Yatsenyuk's government, Omelyan was actually in charge of the service of the Cabinet of Ministers for a year. Since 2015, he has been transferred to the Infrastructure Ministry to deputize for Minister Andriy Pyvovarskyy.
"I had several contacts, including with members of parliament, who came to me said: 'let us launch now a fantastic scheme which was agreed with the country's top officials," he said on the air of Hromadske TV after Pyvovarskyy stepped down. He added that the ministry's staff was subjected to enormous pressure.
Once appointed, Omelyan confirmed to RBC-Ukraine that he was willing to continue reforms launched by Pyvovarskyyy: "My mission is to make sure that reforms which we developed together in 2015 go on. These reforms are at the initial stage. They need to be advanced and rooted. We want to apply Naftohaz's model of transparent corporate management to Ukrzaliznytsya [Ukrainian Railways]. [To make sure] that Ukrzaliznytsya's supervisory board consists exclusively of professionals, not political appointees delegated by public offices as it happens today. I think this will be the most effective management. Ukrzaliznytsya must be fully independent in making decisions."