A group of young people on Wednesday night broke into the Uman synagogue on the grave of Rabbi Nachman, sprayed the walls and floor with red paint and hurled chunks of pork around.
The perpetrators reportedly left behind a pig's head with a swastika carved on it.
A few worshipers who were in the building at the time managed to escape and called the police, who arrived at the scene when the hooligans have already escaped. Media believe that the pogrom was staged by a group Ukrainian nationalists.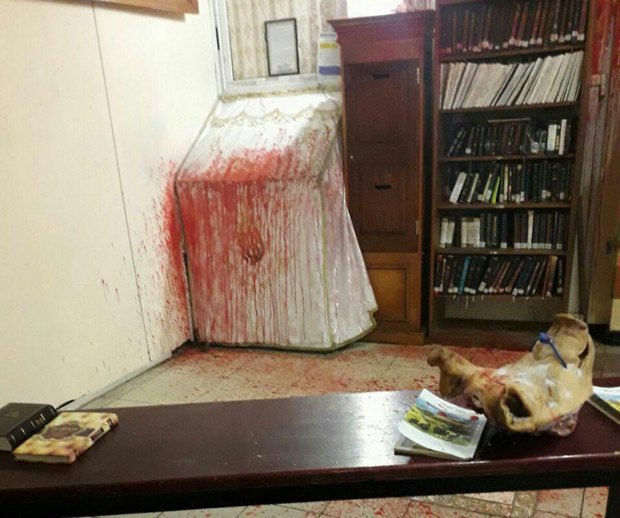 Photo: http://izrus.co.il/
Police has said they opened criminal proceedings on the charges of hooliganism at the Tzaddik Nachman gravesite complex. The case was soon requalified under Par. 3, Art. 161 of the Criminal Code of Ukraine (violation of the equality of citizens regardless of their race, ethnicity or attitude to religion), which provides for a penalty of imprisonment up to eight years.
A number of physical evidence was found on the scene," a police report reads.
Meanwhile, the Ukrainian Embassy in Israel has expressed regrets over the incident.
"The Embassy of Ukraine is very sorry about what had happened at the tomb of Rabbi Nachman in Uman. At the moment law enforcement agencies are engaged in related investigation. The Ukrainian side will take all possible steps to punish the perpetrators of the incident. The Embassy of Ukraine condemns all manifestations of anti-Semitism, xenophobia and other forms of intolerance and works over their complete eradication in the Ukrainian society," the embassy said in a statement .
Prosecutor General of Ukraine Yuriy Lutsenko ordered the prosecutor of Cherkasy oblast to take over the investigation into the attack on the synagogue. Lutsenko took personal control of the incident and cancelled holidays for the regional prosecutor, the press-secretary of the prosecutor-general Larisa Sarhan wrote on Facebook.
The Uman tomb of tzaddik (righteous man) Nachman is one of the most popular religious pilgrimage sites in Judaism, drawing tens of thousands of visitors a year.