The Orthodox Christians celebrate Epiphany on 19 January by bathing in the consecrated baptismal waters despite the freezing winter temperatures. An LB.ua reporter attended one such ceremony at Kyiv's Obolon district where the Holy Virgin Cathedral of the UOC (MP) is situated.
Metropolitan Onuphrius headed the sacrament of consecration of the Dnipro waters. Among the celebrities at the ceremony was seen Verkhovna Rada deputy Vadym Novinskyy (Opposition Bloc).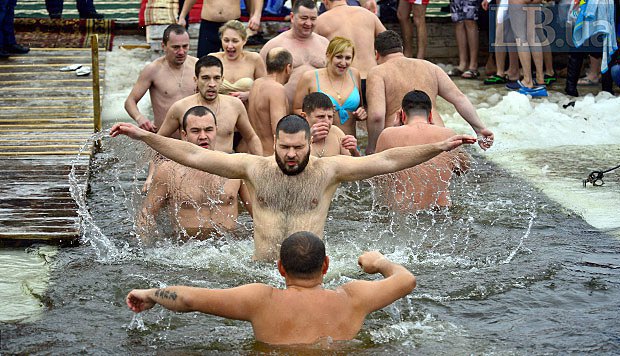 The Primate of the Ukrainian Orthodox Church (Kyiv Patriarchate) Filaret traditionally holds this ceremony in the metropolitan Hydropark.
In Kyiv, the Epiphany bathing feasts are also held at Trukhaniv Island near the pedestrian bridge, the lake Telbin (Bereznyaky), on Verbne Lake (Obolon) and a number of other open-air reservoirs.
The daytime temperature in Ukraine's capital was at -5° C, low clouds.