The information about the expansion of military and technical cooperation between the enterprises that are parts of the state-owned defence concern Ukroboronprom with the defence companies of Russia, that is an aggressor country, is false.
In a press release on 22 February, Ukroboronprom said that the delivery and order transactions in conventional weapons between Ukraine and Russia stopped in 2014, as evidenced by a recent report by the Stockholm International Peace Research Institute (SIPRI).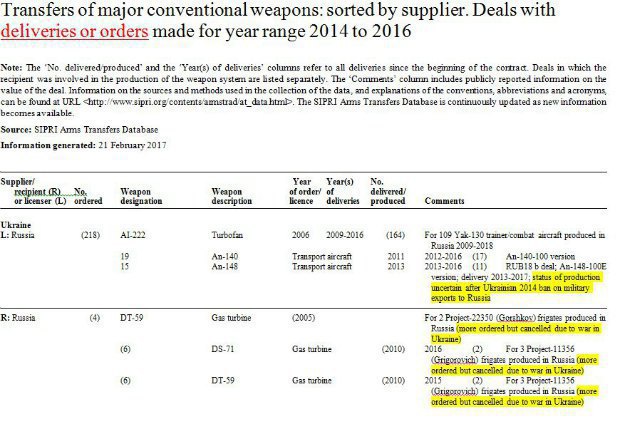 The release came in response to an earlier publication by Glavkom. The internet outlet in an article that cited the findings of the SIPRI alleged that Russia has become the largest buyer of Ukrainian military products. The article said that Ukraine's defence exports to Russia have reached 169mn dollars last year, allegedly having demonstrated a 72% increase, i.e. higher than during the presidency of Viktor Yanukovych.
Ukroboronprom reminded that in accordance with the decree of the President of Ukraine №691/2014 as of 27 August 2014, the National Security and Defence Council adopted a resolution "On the measures to improve the state military-technical policy." "In accordance with subparagraph 7 of paragraph 1 of this document, exports of military goods and dual-use items for the purpose of military end-use by Russian Federation are terminated," the company stressed.
The defence concern also reminded that in December 2016 SIPRI has published an updated rating of world manufacturers of weapons, in which SC Ukroboronprom was rated as 81 largest in the world.
"In a year, the concern climbed up 11 positions, but domestic media, for some reason, snubbed the news, in contrast to the fake news that discredits Ukraine at the global level."
Ukrobronprom stresses similar attitude discredits both Ukrainian military-industrial complex and Ukrainian journalism.