About 50 activists have come to the building of the Volyn regional state administration protesting against the seizure by of a trade blockade "redoubt" at the railway station Kryvyy Torets in Donetsk Region, the local news website VolynPost reported on 14 March.
The activists met the head of the regional state administration, Volodymyr Hunchyk, and heads of the local police and Security Service of Ukraine (SBU) departments. They demanded a release of the deputy head of the National Police, Vyacheslav Abroskyn, and the release of the detained participants in the blockade. Activists said they would not leave the state administration until their requirements were met.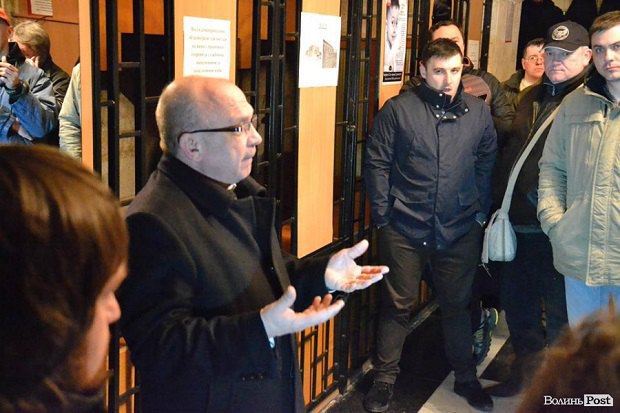 The protesters read out their demands to President Petro Poroshenko, Prime Minister Volodymyr Groysman, parliament speaker Andriy Parubiy and Prosecutor-General Yuriy Lutsenko, including an "immediate release of illegally detained participants in the blockade from custody and an end to criminal proceedings against them."
The protesters also demanded that parliament sack Interior Minister Arsen Avakov, Donetsk regional police chief Abroskyn, SBU chief Vasyl Hrytsak, and Antiterrorist Centre chief Vitaliy Malikov.
Also, the protesters demanded that parliament pass a law on temporarily occupied territories.
Volyn governor Volodymyr Hunchyk declined to sign the petition saying he did not have the powers to sign a document seeking the dismissal of top officials.
The so-called HQ of the Blockade of Trade with Occupiers has said its "redoubt" of the 16th volunteer battalion in Kryvyy Torets, Donetsk Region was stormed by the officers of the Security Service of Ukraine (SBU) and the special police force KORD on 13 March.
Previously, a group of SBU operatives arrived in Kryvyy Torets, disarmed the blockade members and detained them.
The SBU, for its part, denied storming the redoubt and said that the incident was part of a "counter-sabotage operation."