The recent satellite data indicate a sharp reduction in areas uner crops in the Russia-occupied Crimea.
Ukrainian Ministry of Temporarily Occupied Territories and Forced Migrants said on Tuesday that the total area covered with healthy productive vegetation on the peninsula shrank 6.7 times this year over 2014 as the areas under winter crop dwindled 85% from over one million hectares in 2014 down to 153 thousand hectares.
Satellite data on the state of vegetation in Ukrainian Crimea in March 2014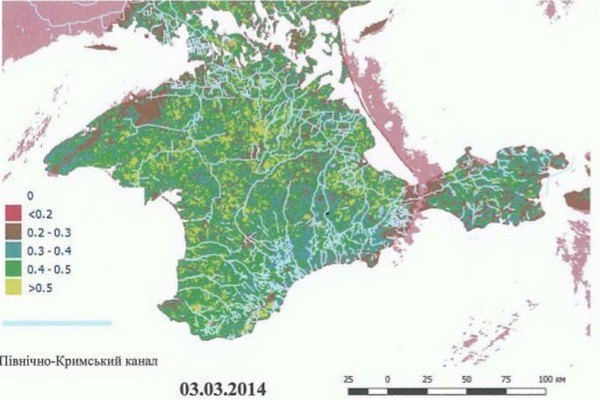 ... and in 2017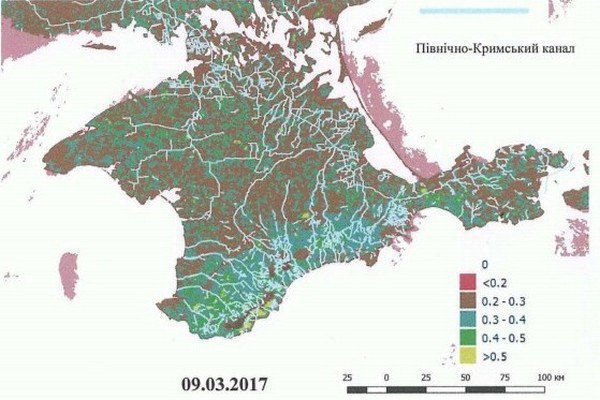 The weather conditions on the peninsula at that time were satisfactory and did not have a negative effect on plants.
In 2016, Gorshenin Institute held a series of round tables devoted to the ecology of the occupied Crimea. An adviser to the Minister of Agrarian Policy and Food Oleksandr Liyev said during one conference that 400 thousand hectares of land in Crimea became infertile after the cessation of the Dnipro water supply via the North Crimean Canal.
The founder of the Free Crimea project, Taras Berezovets, said that the north of the peninsula is returning to its original state of semi-desert as it was before 1954, when it became a part of then Soviet Ukraine.