Ukrainian ex-premier co-owns Espreso TV
His business partners are the wives of Arsen Avakov and Mykola Knyazhytskyy.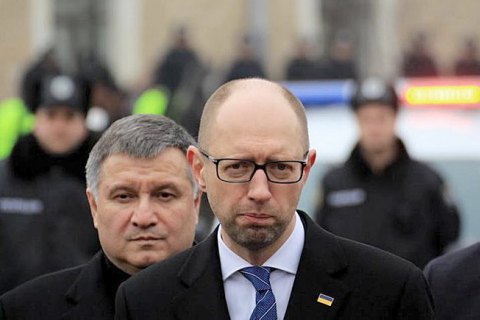 Arseniy Yatsenyuk (front) and Arsen Avakov (background)
Former Ukrainian Prime Minister Arseniy Yatsenyuk has become a co-owner of news-based Espreso TV.
According to Interfax-Ukraine, he is listed among the end beneficiaries of Astra Finance, the company which owns Goldberry Ltd (Espreso TV).
The list of beneficiaries also includes the wife of Interior Minister Arsen Avakov, Inna Avakova, and the wife of MP Mykola Knyazhytskyy, Larysa Knyazhytska.
Espreso TV was founded by Larysa Knyazhytska and a former editor in chief of the Kommentarii weekly, Vadym Denysenko, in the autumn of 2013.
Yatsenyuk, Avakov and Knyazhytskyy are the leaders of the People's Front coalition party.