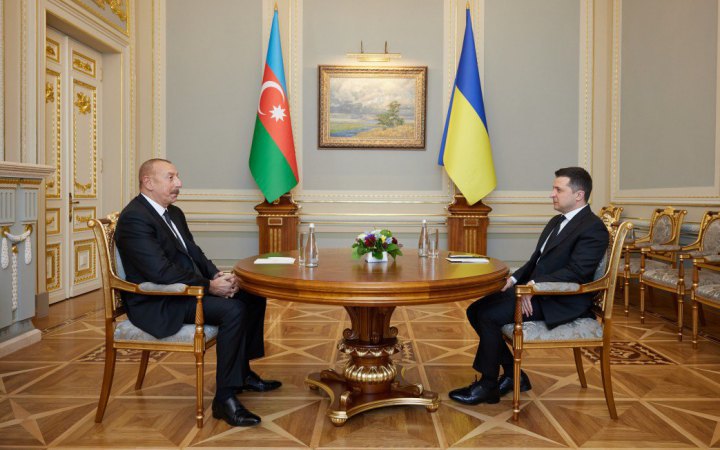 President Volodymyr Zelenskyy stated that Azerbaijan is ready to provide Ukraine with fuel for sowing.
He wrote about this in his Twitter following a conversation with Azerbaijani President Ilham Aliyev.
"I held talks with the President of Azerbaijan. Informed him about new strikes on the civilian population. We discussed the urgent need for green corridors. I thanked for the humanitarian aid and readiness to provide fuel for sowing," Zelensky wrote.
Held talks with President of Azerbaijan @azpresident. Informed about new strikes at the civilian population. The urgent necessity for green corridors was discussed. Thanked for the humanitarian aid and readiness to provide fuel for sowing.

— Володимир Зеленський (@ZelenskyyUa) March 28, 2022
Russian occupiers in violating of international humanitarian law, don't stop shelling and bombing Ukrainian cities and towns. Also the russian army chaotically mines the area and destroys agricultural machinery in order to jeopardize the start of the sowing campaign in some regions of Ukraine.
Herewith, as of March 26, the sowing campaign started in 11 regions of Ukraine. It didn't start at the same time last year.
The Cabinet of Ministers of Ukraine has adopted a number of decisions that facilitate access to fuel, pesticides and agrochemicals for produsers of agricultural products in martial law. The introduction of gasoline and diesel fuel of ecological classes Euro3 and Euro 4 is allowed. Customs procedures for the supply of petroleum products have been simplified. This will attract additional fuel resources for the needs of agricultural producers.
In addition, excise tax on fuel has been canceled and VAT rate has been reduced from 20% to 7% (№ 7137-d).
The Government has also simplified conditions for their transportation by road. The terms for the right to work related to transportation, storage, application and trade of pesticides and agrochemicals have also been extended. This norm applies to the period of martial law in Ukraine and for 90 days after its termination or abolition.