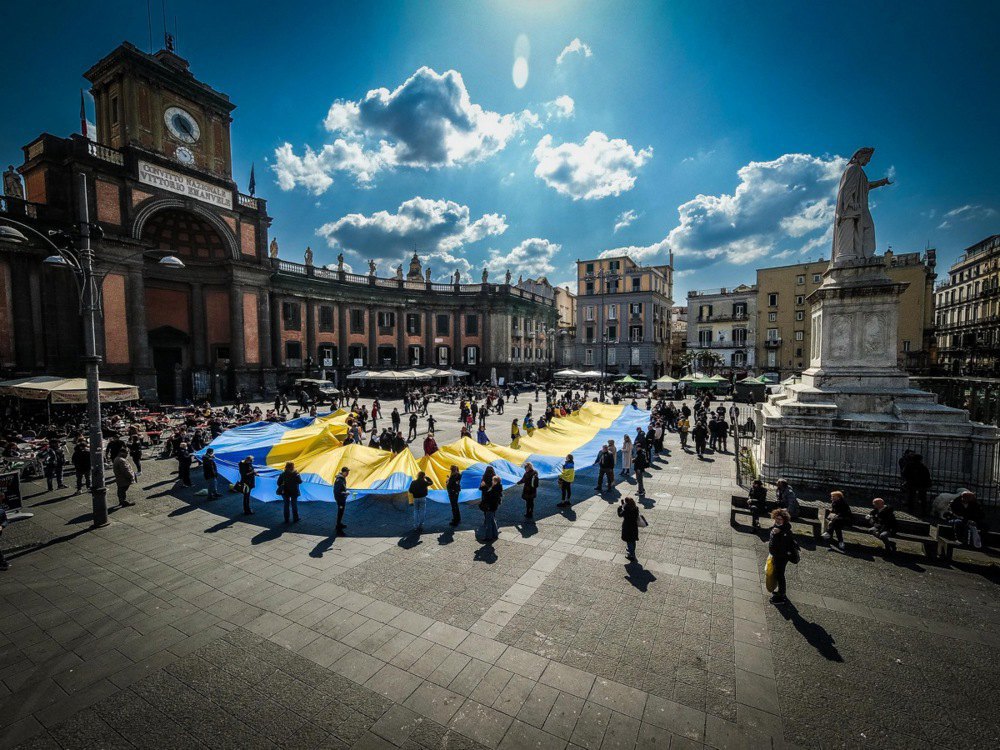 The Ukrainian community of Naples during a rally against the Russian invasion, 20 March 2022
At first: the diaspora and the settling-in allowance
Italy has accepted approximately 150,000 Ukrainian refugees, demonstrating a kind of national paradox: on the one hand, it has opened a green corridor, unprecedentedly simplifying procedures and rules, granting rights and providing financial assistance. On the other hand, even with all these privileges, Ukrainians have a harder time here than in Northern European countries as Italy is hardly a social paradise.
About 90% of Ukrainians have settled with friends and acquaintances, and only the rest have been provided with accommodation by the state. In other words, it was the Ukrainian diaspora that actually addressed the issue of housing. Fortunately, it is strong, extensive and very active in the Apennines (300,000 people officially live here alone). Plus, there are volunteers: many people simply solved and are still solving the everyday problems of those who fled the war at the call of their hearts.
The state has not been particularly successful. A certain number of refugees were accommodated in hotels. And since most of them were women with children, they naturally enrolled their children in schools, kindergartens and clubs, as well as registered them with local doctors. But in a few months, when the children began to settle down in their new places, many were told that hotels were only an early solution, so they had to leave. Where did they have to go? To migrant accommodation centres or other social housing, which can be located in another region, often somewhere in the hinterland, with almost no transport links to "civilisation".
Those who stayed with friends or acquaintances faced similar problems. After a few months of living together, hosts and guests often got tired of each other and had to somehow resolve the issue. Therefore, the average Ukrainian refugee (most often a woman) in Italy has moved one, two or more times.
Refugees were allocated financial allowance: 300 euros per adult and 150 per child for as long as three months. And then, it was assumed they should get a job and pay for everything themselves. And integrate. In other words, this is not social assistance, but rather the settling-in allowance: we gave you a push, and then you are on your own. This is not surprising, given that Rome is ruled by a far-right party.
However, there are many difficulties with employment. After all, the majority of women who come to Italy have higher education, small children, and want to return to Ukraine "in the near future", so they do not learn Italian ("I'm here temporarily, and Italian is not English, so why should I study it?"). If we add that the only job that is easy to find in Italy is cleaning private homes, we can understand why only 11% of Ukrainian refugees have found a job. Most often in hotels or restaurants. In addition, a certain, very small percentage of refugees took their jobs with them, as they can work remotely. There are also those who have entered Italian universities and will receive higher education in the Apennines.
Where to live?
A little more than a year is just the psychological limit beyond which you have to decide: what's next? Will we put down roots here or return to our homeland? You can't live a "life on hold" all the time. In fact, a certain number of "Italian" Ukrainians have already made up their minds. In the spring and summer of 2023, a considerable number of refugees returned to Ukraine and this process continues. There are many reasons for this.
Italy does not actually compete with Ukraine for this human capital (and we remember that these are mostly young, educated women with children). However, the demographic situation in the Apennines is very sad: barely 400,000 children are born here a year, and more than 700,000 people die. So, in fact, migrants are needed to the hilt. Young, educated, hardworking, with children – even more so. During the recent migration crisis, even Prime Minister Giorgia Meloni said that illegal migration should be combated in every way possible, but legal migration should be supported.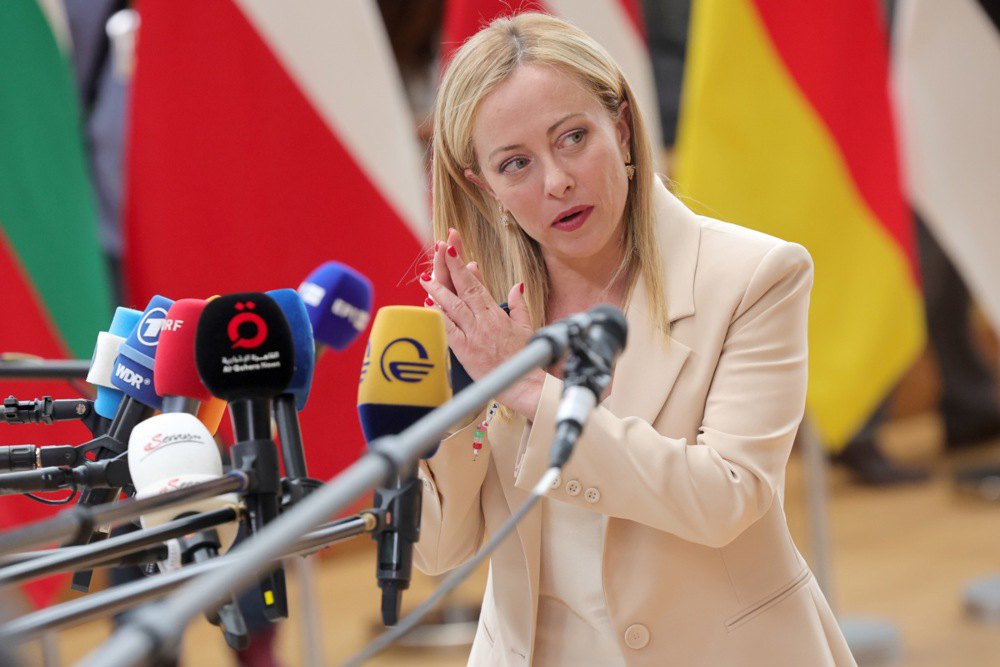 Prime Minister Giorgia Meloni
The Meloni government is indeed working on the problem of illegal migration: On 8 June, in Luxembourg, EU interior ministers signed an agreement on the two main rules of the Migration Pact, a document that had been in limbo for nine years. For Italy, a painful issue is the rule of "first entry", according to which the EU country to which a migrant first arrived should deal with him or her. For Africans, this means Italy, Greece, Malta... For many years, Rome has been seeking to revise these rules and redistribute migrants evenly within the EU. In June, Italy, according to its interior minister, managed to put forward one of the main messages: "We don't want the EU to pay us to keep illegal immigrants."
At the same time, the modernisation of legal immigration programmes is probably waiting for better times. At least, Rome is not introducing anything similar to Canadian immigration rules yet.
Ukrainian refugees currently have all the legal grounds to reside in Italy. Until 31 December 2023. What happens next is unknown. It is not yet known whether it will be possible to extend them. So, the uncertainty with documents does not make life planning easier either.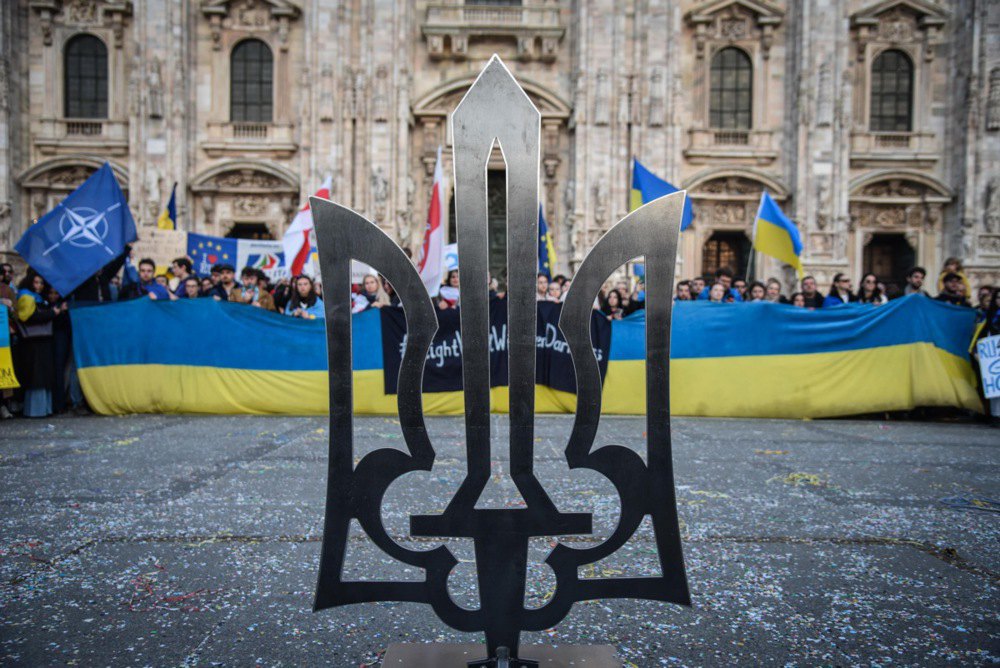 A trident during a pro-Ukrainian rally in Piazza Duomo, Milan, Italy, 25 February 2023
In addition, Italy is very difficult and reluctant to recognise foreign diplomas and does not offer skilled jobs. Even with a very good knowledge of Italian. Due to some peculiarities of the local legislation, it is almost impossible for an immigrant to become a school teacher here (unlike in Northern European countries). So, Italy is not a country where it is easy to start a new life.
Ukrainian demographers predict that approximately two-thirds of Ukrainian refugees will remain in the EU. In addition to the already integrated wives and children, their husbands and fathers may move there after the victory. In some cases, this will happen. But I dare to suggest that for Italy, this proportion will look different, and the scenario "and then dad moved to us" will be rather rare.
I think most of those who arrived after February 2022 will return home or move elsewhere in the EU. In fact, this is already happening.
But let's be honest: Ukraine also does not yet have a clear strategy on how to return citizens who are very much needed at home. Both for the future reconstruction and for the future of the state in general.