Last night, the enemy attacked Ukraine with Shahed-136/131 attack drones and X-101/X-555/X-55 air-launched cruise missiles.
This was reported on Telegram by the Air Force of the Armed Forces of Ukraine.
"The Shaheds were flying from two directions: Primorsko-Akhtarsk - Russia and Cape Chauda - occupied Crimea. A total of 24 attack drones were spotted in the direction of Mykolayiv and Odesa Regions.
"18 attack drones were destroyed by air defence along the route," the statement said.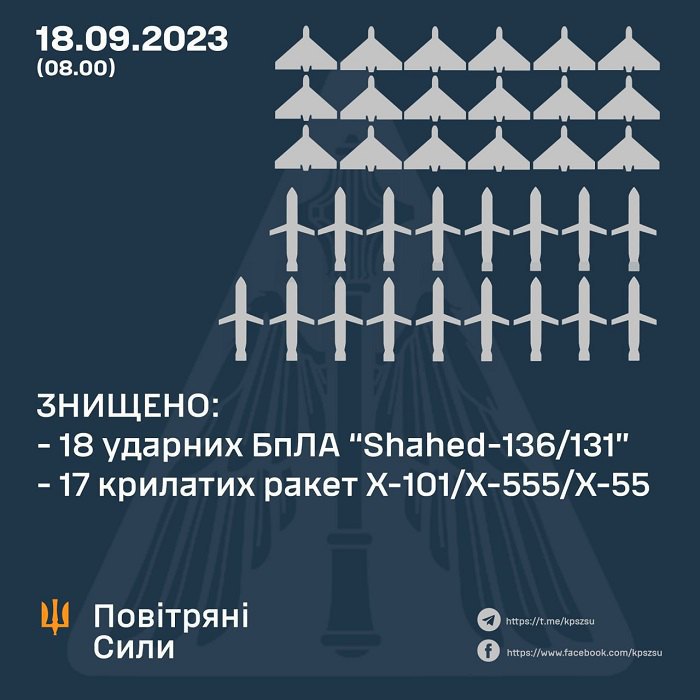 The occupiers launched cruise missiles from Tu-95MS strategic bombers from Volgograd Region. Eight planes were involved, and 17 cruise missiles of the X-101/X-555/X-55 type were launched.
All 17 missiles were destroyed by the Air Force within Dnipropetrovsk, Poltava and Khmelnytskyy Regions.
Yesterday Russia launched another attack on Ukraine with air-launched cruise missiles and Shahed-136/131 strike UAVs. As a result of combat operations, air defence units destroyed six cruise missiles and six Shaheds. As a result of such terrorist actions of the Kremlin, civilians were injured, residential buildings were destroyed and civilian infrastructure was damaged.