Over 80 per cent of Ukrainians learn news from TV - poll
News websites are the third most popular source of information.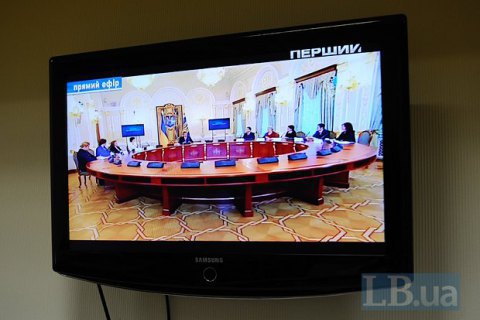 The overwhelming majority of Ukrainians learn about developments in the country from TV, as revealed by an opinion poll carried out by Gorshenin Institute on 8-17 February.
The respondents were offered to choose up to three main sources of information they use. The following results were obtained:
- Ukrainian TV channels, 88 per cent
- communication with relatives and friends, 31.9 per cent
- Ukrainian news websites, 29.9 per cent
- local printed media, 15.1 per cent
- national printed media, 12.5 per cent
- FM radio, 9.5 per cent
- VKontakte social network, 8.5 per cent
- Russian TV channels, 8 per cent
- Facebook, 7.2 per cent
- Russian news websites, 5.8 per cent
- Odnoklassniki social network, 5.3 per cent
- cable radio, 5.1 per cent
- foreign news websites, 4.3 per cent
- foreign TV channels, 1.5 per cent
- Twitter, 1.2 per cent
- other sources, 0.5 per cent
- I'm not interested in the news
Overall the sample, based on the key social and demographic characteristics of the Ukrainian population, included 2,000 respondents aged 18 and above from all regions of Ukraine (excluding the occupied territories of Crimea, Donetsk and Luhansk regions). The quotas included an area of residence, gender and age of respondents. The margin of error does not exceed +/-2.2 per cent.