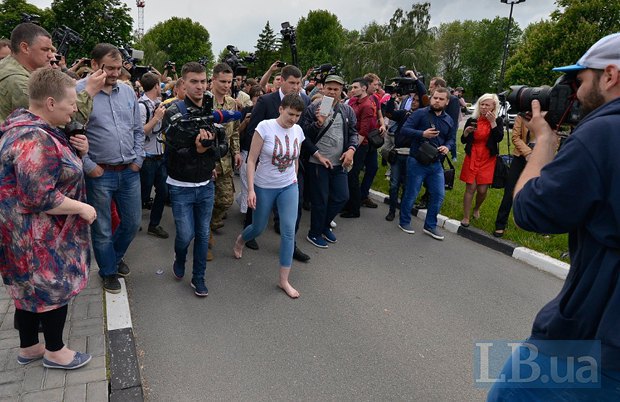 It became known that Savchenko's release is for real (and not just some long-simmering rumours) the previous night, on 24 May. The presidential administration was preparing to send a plane for her, but did not announce anything officially for fears of a force majeure. It is symbolic that it matched the second anniversary of Petro Poroshenko's election as president. One can say it was sort of a gift to Petro Oleksiyovych. The gift which he ensured himself would happen. It does not matter what you think of the head of state, but there is no dispute that Petro Poroshenko should be credited for titanic international efforts, filigree agreements with Putin (the pardons for Savchenko and the Russian Main Intelligence Directorate officers were signed the same day and they left Russia and Ukraine respectively in sync).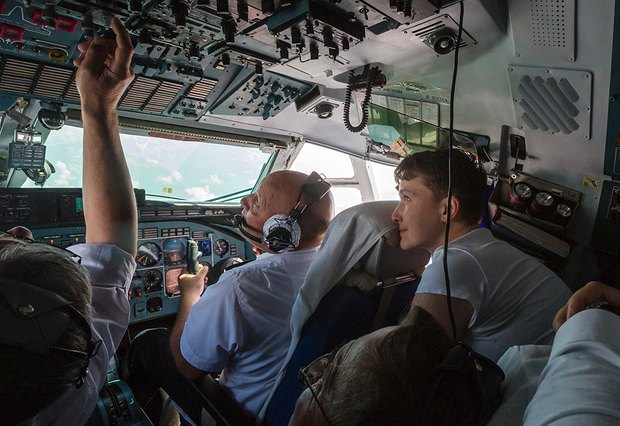 The "evacuation" operation was strictly confidential. When the president's plane with Iryna Herashchenko and Svyatoslav Tseholko onboard left Ukraine, Nadiya's mother and sister were simply unaware. Mariya Ivanivna received a call when she was cooking borsch. She then joked that she did not finish her cooking. However there was little certainty in the call. So Mariya Ivanivna and Vira hurried to Turivska Street to wait for the main news together with Fatherland MPs. Emotions started running high in the afternoon. Initially, Savchenko's arrival was expected at 13:00, then at 14:00 and finally was shifted until 15:00. It was not clear which airport this would be either. Boryspil, Zhulyany and the military airfield in Hostomel were all on top alert. "A PR component is important to Bankova. Therefore it makes no sense to 'present' Savchenko to the press immediately after her arrival. It would be more logical to park the plane somewhere on the outskirts and only 'send Nadiya to the cameras' for the first time when she is on Bankova [street where the president's office is located]," some meeters and greeters said. But it happened otherwise.
Shortly after 14:00, the so-called hall for official delegations at Boryspil was filled to capacity. Cameramen and photographers literally were "hanging" on the fence separating the runway (they were not allowed inside). Only the Kiev Pecherskyy court offered more "comfortable" conditions of work for the media when Yuliya Tymoshenko was on trial.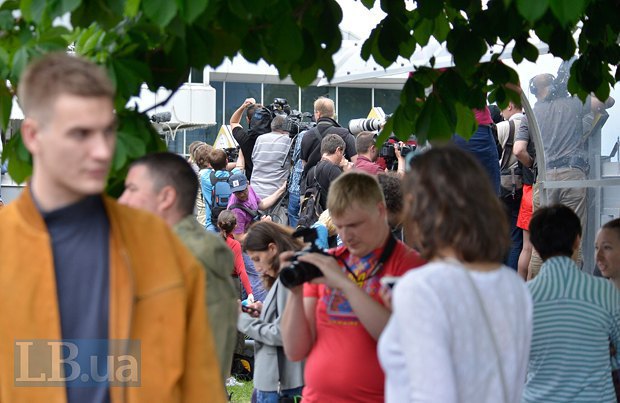 "What is on your mind?" journalists kept bugging Mariya Ivanivna who arrived at Boryspil in Tymoshenko's car.
"I'm afraid I may burst into tears," she answered sincerely.
It brought the sense of absolute deja vu. The scary type of deja vu.
I remember 22 February 2014 very clearly. Around 15-20 people in the meeting group (Yevheniya Tymoshenko, MPs, allies, and I and Maks Levin representing journalists) at the windy apron of Zhulyany, crying airport staff... Politics would start very soon - on the Maydan stage, literally in an hour. But back then in Zhulyany, there were only exposed emotions, purely humane emotions.
Two and a half years have passed. And now one prisoner was meeting another one. No way, absolutely no way can they be equalized. But, you know, there was some bitter irony in this. Some diabolic loop in the history of our country. The history which will soon be overshadowed by politics. Overshadowed and very likely wiped out.
***
So at about 15:00, the president's plane landed at the back end of Boryspil. A minivan took Mariya Ivanivna and Vira there. There, at the apron, away from prying eyes, they finally met Nadiya. The daughter, sister and only then a person whom destiny made the nation's symbol.
The same minivan was expected to take all of them directly to Bankova to meet the president, however Savchenko came out to meet the journalists right at the airport.
Among her key messages: she thanked for support, promised to do her best to see other Ukrainian prisoners in Russia released, and "to make sure true patriots work in parliament". "I don't know how to achieve this but it will happen," Nadiya spoke with confidence in front of hundreds of cameras.
"I would not want her to become the president," Mariya Ivanivna, who was standing at the distance, quietly shook her head.
"What's important is for her to be healthy and happy," a man with grey mustache agreed and gave her flowers.
"This is thank you for your daughter. Thank you, thank you!" she heard this a lot this day. This was said so many times because common people from all over the city came to the airport just to say her short yet so important "Thank you!".
"But then Nadya [as president] would make us all happy," two young girls, who brought Mariya Ivanivna flowers, said timidly.
"I would not want this," she said with her lips only.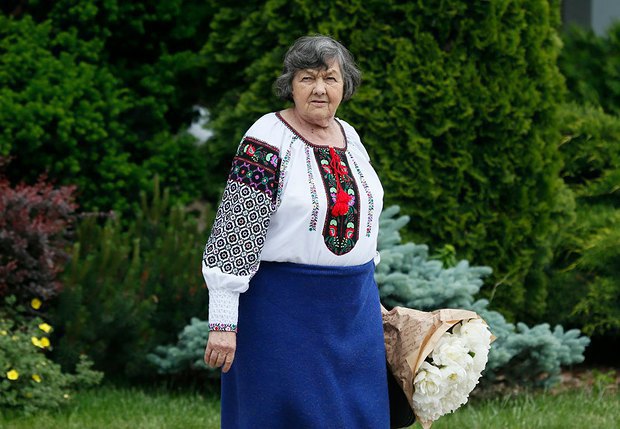 ***
The talks of Nadiya Savchenko's presidency, premiership, leadership of one or another political force are certainly a distant prospect.
"The question is what is she going to do next?" I asked one of the high-ranking officials involved. Sitting in the high office, we were reading LB.ua's newsfeed, saying that Nadiya went to Turivska immediately after Bankova, where she spent several hours talking to Tymoshenko in private.
"Trust me, we would like to know too," he laughed out nervously.
Clearly understanding that, politically, Savchenko is a time bomb whose explosion will ricochet painfully against Bankova, Fatherland and many others. Detonation is unlikely to be prevented, and it is already too late for safety measures.
But there is one more aspect. The public has tremendous expectations from Savchenko. Colossal ones.
"Nadiya's return" is not just a statement about the given fact, it is more. The pilot's comeback gave people hope. The one they are deprived of by any authorities once they stop being "new". The hope for better life, social justice, welfare and bright future. Overall, this hope is infantile and irresponsible as the majority of such citizens absolutely do not care who to shift responsibility for their fate to: be it a "capable administrator" like Yanukovych, or a diplomat, or Poroshenko, or new martyr Savchenko. What is important is to promptly shift responsibility and then complain: "no-one thinks about people", "we were deceived again", "let them all die" and so on.
The axiom is static: the stronger the people's love is, the more desperate their hatred is later. You just have to be prepared for this. And take it into account. Applies to all the parties involved in the process.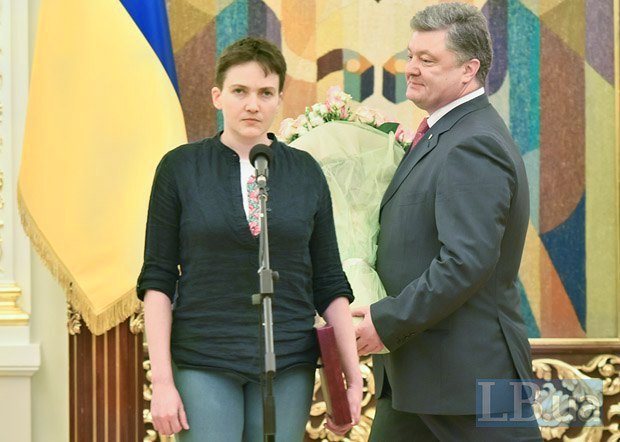 Afterword
"It is said that if a diver is lifted to the surface from the depth, he can die or at least fall sick with his blood boiling in the veins and feeling as if he is going to explode from the inside. Something similar happened to me on the dark December morning in Vladimir (notorious Vladimir prison - Sonya Koshkina)."
A quote from Vladimir Bukovsky's "And The Wind Returns"