On 27 January at Kyiv's St. Michael's Square, the International Charitable Foundation Caritas Ukraine together with the Embassy of Canada and the Ukrainian-Canadian Congress handed ten ambulances over to the representatives of medical institutions of various regions of Ukraine.
"These vehicles are custom-made by the manufacturer to transport the victims. Their design and structural features include the softness of suspension. These are real ambulances, as opposed to those that are being used in our country, because our ambulances are in fact converted trucks," first aid instructor Oleh Kartavyy told an LB.ua reporter.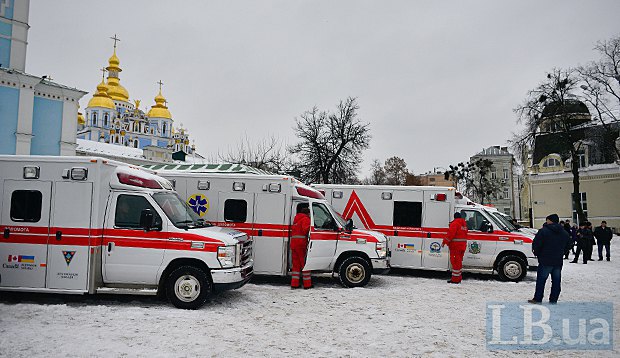 The vehicles are equipped with stretchers, boards, splints frames, cervical collars. They have automatic external defibrillators. Two ambulances equipped with boxes for transporting children will be sent to the Institute of General and Emergency Surgery in Kharkiv,
Subsequently, three ambulances will be sent to medical facilities in Luhansk Region, one to Ternopil and Chernivtsi each. The rest will work in Kharkiv Region.
The handover of ambulances was dedicated to the 25th anniversary of the Canadian-Ukrainian diplomatic relations.
The Ministry of Health have earlier announced plans to launch first-aid training programs for firemen, police officers and emergency workers.