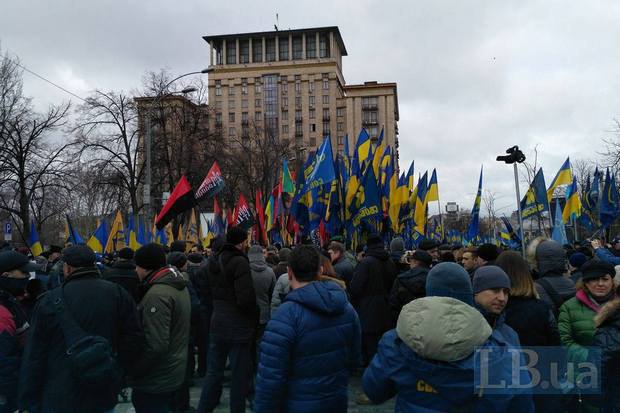 Photo: Oleksandr Rudomanov
On Wednesday, 22 February, around seven thousand supporters of right-wing parties Freedom, Right Sector, National Corps (Azov) gathered in Kyiv center for the March of National Dignity.
An LB.ua correspondent estimated the number of the marchers at 7,000 people. They flooded the Alley of the Heavenly Hundred from the upper exit of the metro station Khreshchatyk down to the Independence Square.
The procession began around 10:25.
The march is dedicated to the third anniversary of the Dignity Revolution. The nationalists say they protest against "Maidan killers on the loose, the sabotage of lustration, thriving corruption, soaring tariffs and prices, and oligarch rolling in clover.
Their demands include the rejection of "anti-state policy along Azarov-Yanukovych schemes, the defeatist policy on the war in Donbas and the occupation of Crimea. The rightists also demand that "the government should be guided by national interests rather instructions of foreign creditors."
The website of the National Corps said that the Ukrainians have ousted a president from the country, and "can do it again" if need be.
The right-wing parties are represented in the power by a few deputies.