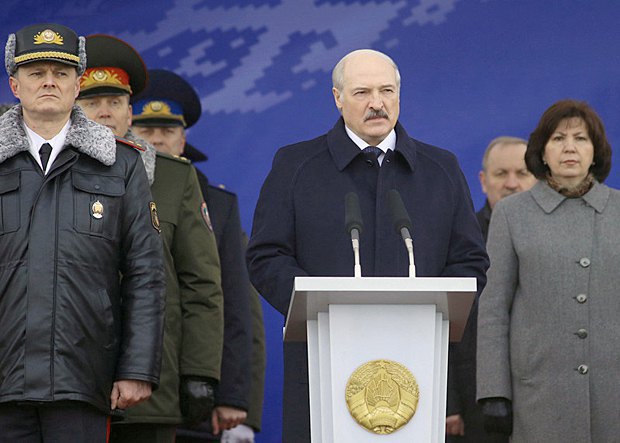 Lukashenka during a parade in Minsk
Belarusian leader Alyaksandr Lukashenka continues to make surprising statements which chauvinists in Russia may describe as anti-Russian. However, in practice, the invariable Belarusian leader is doing nothing to protect the independence and sovereignty of his state, still hoping for the "oil in exchange for kisses" arrangement to return. In the meantime, the protracted conflict between Moscow and Minsk is virtually a carbon copy of what had been happening between Russia and Ukraine before the Russian aggression.
In particular, during a meeting with officials on 9 March, Lukashenka spoke about Russian Prime Minister Dmitriy Medvedev: "I was most surprised by the statements made by my inveterate friend Medvedev. By the way, they have already started scaring us with European prices for gas. Like we will have to pay 200 dollars, not 150. You know, it is like a hint to all in Russia but mostly in Belarus that we are spongers in Russia: as if they were giving us presents".
That is how Lukashenka reacted to the recent angry exchange between Belarusian Prime Minister Andrey Kabyakow and Medvedev, during which the former accused Russia of not honouring its commitments as a Union State member while the latter called the other not to engage in any alternative calculations of a gas price. As if to say that if not for bilateral integration, Belarus would have paid more and, after all, no-one makes you stay in various unions.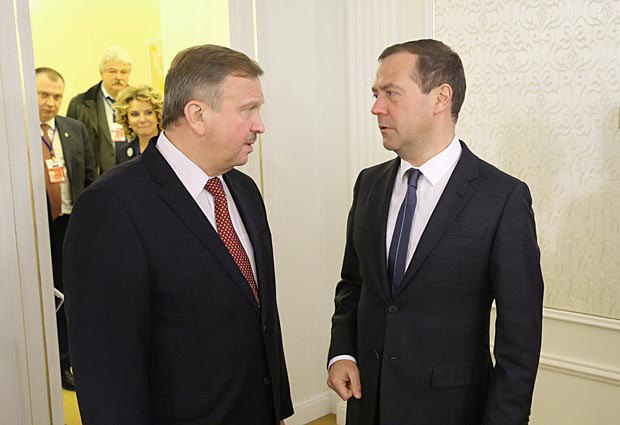 Dmitriy Medvedev and Andrey Kabyakow during a meeting in Minsk
However, Alyaksandr Ryhoravich is still dreaming of those times when it was enough to pledge eternal love at his meetings with Boris Yeltsin and repeat the mantra about the brotherhood of nations to secure cheap energy and loans which should not necessarily be paid off: "Our relations should not be based on accounting here and the price of natural gas, which Medvedev does not own. They are based on something bigger. To evaluate these relations, we should go back to the middle of last century when we lost a third of our population you know for what. And if someone wants to escalate the situation and admonish us once again instead of solving the problem, it is not going to happen."
We can assume of course that after Aleksey Navalnyy's revelatory film "He is not Dimon for you", the Belarusian head of state learnt that Medvedev is heading out and thus allowed himself an attack on the "inveterate friend". However, if you have a closer look at the situation, in which Alyaksandr Ryhoravich ended up as a result of his 20-year efforts to get closer to Russia, it is not difficult to understand why the Belarusian ruler is irritated. "Everything has been fine between us for so many years, why should I pay now for your foreign policy affairs? Let's roll it back, you are not so poor after all!"
In the meantime, Russia has been gradually taking steps which can be confidently described as a hybrid war being unfolded. It has not reached the stage when arms are used but, as we remember, the events in Ukraine did not start with Grad launchers either.
Nevertheless, in the case of Belarus, Russia is clearly exerting economic pressure (the oil and gas dispute). Since January 2017, Gazprom has increased the price of gas for Belarus by 6.81 per cent (up to 141.1 dollars per 1,000 cu.m.).
Russia's influence on the Belarusian special services is also expanding. It turned out that Ukrainian writer Serhiy Zhadan can be deported from Belarus because he is on the Russian blacklist. And you can wave the Russian tricolours outside the House of Government but law enforcers will not pay attention. And you can freely attend a news conference by participants in the Donbas settlement group and yell the nonsense about "Kyiv punishers".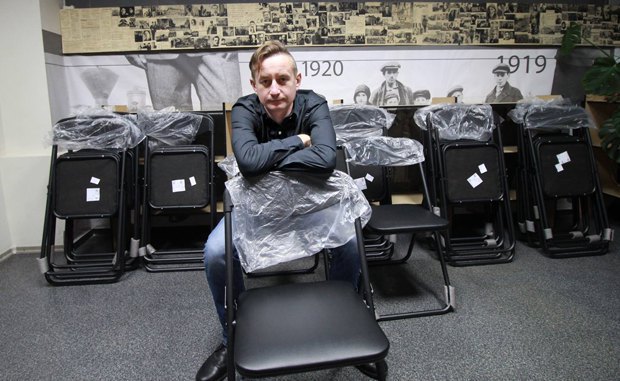 Serhiy Zhadan
What is more, it is difficult not to notice the Russian leadership's attempts to expand their military presence in Belarus and turn it into its military outpost. Two mechanized brigades of the Russian Armed Forces are being deployed in Yelnya and Klintsy near the Belarusian border. They are ideal for a possible hypothetical interference with the Belarusian affairs under the disguise of, say, an antiterrorist operation.
In parallel, Russia continues beefing up border control, developing the infrastructure along the Russian-Belarusian border and deploying operational border service units of the Federal Security Service there.
Besides, the time of the West-2017 military exercise is coming, when the Russian Defence Ministry is going to send over 4,000 train cars full of military cargo to Belarus.
And, certainly, an information campaign, which is underway in Russian media, alleges that "Lukashenka is heading for the West", "nationalism is raising its head" and that a "threat to Russian speakers" is growing.
The only correct and logical solution for Minsk in this situation – in addition to spot measures like the arrest of three publicists denying Belarus's right to independent existence – would be to significantly limit the broadcasting of terrestrial and cable Russian TV and radio channels on its territory and block hostile Russian news websites. This would require producing its own information product. This set of measures can make the information space more controllable and better protected, especially if Russian-Belarusian relations take a deeper dive and Russia subjects Belarus to more serious means of information and psychological influence.
In other words, the long-time leader of Belarus should, at least for his own rescue, start explaining his people the details of the looming threat and urge them to consolidate around the idea of protecting the right to independence, territorial integrity and self-determination. It would make it clear why people will need to learn to live worse.
However, this would require him to admit that for over 20 years he has been leading the country into a trap where he ended up together with others. That is why he keeps muttering about the need to return to "union-like relations" with Moscow and threatening protesters by telling his interior minister "to pull the Maidanized as raisins from a bun". And state-owned television shows a film called to intimidate the dissatisfied Belarusians, suggesting they should not attend protest rallies because no-one can guarantee their security, just look what revolutionaries have made of Ukraine. And Sunday [12 March] marked the beginning of a detention operation which Belarus has not seen for a long while: they just locked them all up – the organizers of yet another "non-parasite" march, activists and journalists.
Acting this way, Lukashenka is only losing his own and Belarusians' precious time.