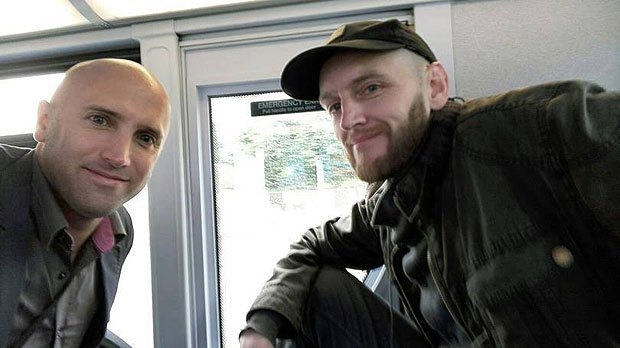 British nationals Graham Phillips and Benjamin Stimson in Donbas
A court in Manchester sentenced a British citizen, 41-year-old Oldham resident Benjamin Stimson to five years and four months in prison, having found him guilty of terrorist activities, namely for taking part in illegal paramilitary groups of Ukraine's self-proclaimed separatist Donetsk and Luhansk people's republics.
Moreover, a few days ago, the UK Foreign Office updated its official website with a travel advice saying "if you travel to eastern Ukraine to fight, or to assist others engaged in the conflict, your activities may amount to offences against UK terrorism or other legislation and you could be prosecuted on your return to the UK."
A dangerous precedent
The guilty verdict handed down on Stimson has two important points.
First, British law is known to be based on precedents. And the sentence passed in Manchester created a very important precedent: other adventurers from Britain who traveled to Donbas to shoot at Ukrainians can be sent to prison almost automatically. That is, it will be enough to prove the fact of their stay with paramilitary groups of LDPR and refer to the Manchester precedent.
Apparently, the official warning of the British Foreign Office to British tourists visiting Ukraine did not appear accidentally but had to with the court ruling.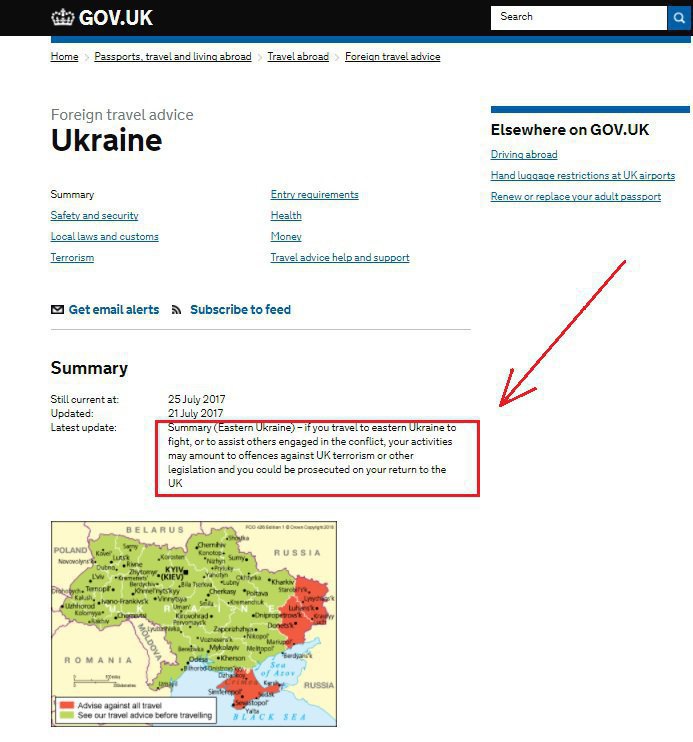 The UK government has officially warned its citizens that participation in the illegal armed forces of the LDPR may constitute offences of terrorism legislation.
The second important point is that the judge did not find evidence of Stimson's direct participation in the armed conflict. Moreover, the prosecution did not insist on this either. According to the prosecution, Stimson only "had the intention, with the assistance of others, to commit acts of terrorism by joining the ranks of the militia that opposes the Ukrainian authorities and serving as a militia fighter." The intention, which he eventually did not put to life! According to the court ruling, Stimson neither has extremist views nor poses a threat to the UK population now. According to Stimson's own account, he only drove an ambulance in Donbas. And now, despite all this, the judge has locked him for eight years (which were then reduced to five years and three months in exchange for pleading guilty) for "… an intention to commit terror acts by joining the militia…"
Read: How the world should react to Russia's terrorist-destructive efforts
And third, Stimson's precedent seems to have put an end to the legalization of financing of crimes through what is presented as crowdfunding on special websites. According to the BBC, "journalist" Graham Phillips and two other stringers who publish videos from Donbas - Americans Russell Bentley (former logger) and Patrick Lancaster (keeping his past a secret) - claim that they are raising funds for their activities on crowdfunding websites. Indeed, they manage to collect certain sums. However, they are way below their real spending. It is obvious that crowdfunding is just a cover-up, an "umbrella" for third-party financing of these foreign provocateurs by the Russian special services.
Besides, crowdfunding websites are also unhappy to be used for sharing content containing violence. Earlier, the administration of such websites only insisted that some publications be removed and confiscated the funds collected with their help. Now it is about closing all accounts that raise funds by promoting war and violence.
Loose lips sink ships
An interview wich careless Stimson gave in Donbas not anticipating any problems with the British law gave a ground for the start of his trial. In October 2015 near Debaltseve, he talked to the filming crew of the BBC, which was filming videos about the Brits involved in the war in eastern Ukraine.
The film crew met Stimson not far from the front line and he, hiding his face, said that he was prompted to go to Donbas by reports about "the far-right extremists in Ukraine". He happily posed for the camera with a weapon in his hands. And he said that he was ready to die and was ready to kill if his life was in danger. He also said that he went to Donbas because of a "lack of life prospects," but at the same time because he considers the things happening there a "Western imperialist aggression against Russia, against people who do not play by the Western rules."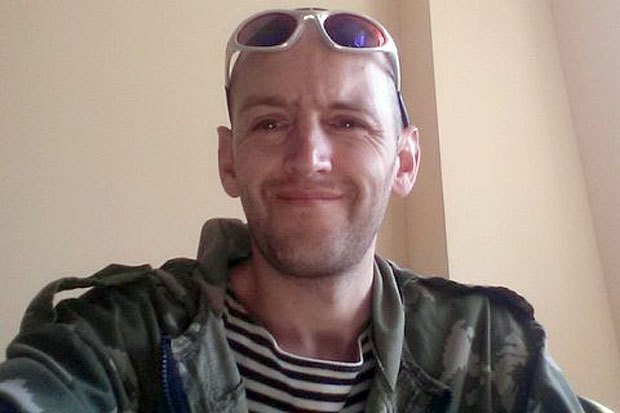 At the same time, he insisted that he was "not a terrorist". "I'm not like those jihadists who are leaving for Syria," Stimson swore.
The mention of Syria did not appear by accident. The law according to which persons returning from countries where they took part in armed conflicts can be charged with terrorism was adopted after hundreds of British citizens went to Syria to fight alongside the Islamic State group. The law has not been applied to Donbas visitors yet.
This is one of the reasons why "journalist" Graham Phillips is still at large. A short time after the BBC crew, he interviewed Stimson again (a photo from the memorable meeting above). By the time of the interview with Phillips, Stimson already realised that he had told the BBC a bit too much.
In general, the situation had to be "sorted out" somehow and Phillips rushed in to help his compatriot, giving him an opportunity to justify himself on the camera. In a video interview with Phillips, Stimson said that he was told to pick up a weapon by a journalist when the BBC was recording his interview.
But this did not help Stimson, and after his return to Britain in June 2016, he was arrested. Later he was released on bail, but later taken into custody again and brought before the court on 7 October on charges of involvement in terrorism. This was the first time that such charges were brought in the UK in connection with the conflict in Donbas.
Who is Graham Phillips?
Meanwhile, Graham Phillips felt quite unrestrained and like he had nothing to fear in both occupied Donbas and in the UK. For example, he kept pestering Ukrainian diplomats in London and even caused a scandal in the British parliament, sneaking in in the guise of a journalist to an event marking the 25th anniversary of the establishment of diplomatic relations between Great Britain and Ukraine.
Why "in the guise"? Because Phillips who poses as a journalist is not really a journalist at all. By no measure at all: he neither works for any media nor the kind of his activities in general can be described as such.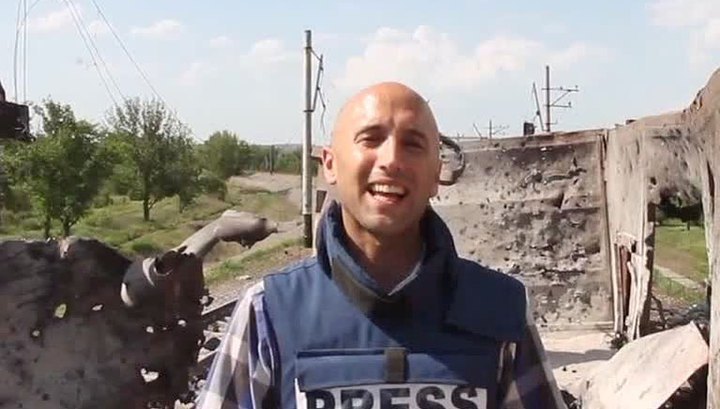 Graham Phillips
Graham Phillips is a self-proclaimed "British military reporter". He began his "journalistic" career as a sex blogger writing reviews of brothels and prostitutes he visited during his trips around the world. Alas, this is as far as his talent goes. But being unknown to anyone, he appeared on the Ukrainian scene, reporting on the hostilities in the light that is most beneficial to the Kremlin.
Phillips's journalistic methods make most adequate journalists smile skeptically. But even the lack of experience and the conspicuous lack of self-control did not stop large Russian media from using Phillips as their journalist and reporter. He worked as a correspondent for the Russian TV channels RT (Russia Today) and even Zvezda. The latter is particularly interesting because the Russian Defence Ministry, to which it reports, publicly announced that its journalists are considered as representatives of the armed forces.
It was the British origin of Phillips - "a real British citizen who came to support the struggle of Donbas", combined with his complete immorality, made him attractive to Russian propagandists.
To mask his actions, Phillips uses the regular methods of the Russian propaganda: he mixes doses of truth with crude fiction, effectively littering the information space. At the same time, he plays the role of a mad reporter who is looking for the truth.
Phillips also works on assignments from his Russian curators to attack Western and Ukrainian organizations, journalists , reporters and investigators who debunk the Kremlin's propaganda stories.
Today, like in 2014, Phillips is an instrument of Russian special services, who posts frankly provocative videos on YouTube. One of his last goals is the Ukrainian embassy in the UK. For example, he tried to disrupt the celebration of the 25th anniversary of the establishment of diplomatic relations between Kyiv and London in the British parliament. Or "trolled" the embassy in general and the Ukrainian ambassador in particular on social networks. In response to his persistent harassing requests for an "interview", Ukrainian diplomats even had to say that they were ready to arrange an interview for him in 33, Volodymyrska St (the SBU).
For his contribution to the fight against Ukraine, Graham Phillips was awarded a medal by the Russian FSB's border service. He was also provided with armed guards when he was making "reports" for Russian media in Donbas occupied by Russia, acting in the guise of an "independent Western journalist". Moreover, he was assisted on multiple occasions when he illegally entered Ukraine from Russia.
A more detailed picture of Phillips' activities under the leadership of the Russian special services, including information on his supervisors, can be puzzled together from publications in a number of media.
Besides, there are a lot of video clips online with Graham Phillips poses with weapons :
Or bullying the mutilated Ukrainian prisoner:
And even taking part in the interrogation of prisoners of war:
Crime without punishment?
But despite the obvious facts of scandalous Graham Phillips's participation in the Ukrainian war in the role of an information (and not only) fighter, the British authorities have not yet detained him. However, it was before Stimson was sentenced, which, as I have already said, created a judicial precedent.
Will Phillips follow Stimson's suit and now go on trial for his involvement with an illegal paramilitary group in Donbas? Let's hope so. But in many respects it depends on the political will of the British leadership. Although their system of justice has already worked out the mechanism of punishment.
For Britain, it is important to continue the process of punishing the terrorists-participants in illegal armed groups, not only ISIS but also travellers to Donbas. After all, global terrorism is a single network, for which Russia is one of the main sources of inspiration and sponsorship.
And this means that yesterday's Donbas "tourists" manipulated by Russian propaganda may at some point in time become dangerous to Britain. And it is better to lock them preventively than risk another terrorist attack or unrest in any part of the world.