Petro Poroshenko at a 27 September meeting of the defence cabinet of the National Security and Defence Council called on law enforcers to bring to justice the perpetrators of the fire in the ammunition depot near Kalynivka, Vinnytsya Region. Poroshenko told the heads of the Prosecutor-General's Office, the Security Service of Ukraine, and National Police to find and bring to justice those responsible for the tragedy.
"We must learn to protect our strategic objectives from subversive groups," the president said as reported by his press service.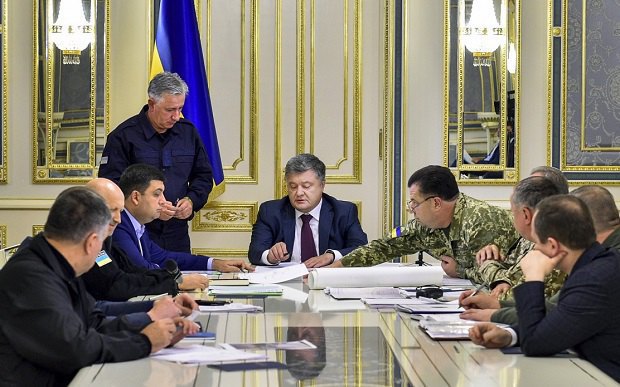 Photo: president.gov.ua
Poroshenko also said that he ordered to strengthen the national defence and protection of strategic facilities by the armed forces.
The head of state stressed that the explosions in ammunition depots threaten national security and told heads of uniformed agencies prepare comprehensive measures and report them at the next meeting of the National Security and Defence Council.
Earlier in the day, the defence ministry reported that the explosions at the ammunition depot in Kalynivka had ceased. Ordnance disposal crews continue efforts to eliminate the consequences of the accident. Over 700 servicemen are involved in the operation.
Earlier, the National Security and Defence Council said that the residents of Kalynivka and surrounding villages would soon be able to return home today.
On Tuesday, the blasts at a military base at a military ammunition depot near Kalynivka in Vynnytsya Region in central Ukraine forced authorities to evacuate 24,000 people and close airspace over the region
Prime Minister Volodymyr Groysman stated that the fire in the depot was due to arson.
The military prosecutor's office is investigating the explosions in Kalynivka as an act of sabotage.