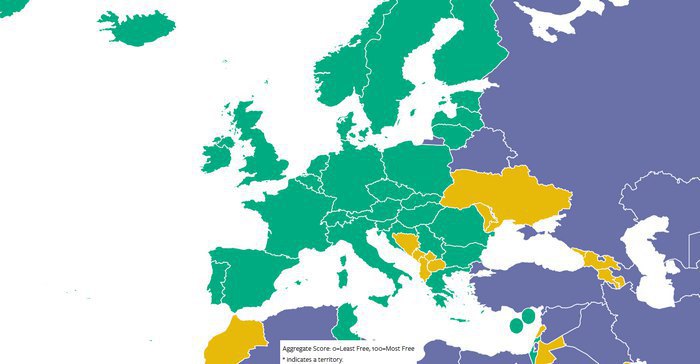 The international human rights organization Freedom House again ranked Ukraine among partially free countries in its 2017 report posted on the organization's website.
Note: the designation of Crimea in a different colour does NOT mean that Freedom House questions Crimea's affiliation with Ukraine
The human rights watchdog rates every country by two criteria: the level of political rights and civil freedom on a scale of 1 to 7, where 1 is the best indicator and 7 is the worst. Ukraine, like a year ago, received 3 points on both criteria and was rated as partially free. On a 100-point system, Ukraine scored 62 points, a notch higher 61 points last year.
Crimea, which is under Russian occupation, received 7 points out of 7 on the level of political rights and 6 points on the level of civil freedoms. On the 100-point scale, Crimea scored 9 points, which makes it one of the least free territories in the world.
"Ukraine continues to recover from the disorder that is the ouster of Viktor Yanukovych from the presidency in 2014, the authorities' failure to prosecute extensive high-level corruption has undermined the popularity of the government and affected some reform efforts. In the sphere of civil liberties, political pressure and attacks on journalists have threatened freedom of the press," Freedom House described Ukraine in 2017.
The key developments in Ukraine in 2017, according to Freedom House, were health care and education reforms and measures designed to empower local and regional administrations. On the other hand, there were stalled efforts to fight corruption and attacks on anti-corruption bodies; restricted Ukrainians' access to Russian social media platforms and news outlets; and intermittent fighting continued in the eastern Donbas.
Of the 195 countries that were evaluated, 88 were found to be free, 58 partially free, and 49 not free.
Ukraine has been considered partially free from its independence in 1991 to the 2004 Orange Revolution. During the years of Viktor Yushchenko's presidency, the country was considered free, but with the coming to power of Viktor Yanukovych the situation deteriorated again.