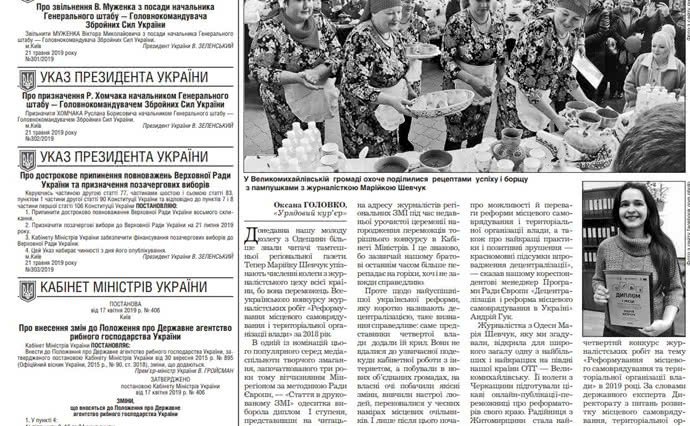 President Volodymyr Zelenskyy's decree which dissolves parliament and schedules a snap election for 21 July 2019 has been published in the government newspaper Uryadovyy Kuryer.
The decree takes effect as of the day of publication.
"Being guided by Article 77 Part 2, Article 83 Paras 6, 7, Article 90 Part 2 Para 1 of the Constitution of Ukraine and in accordance with Article 106 Part 1 Paras 7, 8 of the Constitution of Ukraine I decide: 1. To terminate the powers of the Verkhovna Rada of Ukraine [parliament] of the eighth convocation in advance. 2. To schedule a snap election to the Verkhovna Rada for 21 July 2019," the decree reads.
Earlier, Natalya Bernatska, secretary of the Central Election Commission, said that the electoral process will start the day after the publication of the presidential decree on parliament dissolution.
On 20 May 20, Volodymyr Zelenskyy took the oath of the president of Ukraine and officially began to fulfil his duties. During his speech, he declared the dissolution of parliament and suggested that the government resign if it is not ready to work for the "good of generations".
According to an opinion poll conducted by the Rating agency, four political forces would make it to parliament.