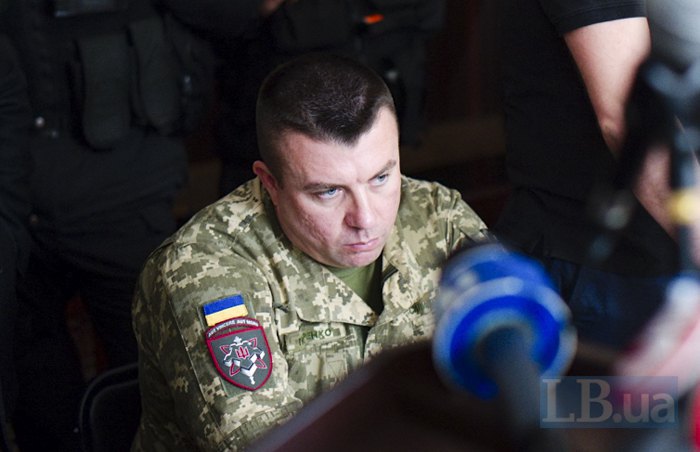 Maj-Gen Dmytro Marchenko
Speaking on the air of Army FM, Defence Minister Andriy Zahorodnyuk said that the court decision to arrest Maj-Gen Dmytro Marchenko was not objective.
"It is very difficult to agree with this decision. Of course, we all are waiting for the case to be discussed in essence. But as far as we know, as far as we have communicated with our lawyers, the decision to take someone into custody is taken when there is a risk that a person will either continue illegal activities or cause harm to society during the investigation. Everything we know about Dmytro is that he is not capable of either thing... Objectively speaking, it seems to us that this is a biased decision," the minister said.
He recalled that MPs and decorated Heroes of Ukraine vouched for Marchenko, he did not hide from the investigation and attended all questioning sessions.
At the same time, he said that offences in the Armed Forces indeed take place, there is corruption that is being fought.
"But at the same time, we, as a civilized country, must respect the right of a person to be considered innocent until proven guilty. This is first. And, second, measures of restraint must be adequate to the situation. In this case, we are really a little (or not a little) surprised by this decision and hope that his (Marchenko - ed.) lawyers will file a proper appeal," Zahorodnyuk summed up.
On 11 November, Kyiv's Pecherskyy district court arrested the head of the main directorate for the development and material support of the Ukrainian Armed Forces, Gen Dmytro Marchenko, for two months. He can be bailed out for 76m hryvnyas.
On 26 June, the SIB conducted mass searches in the case of procurement by the Defence Ministry. Truba said that the state incurred losses of about 100m hryvnyas.
On 17 July, Truba said that as part of the investigation into the purchase of low-quality bulletproof vests for the Defence Ministry, the SIB did not declare anyone a suspect but confiscated all low-quality bulletproof vests. He said that they were not checked for compliance with requirements during the purchase.
On 5 November, investigators declared five officials of the Defence Ministry suspects in the case.