Coronavirus
As of the midnight of 16 March, Ukraine will close 107 out of 230 state border check points for aviation, railway and bus traffic until 3 April over coronavirus. Foreigners and people without citizenship will be denied entry as of that date for two weeks.
Acting Health Minister Illya Yemets has called for a strict quarantine in Ukraine which would result in limited mobility and the closure of shops, except for grocery stores and pharmacies. According to Deputy Health Minister Viktor Lyashko, the final decision is yet to be taken in the coming days.
Prime Minister Denys Shmyhal has called on Ukrainians to refrain from travelling between cities in Ukraine. He repeated that the state was prepared to fight COVID-19 and called on Ukrainians to follow the rules of hygiene, self-isolate on time and seek medical advice. He also called on heads of companies to let staff work remotely, if possible.
Lviv will close all shops, except for grocery stores, pharmacies and filling stations as of 15 March, mayor Andriy Sadovyy has said. The emergencies commission will take the decision to this effect on the Monday morning.
The SkyUp airline arrange a special flight to Venice on Sunday to pick up 95 Ukrainian nationals stuck on the border with Slovenia. This is the first flight to recover Ukrainians who lost the chance to return home after European countries closed their borders. They will be tested for coronavirus and will have to spend 14 days in self-isolation at home.
Ukrainians returning home from abroad after 17 March will not be placed under a 14-day observation. However, they will be temperature screened at the border and asked to self-isolate at home.
According to Foreign Minister Dmytro Kuleba, one of Ukrainian diplomats abroad has contracted coronavirus. Ukraine's diplomatic offices will work remotely on 15-20 March to provide effective help to Ukrainian all over the world.
The Nova Poshta parcel service has pledged 25m hryvnyas for the purchase of medical equipment for hospitals in Poltava and Poltava Region and called on other companies to follow its suit. Its co-founder Vyacheslav Klymov called on the authorities to introduce tax holidays for businesses.
EU High Representative Josep Borrell has postponed his visit to Ukraine over coronavirus, which was scheduled for 15 March.
Volunteer Day march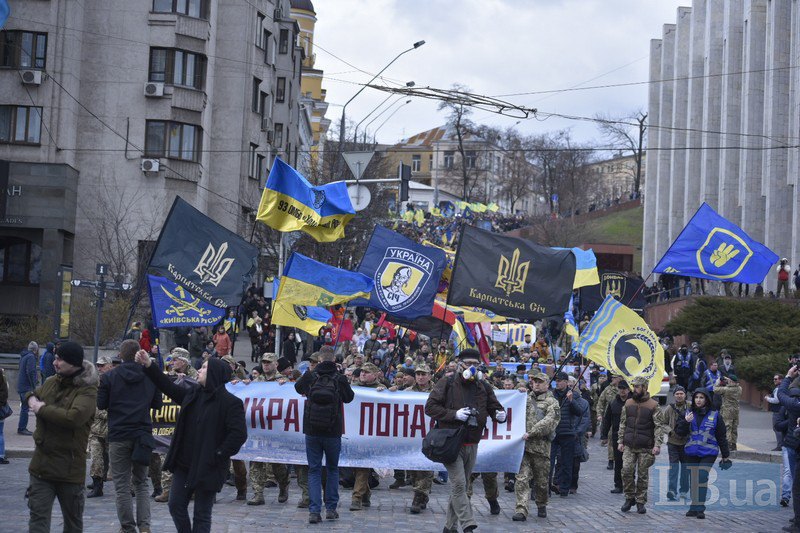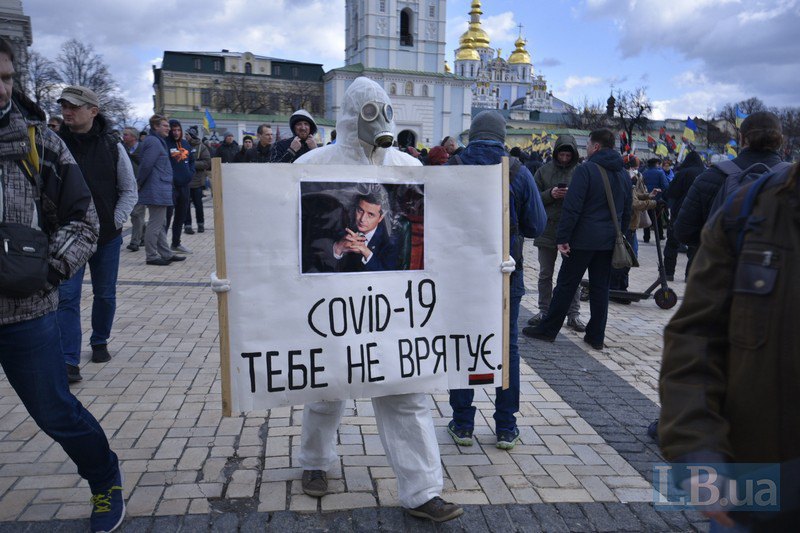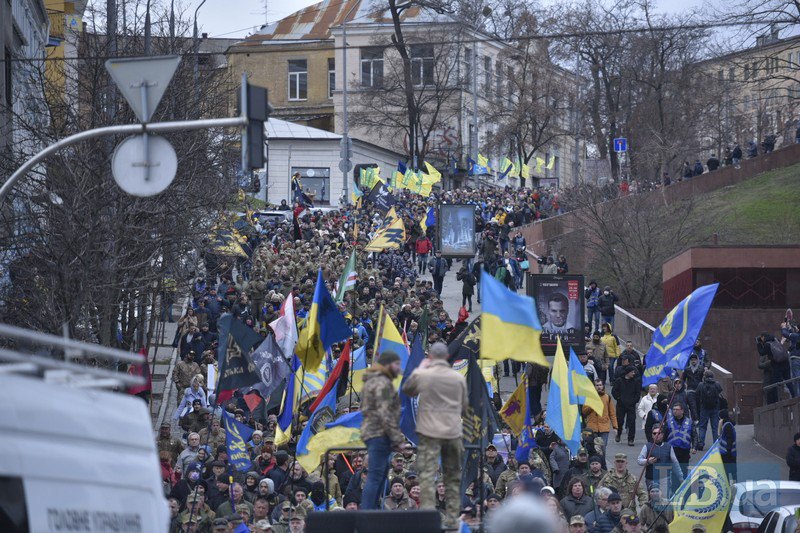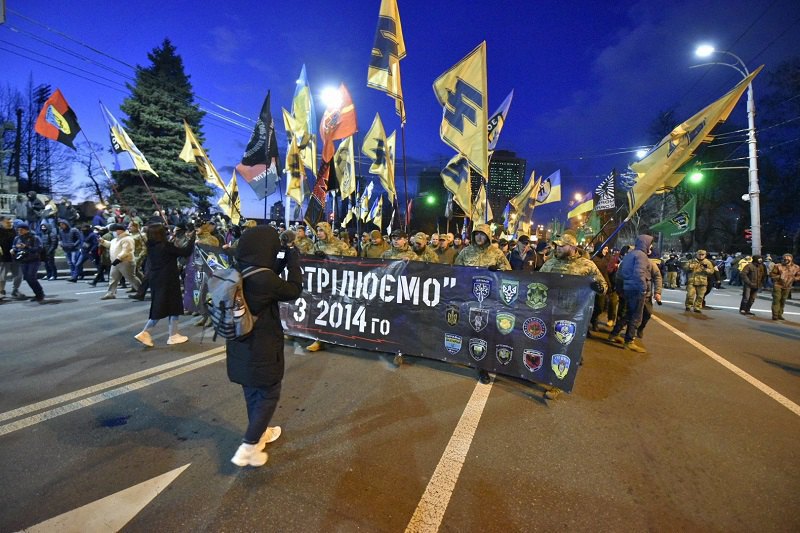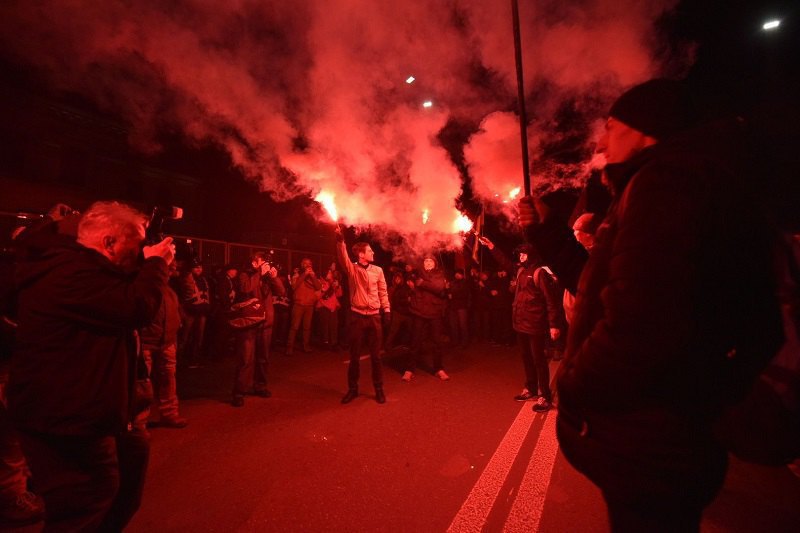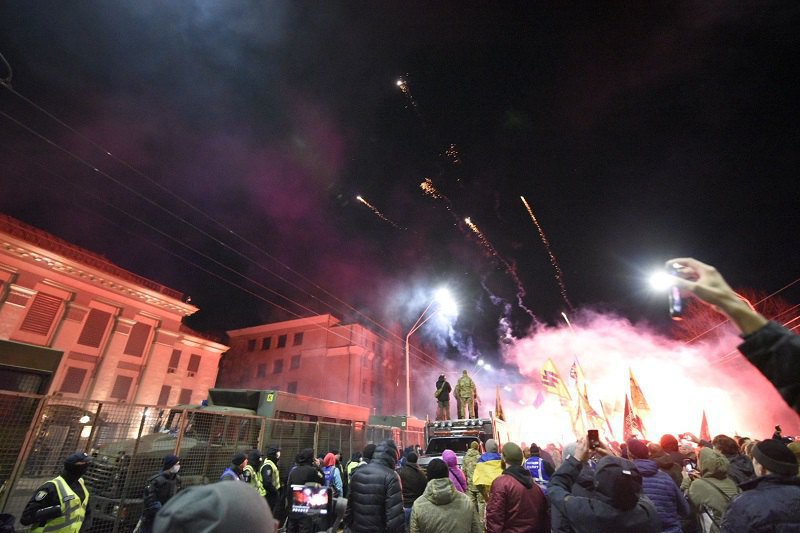 The March of Patriots on the occasions of Volunteer Day was held in central Kyiv on Saturday. Several hundred people walked from Mykhaylivska Square to the Presidential Office. There they called on the authorities to stop the policy of capitulation, political persecution of volunteers and servicemen, and to cut short the revival of the Kremlin's fifth column.
According to police, around 5,000 people took part in the event. Law enforcers who monitored the public order were wearing face masks for safety reasons.
The march finally reached the Russian embassy in Ukraine. Around 1,500 participants called on the aggressor state to withdraw from Ukraine. They tore the Russian flag and lit a dozen of flares. They chanted "Crimea is Ukraine", "Donbas is Ukraine", "Glory to Ukraine! Death to enemies!"
The embassy was cordoned off by the National Guard and police.