Financial assistance programme started to support Ukrainians who were forced to leave their homes due to military activities.
Denys Shmygal, the Prime Minister of Ukraine, informed about this.
The programme has three directions: money, job, housing. All three programmes have already been approved by the Government of Ukraine.
The programme started today, March 21, with the registration of temporary migrants by local communities and Centers of Administrative Services. Since March 30, the registration in the "Dija" mobile application will be possible. 
In this way, the Government will pay to each migrant in Ukraine a minimum monthly support of UAH 2,000.
"We will transfer this money just with help of the "Dija" mobile application to the credit card of the bank. No extra papers are necessary. Without any bureaucracy. To all those who moved from the areas of active military activities", Shmygal said.
Also, the amount of UAH 3,000 will be paid for each child who was forced to move to safer regions due to the war.
In addition, the Government began supporting those employers who employed migrants from the problematic regions: UAH 6,500 for each employee. These amounts will be aimed for the wages and salaries of those employees.
"I would like to apply to businessmen once again. The Government supports you in your willingness to continue your activity where it is possible. We initiated the complete deregulation of business, simplification of the tax system, easily obtainable credits", the Prime Minister said.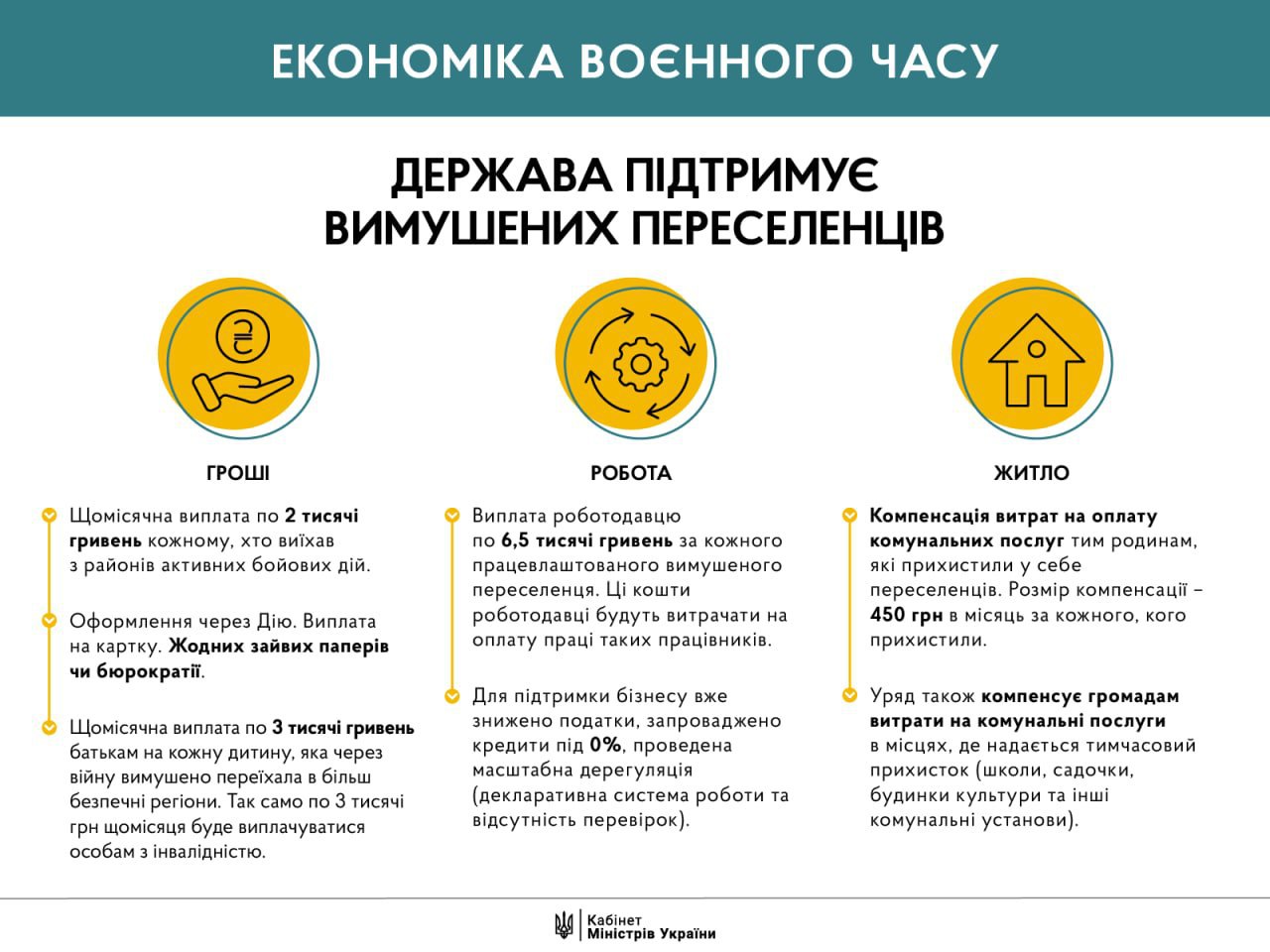 He reminded that a week ago the Government had already decided about the method to reimburse utility costs to communities that provide free shelter to migrants in schools, kindergartens, recreation centers and community institutions.
Please be reminded that it became known yesterday about compensations for utility bills aimed for those families who sheltered migrants in their homes. They will be paid UAH 450 per month for every person they sheltered.