Russia is using its airfields, as well as Belarusian and temporarily occupied Crimean airfields, to carry out air strikes on Ukraine, Radio Svoboda reports.
When Ukraine asks the West to close the skies, it goes about deterring Russian missiles and aircraft, which are causing enormous damage to military and civilian infrastructure.
Near the Ukrainian borders, journalists counted about four dozen airfields with tactical military aircraft. In addition, Russia has Russian strategic aviation aircraft that can be based at a distance of more than 5,000 kilometers from the target.
Among the airfields that the Russian occupiers use most often there are:
airfields of the occupied Crimea - Saki and Belbek;
military airfield "Morozovsk" (Russia);
airfields of the Krasnodar Krai - the nearest: Primorsko-Akhtarsk and Yeisk;
military transport airfield Seshcha (Russia);
military airfield Lida (Belarus);
military airfield Baranovichi(Belarus);
airfield Luninets (Belarus).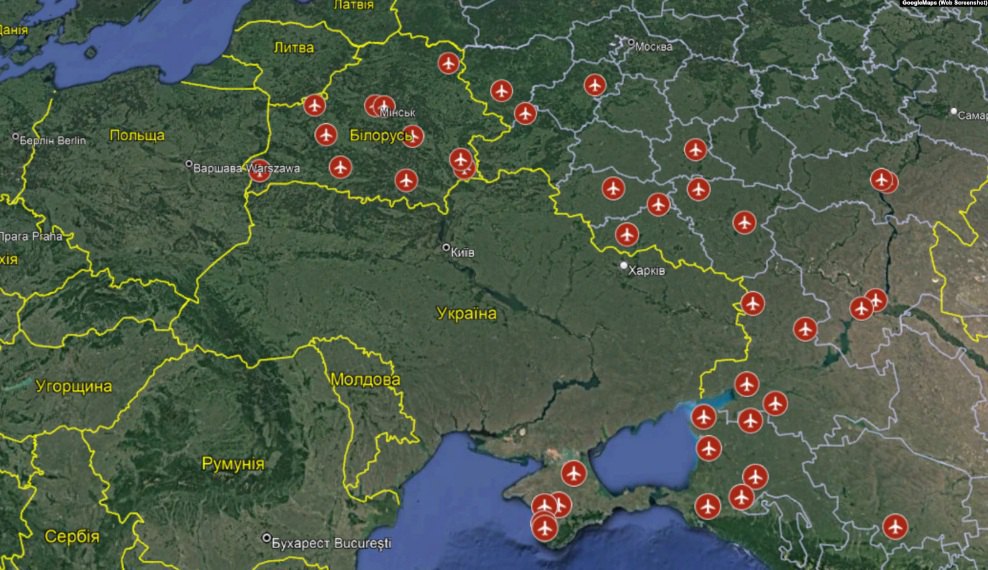 In Russia, airfields are also used for attacks near the settlements of Krymsk, Krasnodar, Korenivsk, Mineralni Vody, Kushchevska, Rostov-on-Don, Millerovo, Marynivka, Volgograd, Saratov, Butyrlynivka, Staryy Oskol, Belgorod, Lipetsk, Khataluga, and Shatalovo.
In the temporarily occupied Crimea, besides Sak and Belbek, there are airfields near the settlements of Kacha, Hvardiyske and Dzhankoy.
In Belarus, such airfields are located near Minsk, Mozyr, Gomel, Brest, Vitebsk and Bobruisk.
Russia sometimes uses abandoned airfields or fields; also civilian airfields (this was recorded by the Russian Ministry of Defense during the takeoff of drones from Gomel airport).
On 12 March, as a result of a missile attack on Vasilkov, the local airfield was completely destroyed.
On 16 March, the occupiers launched air strikes on the Mariupol Drama Theater, where women and children were hiding from the shelling.