«Over the last year, our relationship has grown from just good to truly strategic partnership»
President Biden asked Congress for $33 billion for additional emergency aid to Ukraine. The aid package will include over $20 billion for security and military assistance, $8.5 billion for economic assistance, and $3 billion for humanitarian assistance. Could you please tell me if such parameters are the White House vision, or were they in line with Ukrainian requests?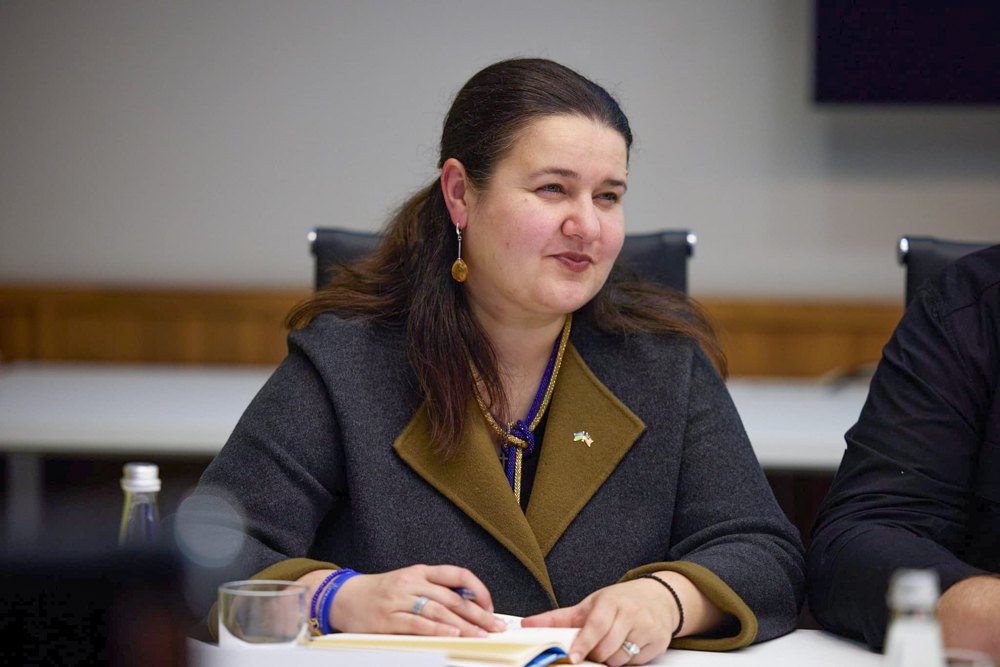 Over the past year, we see how our relationship has grown from just good to a truly strategic partnership. And now we definitely can call the U.S. a strategical friend and ally. The USA's support since the beginning of the invasion is quite significant - around $3.7 billion. And if we count the support from the beginning of this administration, the figure will reach $4.3 billion. 
President Biden's administration has submitted an unprecedented $33 billion request to Congress. Indeed, the breakdown (by cost items - LB.ua), as you said - is a result of the great work of President Zelenskyy and our whole team in each area, which was included in this package. Of course, the U.S. administration determined the final request. Still, it was based on the needs that Ukraine has clearly determined on every level - during the talks of our presidents and in the communication between the head of the President's Office, Andriy Yermak and Jake Sullivan (National Security Advisor to President Biden - LB.ua), between our minister Dmytro Kuleba and Antony Blinken (United States Secretary of State - LB.ua), between Minister of Defense Oleksiy Reznikov and Lloyd Austin (United States Secretary of Defense - LB.ua), between the general commander of the Ukrainian Armed Forces, Zaluzhnyy and General Milley (United States Chairman of the Joint Chiefs of Staff - LB.ua). 
So we can say that this is a joint work of us and our partners.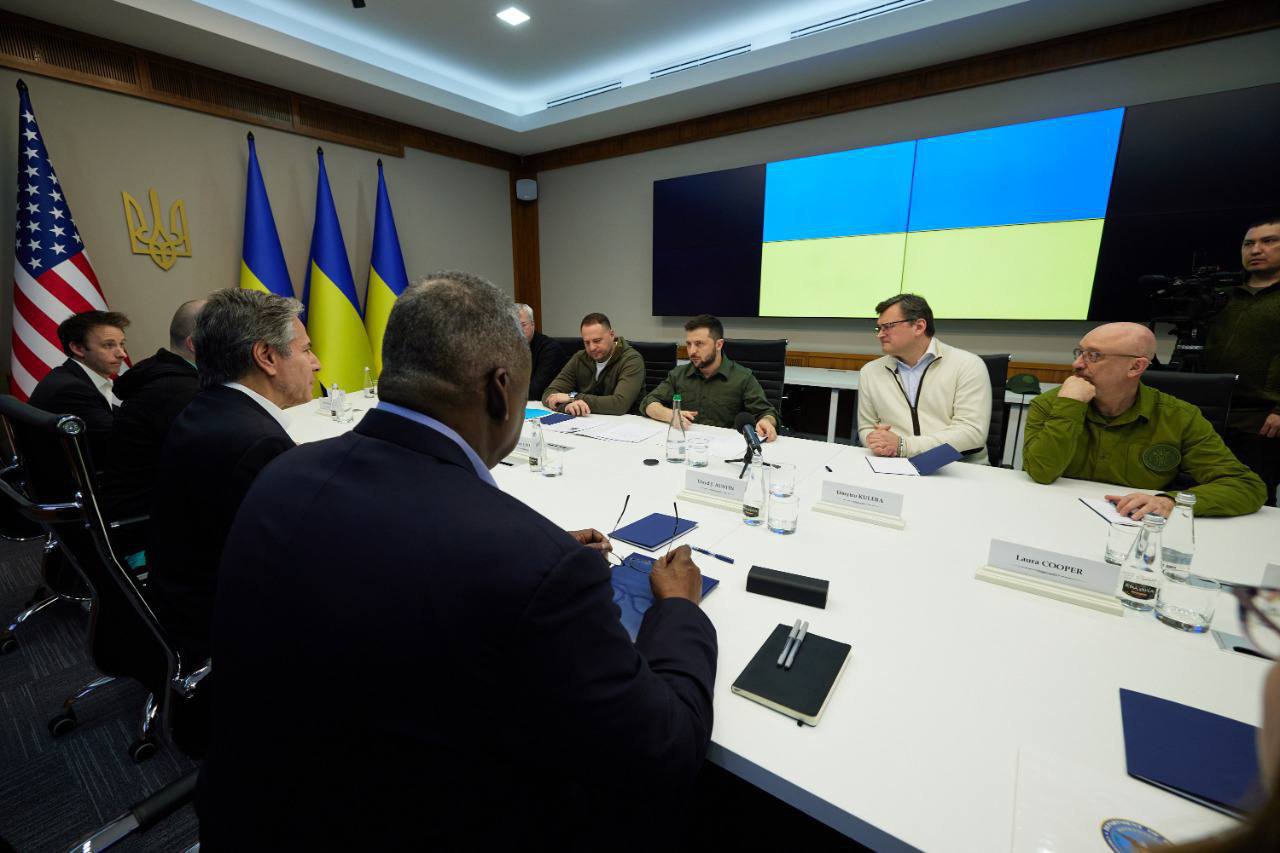 How soon can Congress vote on this package? American media say that the decision on $33 billion of aid to Ukraine should be made until May 30. Do you believe it is possible? Considering that support for Ukraine can be considered together with the COVID package, which Republicans oppose and which could make it more difficult to pass. 
The first challenge is the Congress working schedule. And if the Senate is open all these weeks, the House of Representatives will return to the sittings on May 10. Of course, we hope that this (aid package - LB.ua) will be a priority. We actively work with Ukrainian caucuses (Ukrainian support groups - LB.ua) in both chambers. We feel broad support for Ukraine from both parties - the Democratic and the Republican. 
Another issue, you said it, is whether it will be a separate bill or will be combined with other proposals. We are saying very clearly that time is decisive. President Zelenskyy emphasized it during the meeting with Speaker Nancy Pelosi and the delegation from the United States House of Representatives, during the meeting with Secretary of State Blinken, and during his talks with President Biden. Each day means very much to us because each day is not only the losses that we suffer, but it is also an opportunity to get closer to victory. 
Therefore, the task of our diplomatic team is to include all our opportunities and contacts to convince and urge all our friends in the Congress to consider it as soon as possible (aid package - LB.ua). If it is done by the end of May, it will be an unprecedented speed for Congress.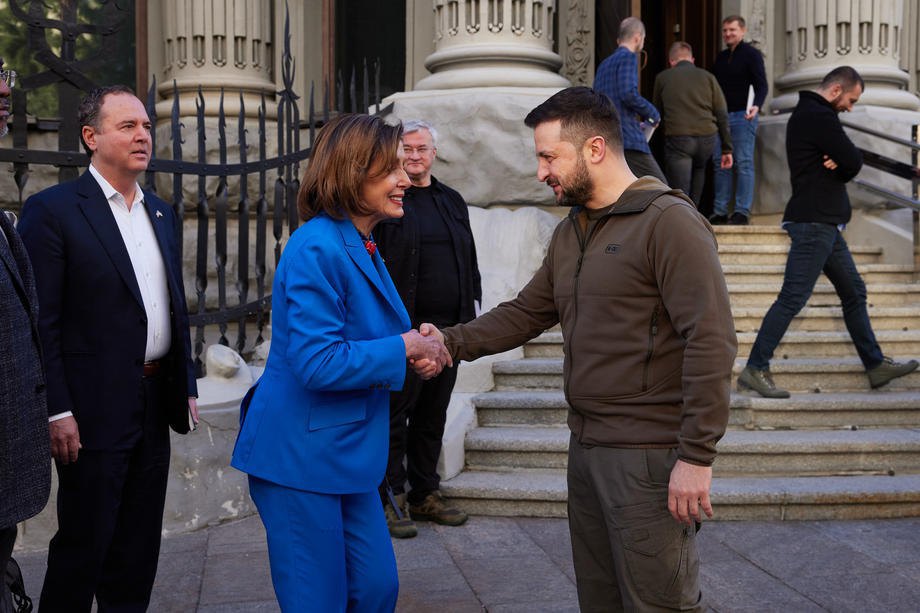 This aid package allocates funds in the 2022 budget year, which ends in September. 
We will see how the final text will be worded, but it will provide for the immediate allocation of funds. 
There are now several programs we are working under in the area of military support. It is a so-called Presidential Drawdown Authority program - it is quick, and the provision can begin immediately after the President's decision. There are two programs USAI and FMF (program for the foreign military financing - LB.ua), and they have their procedures. They are also highly accelerated. And I must say that the adopted bill on lend-lease significantly simplifies bureaucratic procedures. So we will be able to act even quicker under the current programs. On the other hand, in addition to the three existing programs, it also offers the option of using a lend-lease.
Therefore, if we talk about which way and how quickly we will receive assistance after the decision of Congress, the funds for military needs, humanitarian needs, and others can be allocated both immediately and in tranches, depending on the program.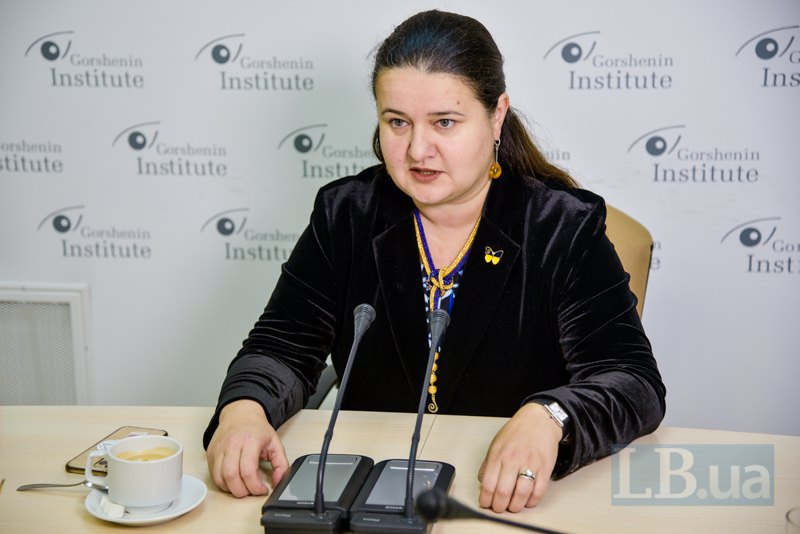 «Each phase of the war has required and requires different instruments to be successful, and the U.S. very actively reacts to our requests.»
russian propaganda actively convinces Ukrainians that "Ukraine will have to pay" for the provided support. The assistance provided by the United States so far did not include any obligations for Ukraine to pay or compensate. Will it be the same with the lend-lease?
Indeed, the assistance provided to us so far was free. And $33 billion in additional aid, which the U.S. President has requested from Congress, is also in the form of grants, funding, and providing us with equipment. It is free for us. 
We are very grateful to the United States for the tremendous help they provide us with for free. The United States has its own needs: there are schools that need to be funded, roads that need to be repaired, and medical needs. Therefore, the efforts of the United States, which uses American taxpayers' funds to help us, should not be underestimated.
Lend-lease is an additional opportunity. The essence of the lend-lease is that one country gives something to another for use under certain conditions. I consider it an additional instrument in the case, for example, we will need extra support, and it can be provided then in the form of the lend-lease. Ukraine will then decide on what terms we are ready to take it.
But, again, it is a significant breakthrough and a big plus that Congress has allowed the administration to use such a tool. That is why the russians criticize him. And here, this criticism is picked up by the same people who have been spreading similar rhetoric for years, saying "nothing happens for free" and who disguised their pro-russian and anti-Ukrainian views under anti-Western rhetoric trying to sell some unique way to Ukraine.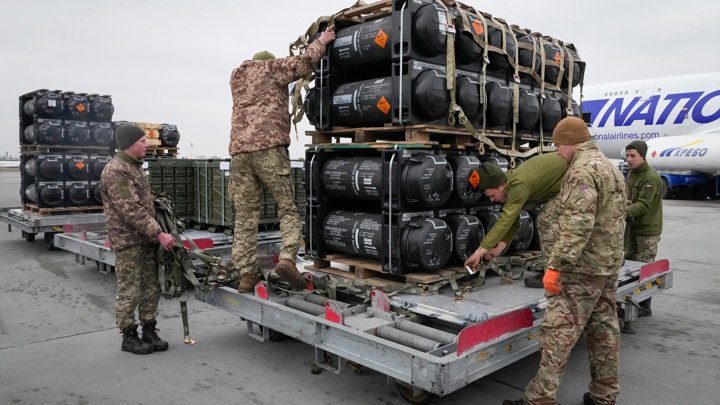 But Ukraine has only two options: either we are a part of the civilized world, part of Europe, part of the transatlantic community, or russia will continue to try to absorb us. There is no unique third way or a unique bicycle. 
If russia criticizes lend-lease, then we are on the right track. 
Without a doubt.
Similarly, there was once criticism of IMF loans. Nobody is forcing us to take IMF loans; we take them in order to develop our economy. Likewise, no one will force us to involve lend-lease programs. However, if we need them in addition to the $33 billion that I hope Congress will vote on quickly, if we need extra help to win, of course, we need to use all the tools.
Oleksiy Reznikov said last week that a systemic turning point had taken place and that Ukraine is now supplied with precisely those weapons that we needed and had requested for a long time. And if earlier they tried to give us old Soviet weapons, now we are talking about providing NATO weapons for the Ukrainian army. Our Armed Forces are very much looking forward to partners providing us with two more components - long-range air defense systems and aviation. Please tell me, or at least hint, is there any progress in this area?
First of all, work on this has begun before the war. During President Zelenskyy's visit to the United States, the framework agreement was signed between the Ministry of Defense and the Pentagon. It was a basis for the cooperation - how we, Ukraine, intend to improve our defense capabilities and where exactly the United States, as our partner, will assist us. Under this agreement, we have fully assessed, so to speak, the gaps in our capabilities developed strategies for the development of separate sectors, including the air defense system, the maritime strategy, and so on. Unfortunately, due to the large-scale invasion of russia, we were not able to implement everything calmly and strategically.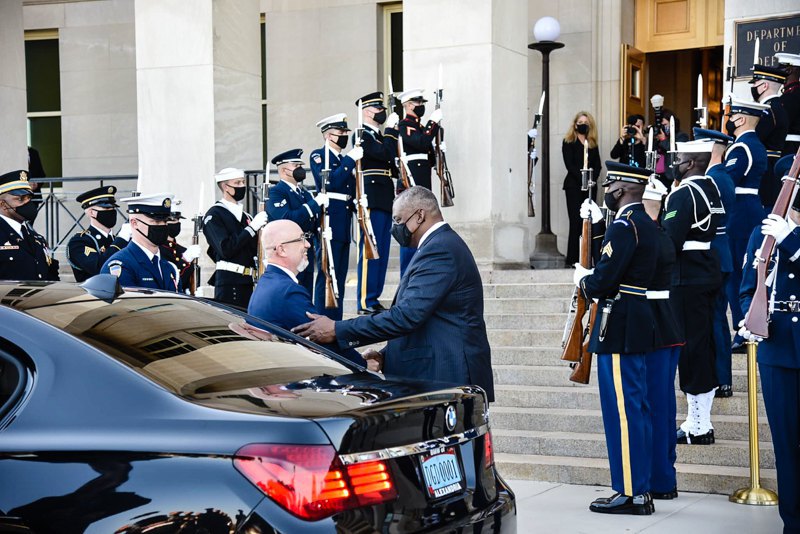 The war, of course, made adjustments to what exactly we needed. Each phase of the war has required and continues to require different means for us to be successful, and the United States is very responsive to our requests. We talk to them about everything - artillery, volley fire systems, air defense, airplanes, and helicopters - absolutely everything. The question is for what there is funding, and here you can see how quickly Congress allocated $3.4 billion in military aid in February. And another question is the availability of what we need. Here, no one keeps a large number of additional weapons in warehouses that could simply be taken and handed over. Also, when giving us weapons, each country, including the United States, assesses the extent to which its capabilities remain sufficient.
Many countries, handing over their weapons to us, demand the United States to provide them with newer weapons. 
And the third question is what we can and know how to use and how quickly we can learn in war times. So it is a very complex issue, and I honestly would not reduce it solely to what they politically decided to give us and what not to give. We have never felt such a discussion "this we will provide, but that we will not provide."
We are happy to hear from our strategic allies and partners what we heard during the visit of Antony Blinken and Lloyd Austin and what we heard during Ramstein's public speeches: our partners are ready to help us win. Don't just help us - our partners have always been prepared to help us. Namely, to help Ukraine win.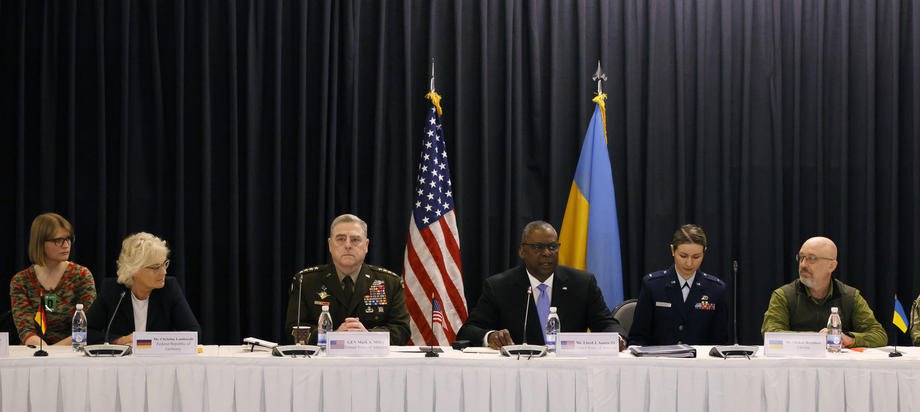 During a meeting of defense ministers at Ramstein Air Force Base in Germany
When the escalation near our borders began, I kept saying that Ukraine would not give up; we would resist. I saw a certain skepticism from the experts, they listened to me, but I don't know if they heard me thoroughly. On the second or third day of the war, when the russians began to spread rumors that Volodymyr Zelenskyy had left Kyiv, he recorded an address in front of the House with the Chimaeras, saying: "President is here; we will not lay down our arms, we will defend everything we love." This is a strong message that we, Ukrainians, have believed in from the very beginning, but it is essential that now the whole world believes in it.
In late March, Scott Berrier, Director of the U.S. Defense Intelligence Agency, acknowledged that his office had predicted that Ukraine would lose the war in a few days. Your colleague, Ambassador of Ukraine to Germany, Andriy Melnyk, said that one of the leading German government officials on the first day of the war directly told him that there was no point in helping Ukraine because it would lose. Did you encounter this attitude in the United States in the first days or weeks of the invasion?
If we are talking about the official contacts with the State Department, the White House, and the Defense Department, they were always willing and ready to help us. Of course, many experts, especially during the first days of the war, looked at us as if saying farewell mixed with pity. However, from our strategic partners, our colleagues in government institutions, and Congress, we always heard clear messages of support. 
Someday, when we will have already won, and there is time, I could release more details, but I am genuinely very proud that the United States has clearly decided even before the war that freedom and democracy can not be a subject of compromise under any circumstances. 

«I think that the word «assurances» is not the term we are ready to use and see in any documents after the Budapest Memorandum.»
US officials have often said that "russia should not be provoked." Apparently, at that time, the Americans overestimated the strength of the russian Federation. Has this attitude changed now?
We remember that we heard calls not to provoke russia since 2008 when Ukraine had a historic chance to get a Membership Action Plan (MAP) to NATO and did not. We all read an interview in which Merkel's foreign policy adviser Christoph Heusgen said that the desire not to provoke russia was why Germany did everything to prevent Ukraine from receiving the MAP in 2008.
I am sure that this was discussed during the signing of the Budapest Memorandum when the wrong country from the former Soviet Union was chosen to hand over nuclear weapons.
Unfortunately, this was the determining factor in 2014 and 2015, when russia illegally occupied Crimea and attacked Donetsk and Luhansk. Then the democratic world should have reacted the way it does now.
Unfortunately, this issue (to not provoke russia - LB.ua) is still on the agenda in many places. russia is a great nuclear state that shows complete disrespect for international law and ordinary human rules and norms. We see the bombing of civilian objects when rockets are fired at schools, kindergartens, and hospitals; we see torture and rape. We are dealing with a war criminal country, where everyone is such a criminal - from the leader to the last soldier. But in fact, this is not the first time russia is behaving like this. We faced this in 2014, and the whole world must remember Georgia, the downed MH-17.
Syria.
Must remember Syria, Salisbury poisoning.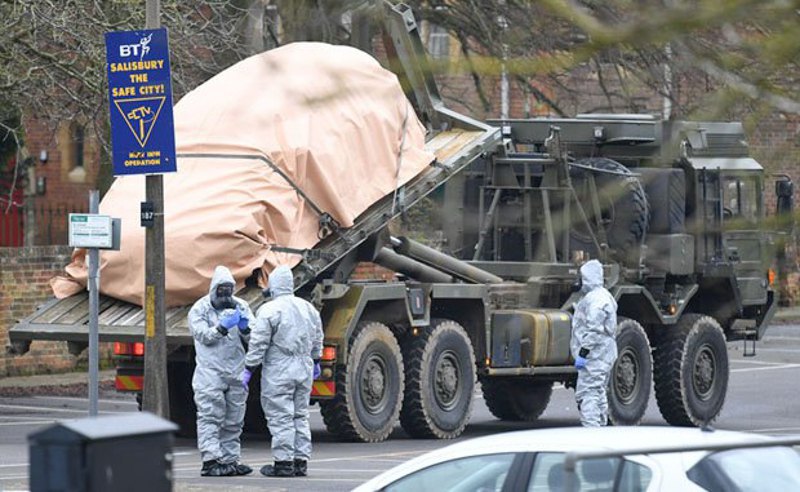 So, on the one hand, we understand the reason for such concern, the unwillingness to provoke, because russia has the greatest nuclear potential. However, on the other hand, with its aggression against Ukraine, russia has posed a very important question to the world, which cannot but be answered unequivocally.
Because russia is a threat not only to us but to the entire civilization. 
Yes, it is a civilizational challenge. And the modern world, which believes in democracy and freedom, must respond to it.
President Biden in Warsaw said that Putin, "this guy should not be in power." However, the White House later clarified that this is the president's personal opinion, and the United States has no intention of changing power in russia. The US Secretary of Defense also stated that "we must weaken russia so that it cannot be an aggressor." Has the American government now begun to work on any projects, let's call it the reconstruction of russia or the solution to the russian question?
I cannot answer it for the American government, but I will say that we are constantly raising this issue while talking to politicians and experts. Of course, our priority is to win this war, expel russia from our territories and achieve a just peace for Ukraine as soon as possible. But we must understand that russia, in the form they are in now, will always remain a risk. And risk not only for us. We see from the experience of 2014 that no truce stops russia. And while we worked all these years on diplomatic formats to solve the issue, russia was preparing to attack us again.
Therefore, we call on experts not only to visualize Ukraine's victory but they must also to visualize the defeat of Putin's autocratic russia and think about what russia should be like in the future. Of course, this issue should not be decided by America or Ukraine.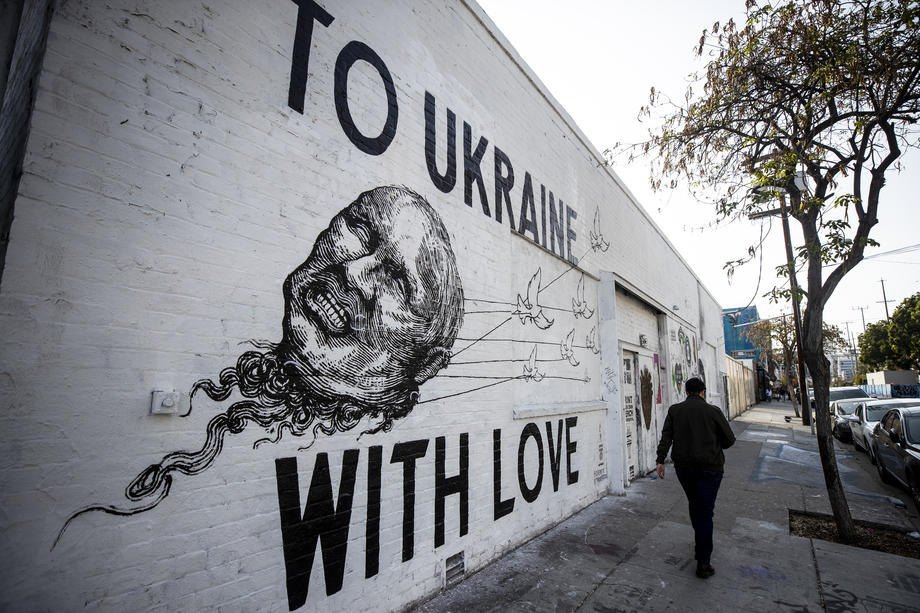 Mural with the inscription "Ukraine with love" in Los Angeles, California, April 28, 2022.
The world must decide this issue. 
This issue should be decided primarily by russians if there are any remnants of moral or just decent people. It is no longer even a question of whether they are defending this regime or not because everyone who is silent is an accomplice to these crimes. Do russians want to be a country that is a threat? But, of course, the world must also think about it.
The United States has always supported Ukraine's Atlantic integration, and we know that President George W. Bush actively persuaded Chancellor Merkel and President Sarkozy to provide Ukraine with a MAP. The talks between Ukraine and russia are currently proposing a neutral status for Ukraine and a renunciation of NATO. How is it perceived in Washington?
Our cooperation with the United States aims to help Ukraine in three main areas: ensuring our ability to defend ourselves and fight effectively and maintaining our ability to withstand financially and sanctions pressure on russia.
The United States has consistently supported our European integration and our integration into NATO. At the same time, transatlantic unity is very important for the United States, so the United States is not pressuring but cooperating on such issues. Of course, all 30 members must approve such a decision (on Ukraine's accession to the Alliance. - LB.ua). Ukraine has unequivocally stated its position - we want to be members of the European Union and NATO, we have included it in our Constitution, we make annual plans to implement it, reform our army and civilian component as much as possible because the European Union and NATO are not only about the military component.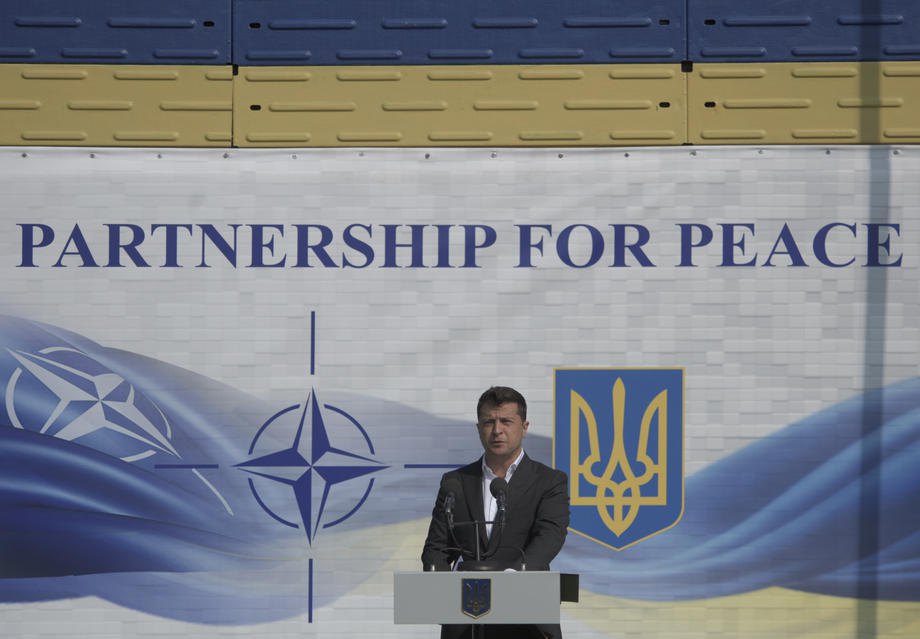 However, it takes two to tango, meaning it must be a decision of both parties. Therefore, the United States supports our decision in this case. But I want to say once again that any proposals (to abandon NATO. - LB.ua) are not from us but from russia, which attacked us and is trying to talk about some "demilitarization", "denazification", and so on. Our key task, and President Zelenskyy has defined it very clearly, is to protect ourselves and achieve a just peace. But that means we need to focus on winning for now.
At the same time, Ukraine would like to receive security guarantees, including from the United States, similar to those provided by Article 5 of the NATO Charter. However, in an interview with our colleagues from Evropeiska Pravda, Under Secretary of State Victoria Nuland said Washington was ready to talk about security assurances, not security guarantees. But the term "security assurances" was included in the Budapest Memorandum.
The issue of guarantees for Ukraine is extremely important. We have worked on the mistakes and drew conclusions from the history of the Budapest Memorandum. We had the third-largest nuclear capability, which was voluntarily given away in exchange for what Ukraine considered guarantees. And it turned out that this is an assurance. And in 2014, it turned out that even assurances do not work.
That is why Ukraine is now saying that we must not only win this war, not only get a just peace but also have guarantees that this peace will be preserved. Because peace in Ukraine is not just an issue of Ukraine, it is a question of peace in Europe; it is a question of whether a sovereign democracy can make civilizational decisions and be confident that an autocratic neighbor will not attack it and that world security will function. The answer to this question is important not only for Ukraine. I am also the representative of Ukraine in the Organization of American States, which unites all the countries of South, North America, and the Caribbean. And I must say that the answer to this question is very important for many countries. We are not the only ones who have such a neighbor. That is why guarantees are very important. I think that the word "assurances" is not the term we are ready to use or see in any documents after the Budapest Memorandum.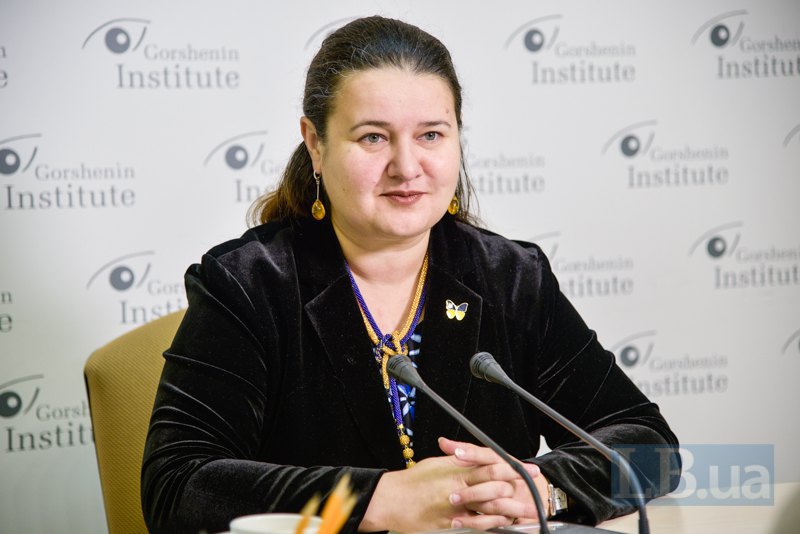 "Financial and energy sanctions are very important, but no less important is determining russia as a state sponsor of terrorism"
President Biden has publicly called the crimes of russians in Ukraine a genocide. However, the White House clarified that this is a personal assessment of the President; recognizing the genocide at an official level takes time and specific procedures. When do you think this may happen, and what will be the consequences of such recognition? Because condemnation means nothing to russians, as we see.
It is very important to call things by their name. Even if a country called by the right words pretends to be indifferent, it is very important for all of us, for the civilized world.
We are working very hard to ensure that the United States recognizes the Holodomor as genocide at the state level. It is also very important that the U.S. Congress and the parliaments of other countries recognize russia's actions as genocide. Our Verkhovna Rada has appealed to colleagues around the world. Genocide is exactly what russia is doing in Ukraine now; it is exactly what russia was doing during the Holodomor; it is exactly what russia has done in Ukraine more than once in previous centuries.
This assessment lays the groundwork for many things and makes it impossible, so to speak, to cooperate with a "business as usual" attitude. That is why, for example, we are asking the United States also to recognize russia as a sponsor of terrorism because such a status makes it much easier, if not automatically includes, imposing certain sanctions and restrictions.
It is also very important for all future litigation, and we have already started several cases in international courts. More than ten countries have already opened criminal cases (investigation of russia's crimes. - LB.ua) because there should be no place left on our planet where russians will feel comfortable or safe after what they are doing now.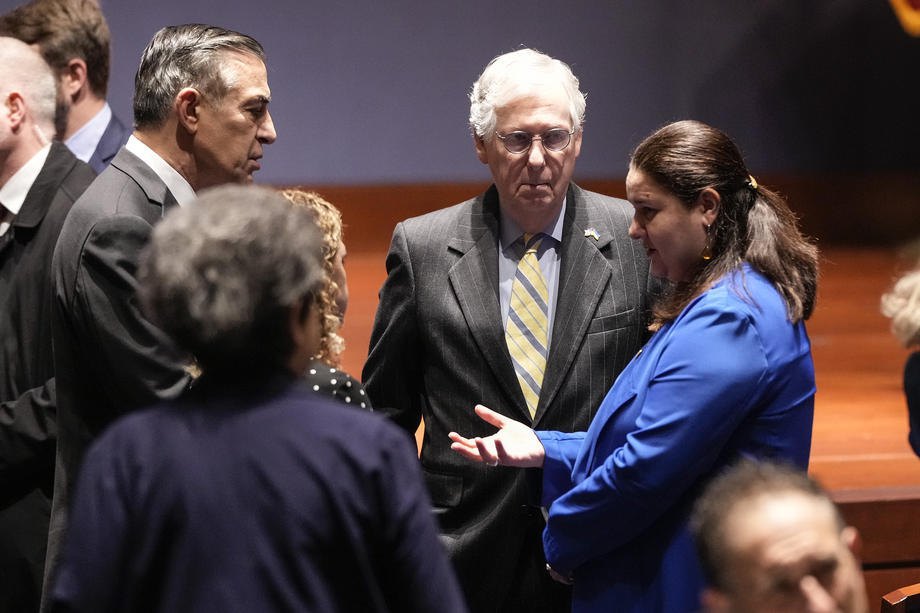 Yermak-McFaul's working group has prepared a step-by-step plan to increase sanctions on russia. It includes, in particular, a full embargo on russian energy sources and sanctions against all russian banks. The United States has already banned energy sources imports from russia and is actively working with the EU in this direction. However, restrictions against russian banks are far from comprehensive, and even the United States has imposed limited sanctions on russian banks. Why so? And can we hope that sanctions will be imposed against the entire banking system?
We are working on this; we are convincing; we are giving our colleagues proof that there is no such thing as private banks in russia. We saw this when the United States first added the largest banks, their affiliates, and related entities, to the list of blocking sanctions and, later, the banks involved in financing the defense sector. Seemingly private banks picked up their work. But there is no such phenomenon in russia today! As there are no technocrats in the financial management system, they are all supporters of the Putin regime, and they are all war criminals.
So I think it is only a matter of time, a matter of proper registration, and we will see additional sanctions.
I want to say once again that financial and energy sanctions are very important, but it is equally important for russia to be recognized as a state sponsor of terrorism. Because such a definition will de facto prohibit cooperation with russian companies and banks for the civilized world.
On April 28, the House of Representatives passed a resolution calling the U.S. president to sell frozen russian assets and use the funds to support Ukraine. For his part, President Joseph Biden called on Congress to pass a package of laws that would simplify the use of frozen russian assets. Why is the case currently limited to appeals and declarations? Is there a chance that the United States will move from appeals to substantive action?
In fact, it is not an appeal but a framework bill in which Congress has made very clear its willingness and desire to give the administration such powers. President Biden and the administration have submitted their proposals on how they suggest withdrawing funds and, most importantly, how to use them to finance Ukraine's reconstruction process. Therefore, both branches of government - the executive and the legislature - consider it their priority, and they are moving on parallel paths, reinforcing each other in this process.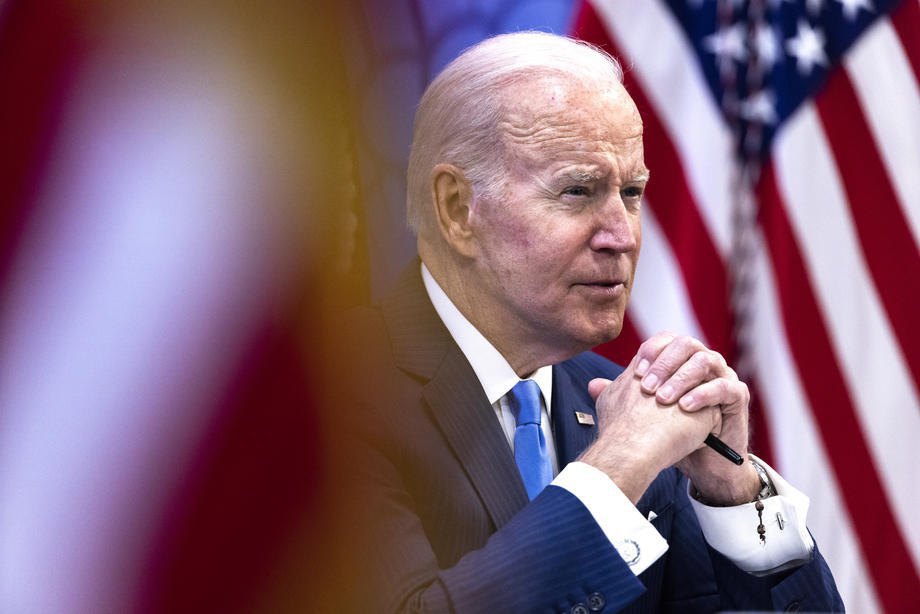 Asset freezes and the issue of openness in the banking system is a new topic for the world. And many countries, including the U.S., are just making their legislation on this. We see the same issues in Canada and other countries. And it is very important to do everything legally flawlessly. The output will be very effective tools that will allow us to get the most out of these funds. After all, we see the extraordinary damage that russia has done to us, and we understand that after the victory, the hardest work will only begin.
«We must persevere as long as necessary, and not only persevere but win on all fronts, including the financial one.»
To win at the frontlines, we need to persevere economically. During the war, our economy has halved, and the prospects for a speedy recovery are slim. Prime Minister Shmyhal says we need $5 billion a month in partner assistance to meet all social and humanitarian obligations. The Washington Post reported that during his visit to Washington, Minister of Finance Serhiy Marchenko asked for $2 billion a month in assistance. Will the U.S. help us bridge the budget gap, and to what extent? And the mentioned $8.5 billion we talked about will go to these needs?
Exactly. We can already say that the United States responded very quickly to the request. During the visit to the United States, the Prime Minister and the Minister of Finance actively discussed this issue with partners; you saw that, in addition to the meeting within the World Bank and the International Monetary Fund, there was a separate round table on Ukraine. In addition to the delegation led by the Prime Minister, the Minister of Finance, and the National Bank of Ukraine Chairman, President Zelenskyy also addressed the event. And as the former finance minister, who spent five years in such meetings, I can say, this is the first time that all the global financial potential has sat, holding their breath, listening to our president, then listening to the report of the prime minister, the finance minister. Then there was a discussion only on who and how can help us.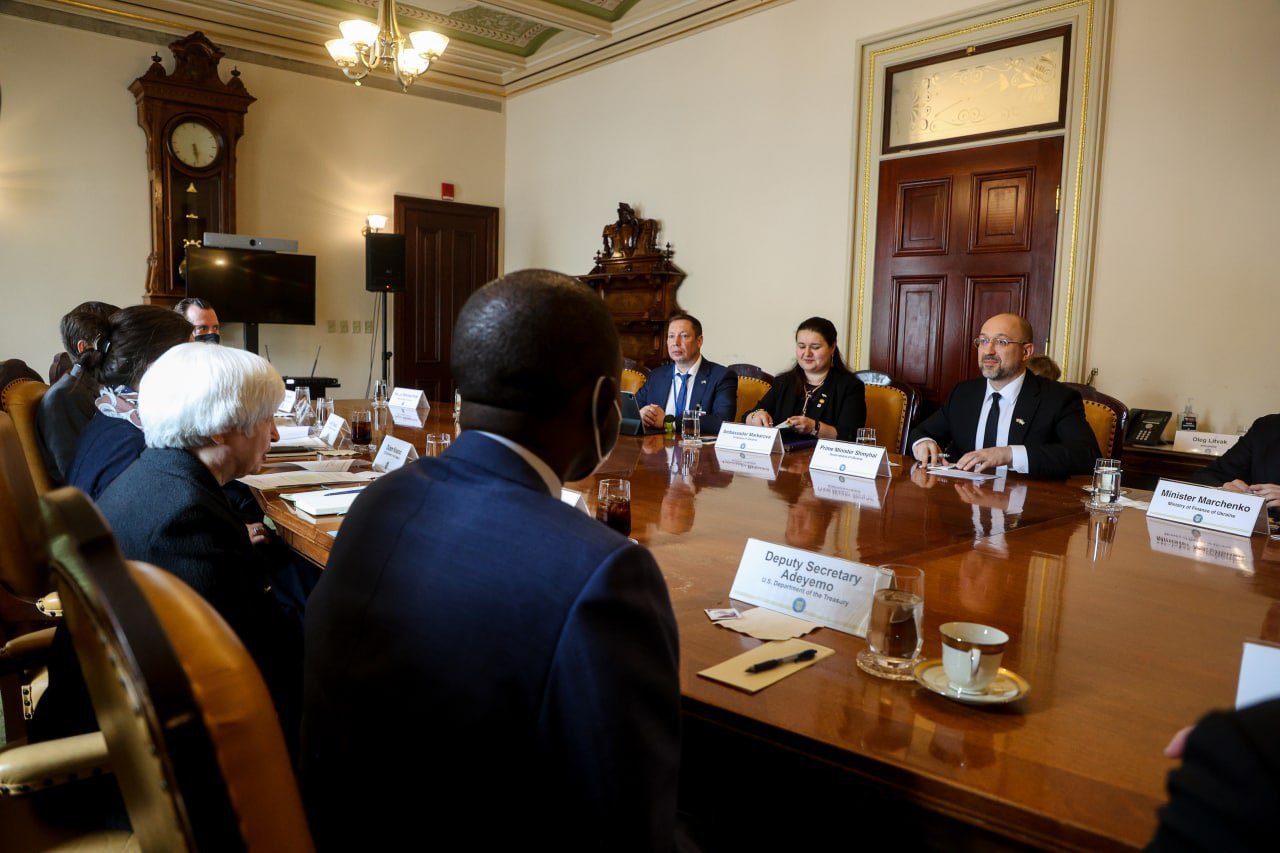 The delegation led by Prime Minister of Ukraine Denys Shmyhal and US Treasury Secretary Janet Yellen in Washington, DC, April 21, 2022
Indeed, because of the war, we have a gap in budget funding; we need funds for the most necessary things - funding for defense operations, pensions, salaries, food, and medicine. Even though many international organizations say they are involved in aid, most of them are still not fully present in Ukraine.
That is why 5 billion is our need. Indeed, the 8.5 billion that the administration has proposed to allocate to Ukraine is intended for these needs.
For how long are these 8 billion provided?
It is a question of changes to the budget, which will determine how it will be provided - in tranches or not in tranches. Once the changes are approved and signed, it will be a matter of coordination with our Ministry of Finance.
I would like to note that the United States has already allocated us one billion in two tranches; 500 million has already been transferred. As far as I understand, another 500 will come shortly (Ukraine received the funds on May 2. - LB.ua).
In fact, everything we discuss: military aid, financial support, and in the context of sanctions, follows a simple logic: preserve now, win tomorrow, and get a strong, unbreakable Ukraine in the future.
Weapons on their way are for us to survive and win. Finances are also needed to survive. Unfortunately, we do not know how long this war will last. But we must persevere as long as necessary and not only persist but win on all fronts, including the financial one.
IMF Managing Director Kristalina Georgieva says the fund seeks to provide funding to Ukraine through grants from donor countries that do not need to be repaid. Is this a realistic prospect?
It depends on each country. I can clearly say that the Secretary of the Treasury, Janet Yellen, and the United States generally share this view and are ready to be very generous in providing non-refundable support within their budgets.
Of course, grants are the simplest, easiest, fastest. And for us, of course, it is the most comfortable, because it is money that goes as a gift. But not all countries can afford it, not all countries have enough resources, and not all countries can legally allocate large amounts of grants.
However, we also understand that it is important for us to get enough help. As we have already said, when it comes to the supply of weapons, it is good to receive weapons as a gift, but if this is not enough, there are mechanisms such as lend-lease or loans to buy weapons. The same goes for financial aid. We are trying our best to get grant aid, but if it is insufficient, the Minister of Finance must use all the tools.
Serhiy Marchenko says Ukraine does not need debt write-offs or restructuring. Do you agree with this position?
When I was the Minister of Finance, I actively asked everyone not to comment on debt issues. And I will apply the same logic to myself, and I will not allow myself to comment on this issue.
Is Ukraine talking to the United States about the post-war reconstruction of our country and future investments in the economy? Or does the U.S. think that talking about it is premature?
No, they don't think it is premature; we are already actively talking. President Zelenskyy has already signed a decree on establishing both a working group on the reconstruction of the country and the future fund for such reconstruction. In fact, we need to visualize our victory now, and we need to talk about reconstruction now. And this is a very important issue to which both the President and the Cabinet of Ministers pay a lot of attention.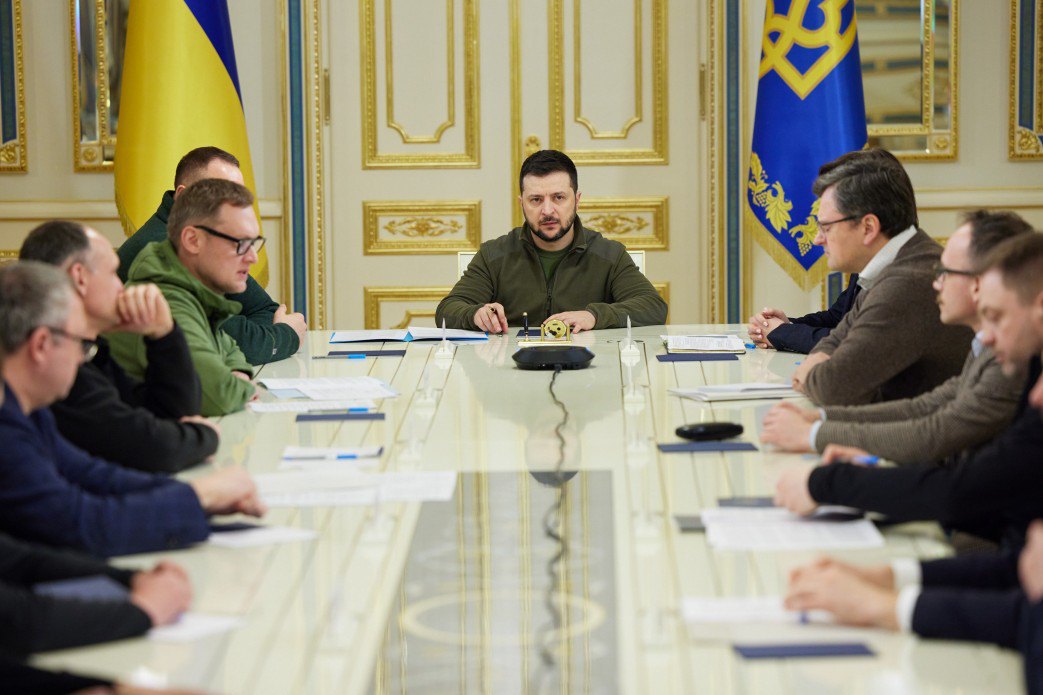 Volodymyr Zelenskyy met with an expert group on the creation of a special international mechanism of justice
Of course, this is a question of the future, but we need to gather the community and organize an expert discussion and search for funding now. After all, assets are being frozen now; sanctions are being imposed now as well, so we need to think and talk about future reparations now.
It is fair that the aggressor should finance the reconstruction of Ukraine, so we must compensate our costs as much as possible from those resources that are frozen. The second support tool is the help of our strategic partners. We already hear initiatives from many countries that are ready to help either in a particular region or Ukraine in general. But it has to be systemic; it has to be better than it used to be. Just as Ukraine has now impressed everyone with our struggle, steadfastness, and readiness to fight for our country, democracy, and freedom, we also have a chance to impress everyone in the future with our innovation. What we will build must fascinate the world in terms of economic, financial, and energy development.