In the city of Ternopil, the rallying supporters of the far right party Freedom would not allow the councilmen into the building of the city council ahead of the session, local legislators told LB.ua.
Several dozens of protesters gathered in the morning of 24 April in front of the building of the city council, holding signs demanding the resignation of "traitor deputies". They had installed garbage cans with the names of three deputies of the Freedom faction in the council – Ihor Turskyy, Roman Navrotskyy and Ivan Sorokolit, who were expelled from the party and the faction a few weeks ago.
After a heated verbal exchange, the protesters, headed by two Freedom members of the council, showered city councilmen with heavy objects and pepper-sprayed them, which resulted in slight injuries for two BPP councilmen.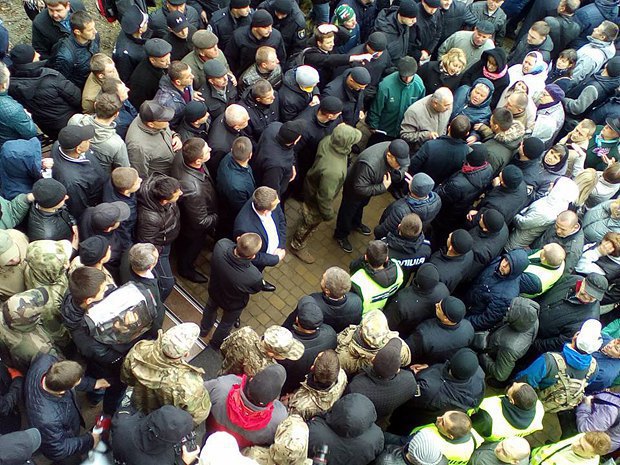 Ivan Sorokolit, who passed to Ternopil council on the ticket of Freedom, said the rally was a reflection of inter-party conflicts.
He said he and two of his fellow councilmen have been expelled from Freedom for having voted contrary to the position of the faction. "We have been accused of the departure from the party line and the commitment of about 100 violations (which ones, we do not know). We are ready to discuss the violations, but we have not been told which violations they were talking about," Sorokolit said.
Sorokolit is not about to surrender his council mandate, since he was elected in a constituency, and only voters have the right to recall the deputy. "My voters would regard my departure as a treason," the deputy argued.
As stated on the Freedom website, the party's political council on 7 April expelled Navrotskyy, Turskyy and Sorokolit.
"The reason for this decision was an all-Ukrainian survey of the performance of Freedom people's deputies, which has indicated that former Freedom activists in their public speeches departed from the program principles of the party, and on more than 100 occasions have voted contrary to the decisions of their local chapters," the statement reads.