56.6% of Ukrainians value peace above all, a joint poll by Gorshenin Institute and the Friedrich Ebert Foundation in Ukraine & Belarus.
According to the findings of the poll announced at Gorshenin Institute on Tuesday, 11 July.
42.7% of respondents stressed the importance of the value of human life.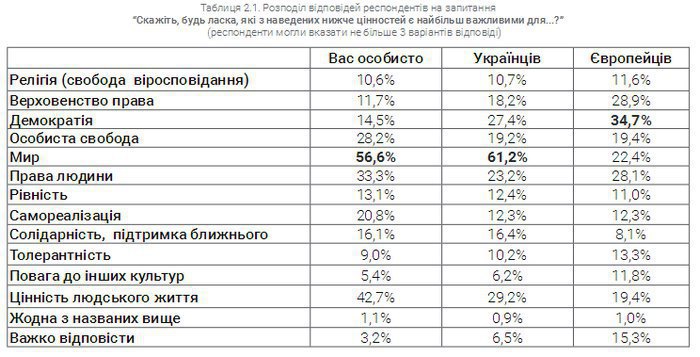 Photo: Gorshenin Institute
Director of the Friedrich Ebert Foundation Mattes Buhbe pointed out as he commented the poll's data that these indicators are slightly higher than in Europe as a whole. In his opinion, this indicates a severe trauma caused to the Ukrainians by the war in Donbas.
Buhbe also believes that this is a strong political signal for the government. "I have a feeling that many Ukrainians leave politics to politicians. It's hard for them to judge who is better, but a government incapable of securing peace will have big problems in the next elections," Buhbe said