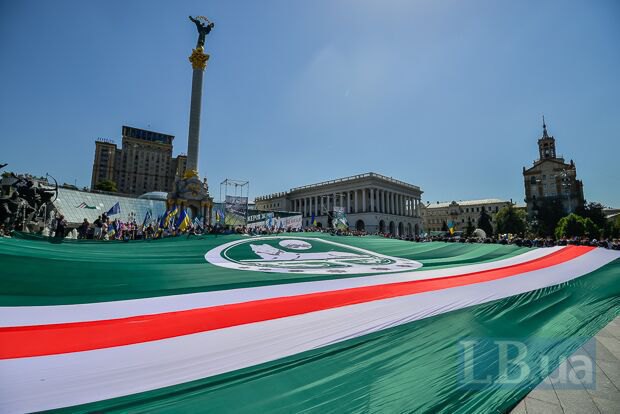 An event called "Ichkeria alive!" was held in Kyiv's Independence Square today. Its participants held what they described as the world's largest flag of Free Ichkeria, 22 m to 33 m.
"This event is a symbol that our enemies, despite their best efforts, have failed to break our will to win and our spirit. And that our victory has never been so close!" the description of the event on Facebook reads.
The event was authorized by the city authorities. All the required security steps were taken. The event was preceded by a prayer for those who protect the freedom and independence of Ukraine, Ichkeria and Georgia.
The chairman of the Crimean Tatar self-styled government Majlis, Refat Chubarov, warned Russia against taking further destructive steps with regard to Ukraine.
Ichkeria is an unrecognized state which existed after the Soviet Union collapse on a territory of the Chechen-Ingush Autonomous Soviet Socialist Republic. It was liquidated by the Russian authorities in 2000 after the occupation of Ichkeria by Russian troops.