Resistance to evil by violence
The late July news that Petro Poroshenko stripped Mikheil Saakashvili of citizenship mostly prompted extremely negative reaction from the active part of Ukrainian society. Not so much because they liked Saakashvili but because selective justice is inadmissible.
They remember it all too clear that Viktor Yanukovych's dictatorship did not start at once. Specifically, after October 2010, when Constitutional Court changed the constitution in just one day and gave more powers to the head of state. Only few paid due attention back then.
Many of those who went to Krakovets that weekend mentioned the inadmissibility of selective justice as their reason to go.
They said it is not about Saakashvili, but if this happened to him today, it can happen to any of us tomorrow.
Well, we've been there before.
Events of the first half of Sunday - "titushkas" [hired heavies] at the border, the train blocked in Przemysl (whose passengers suffered for nothing), and the "mining" of the Sheheni checkpoint – only made us firmer believe that the authorities "went nuts". It is of course a long way to "dictatorship", about which opposition MPs cried foul. Those who remember the events of 2011-2014 (from the Pecherskyy court to the first clashes in Bankova Street) were more reserved in the definitions they gave. Especially those who remember how Mikheil Nikolozovich dispersed peaceful demonstrations when he was Georgian president.
The truth, however, is that stupidity is often more dangerous than the most sophisticated insidious plan.
And it is a fact that the story of the cancelled citizenship was an act of sheer folly from the start. Practically a diagnosis. Skilful speaker Saakashvili, of course, rubbed the authorities the wrong way by his TV appearances and in social networks. But let us be frank, this had almost no effect on the rating of Movement of New Forces, just check out any survey. Moreover, he was the man who can consolidate the opposition. Not to mention any sharing of leadership.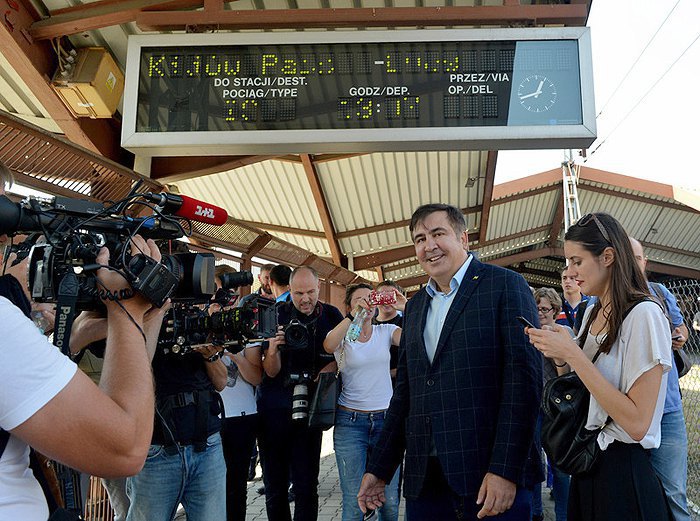 But he annoyed them, that is true. And not only Bankova [the street where the president's office is located]. And not only the Interior Ministry, as it is commonly believed. This is the foundation of the July decision which was not rational but emotional (which is inappropriate for any authorities, even those with the blunt instinct of self-preservation). Hence the absence of a clear, coordinated action plan, even more so an information strategy (which was fully revealed this Sunday, by the way).
For Saakashvili, the Ukrainian side's attack was literally a gift. Mikheil Nikolozovich is a man of an "image", specifically a TV screen image. No wonder that when he was in charge of the Odessa regional state administration, cheeky Odesa citizens awarded him the title of the "showoff king". He showed off as much as he could on 10 September. And the main audience was not in Ukraine but beyond its borders. Even members of the former Georgian president's team admitted (off the record, of course) that they were not too optimistic about the planned the breakthrough. And when it happened in fact, they were puzzled no less than their opponents: they had no step-by-step plan of what to do next.
To be completely fair, it was not the first time that Kyiv used selective justice by speculating on the issue of Ukrainian citizenship. It started in 2014-2015 when passports were issued to expats left, right and centre. Not to foreign fighters who fought in the east (many of them, having applied for citizenship back in 2014, are still waiting for the decision), but to foreign specialists, which seemed more useful camera-wise.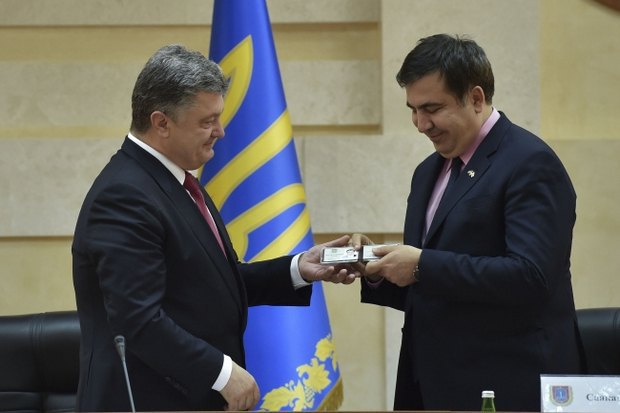 Some of them, by the way, later gave up the blue book with a golden trident (for example, Khatia Dekanoidze or Natalie Jaresko, who chose US citizenship after all. Aivaras Abromavicius made similar statements in favour of Lithuanian citizenship).
Some, like Sasha Borovik or Andriy Artemenko, were stripped of citizenship.
Savika Shuster was "squeezed out" out of the country when his work permit was cancelled and conditions were made unbearable for him.
Roman Nasirov was officially confirmed (by the British embassy) to hold two citizenships (British and Ukrainian). As for Vadym Novinskyy, Poroshenko instructed the migration service to check his status back in April 2016, but no results have been made public to this day.
But the term during which Uliana Suprun was to make her mind expired in July 2017 but, in view of the importance of health reform, everyone is tactfully silent about this.
There are more on the list.
What is most important is that the precedent of manipulation, including not completely lawful one, was set. But it crossed no-one's mind, except that of Mr. Saakashvili, to turn it into a performance. By breaking the border, he produced an even more monstrous precedent, which made it impossible to support Mikheil Nikolozovich even for the majority of those who used to like him. Except, perhaps, for the party staff. Also those who so desperately hate the current authorities that they make no difference and, in principle, do not care because they are ruled by the logic of denial. Justifying the lawlessness, these people actually bless its next spin. They do not need transformation, they need an idol, a "good king" who would settle all problems, from a light bulb replacement in your hall to a Masonic conspiracy. And then, after the next election, they will be wonder why they once again found themselves at the broken trough.
The state has its own symbols which every citizen, a true citizen and not just a resident of the territory, must respect. Especially, in conditions of external aggression. The inviolability of the border is one of the main symbols. Resistance to evil by violence is clearly not an appropriate tactic. Especially when you risk the lives and health of people (both your comrades-in-arms and those who oppose them on the line of duty).
Read Mustafa Dzhemilyev's story above because I have mentioned it for a reason.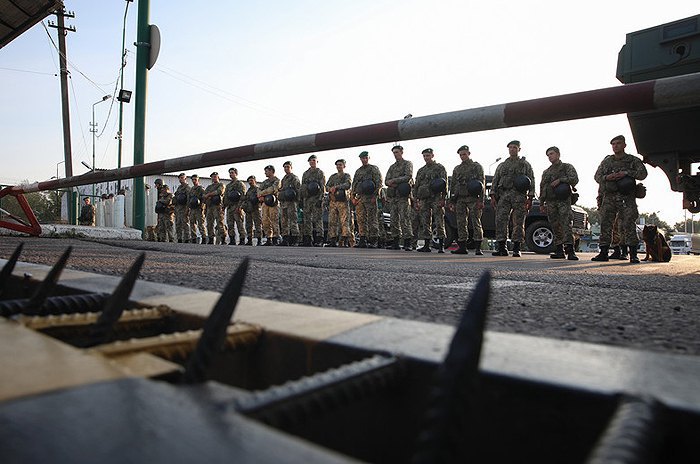 That is why the feeling of deep shame is what the overwhelming number of Ukrainians experienced on the Sunday evening. Shame for the stupidity and insolence of their own authorities which in the "manual mode" make behind-the-scenes decisions about who is going to live and who is going to (figuratively for now). After all, every power has the property to change (even if it considers itself eternal), but the shame of the country remains.
There is shame for the authorities incapable of legally defending their position. After all, if Saakashvili can do this (who "killed" us Monday with the news about his "lost" passport), why cannot others do this? And why, given what's done is done, they are toothlessly "persuading" him to return to the checkpoint "to undergo proper registration" instead of apprehending him in Lviv after all?
Can you imagine anything like this happening in any other country of the world, including Georgia? That's the point.
There is shame for the actions of someone who calls himself "the defender of the Ukrainian people",iIncluding from oligarchs and other politicians with whom, as practice shows, a situational alliance can be formed, if necessary ("hello to Akhmetov" is not a different story, and I remember him make references to Kolomoyskyy too).
As if no-one notices.
N stands for no principles.
It is inadmissible for any big politician.
Quo vadis?
The latest Ukrainian history knows the history of the "returnees", people who were artificially isolated from society for various reasons and under different circumstances (not always even in Ukraine).
In April 2013 , Yuriy Lutsenko was released from jail. The authorities at the time were rubbing their hands expecting him to become a "mad dog" for the opposition and crush it from inside – it was not so solid after all - and "pull" the blanket over himself. For its part, the opposition suspected Lutsenko of intending to fight for the status of a "single candidate" in the 2015 presidential election (Maydan was not a prospect back then). Neither expectation went true.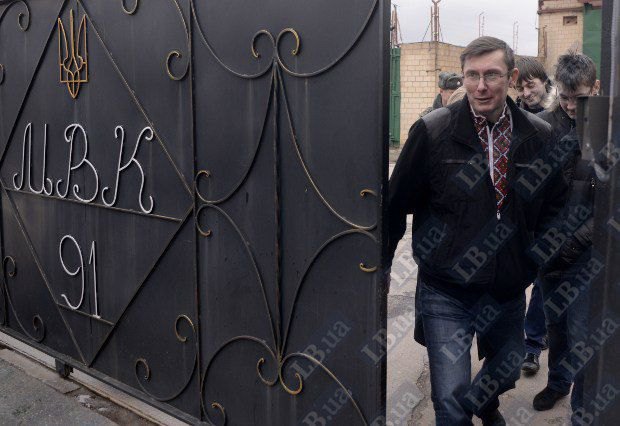 In February 2014, Yuliya Tymoshenko left the Kharkiv central clinic. Experts immediately began to name her among the candidates for the first post-Maydan prime minister (Tymoshenko chose to fight for presidency in May).
During her imprisonment in Russia, Nadiya Savchenko became a national symbol. School children painted her portraits, public figures wrote her letters of support, diplomats fought for her release.
It is not about what happened to all these people afterwards, or how they behaved (yes, we like to judge from the standpoint of today, but this is the easiest way, while you cannot drop the words out of a song).
It is a fact that their return was associated, if not with positive changes, then with a serious change in the current landscape for sure.
Saakashvili's return is not associated with anything, except for the shame of the country.
He had every opportunity to prove himself useful here in deeds, to serve Ukraine. He did not use them (it is a different story why he did not use them).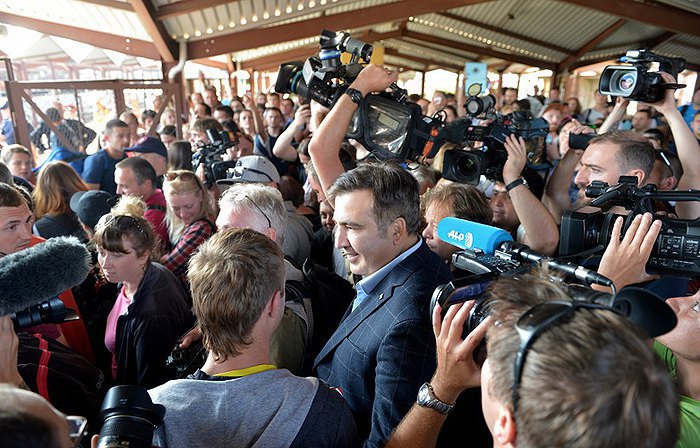 His status is illegal.
The rating of his party is comparable with a margin of error.
Situational alliances are certain to fail the test of time (similarities with the Kanev Four come to mind but this is perhaps another story).
That is why this text is entitled as it is entitled.
The best solution for Mikheil Saakashvili is to obtain at least some documents and get busy with his frenzied activity in another location.
The only solution for us is to learn the lesson and, when the time comes, remind the authorities about it.
First of all, during the elections. After all, as I have said, power has the property to change.
But our country remains with us.
Always.