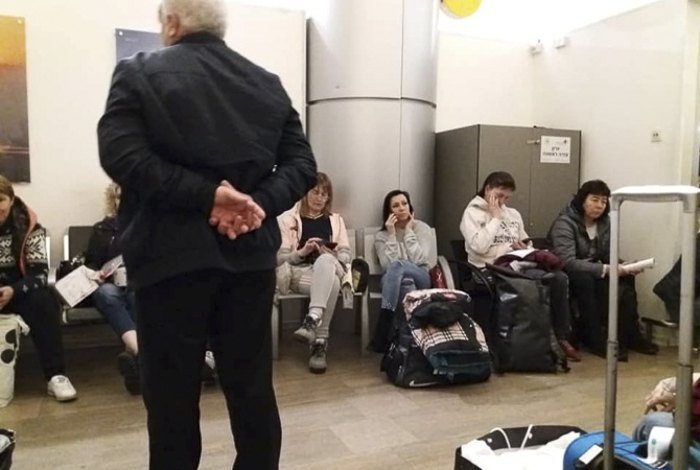 Ukrainian tourists at Ben Gurion Airport
On Thursday, 28 February, the Foreign Ministry of Ukraine suggested that visa-free regulations with Israel may be suspended if the rights of Ukrainian tourists and travellers continue to be systematically violated at the border.
This bold statement was made after the situation at Israel's Ben Gurion Airport (the main "gateway" to Israel for foreigners) escalated. Israeli services suspect every Ukrainian of violating the Israeli immigration rules by default. In their opinion, everyone without exception comes to Israel (thanks to visa-free regulations between the countries) with the only intention to stay there and work illegally at construction sites, in hotels or as prostitutes. Accordingly, this is how the Israeli services explain their denial of entry to a large number of Ukrainians and their deportation on return flights.
Meanwhile, the Ukrainian Foreign Ministry holds Israel equally responsible for the situation in its labour market where Ukrainian citizens get illegally recruited and employed because the Israeli authorities are insufficiently active in countering unscrupulous employers. "The Foreign Ministry of Ukraine deems it unacceptable that every Ukrainian tourist at the border is seen as a violator of immigration rules due to either the unwillingness or lack of readiness on the part of governments to combat the practice of illegal employment in their states," the Ukrainian Foreign Ministry's spokesperson Kateryna Zelenko stressed.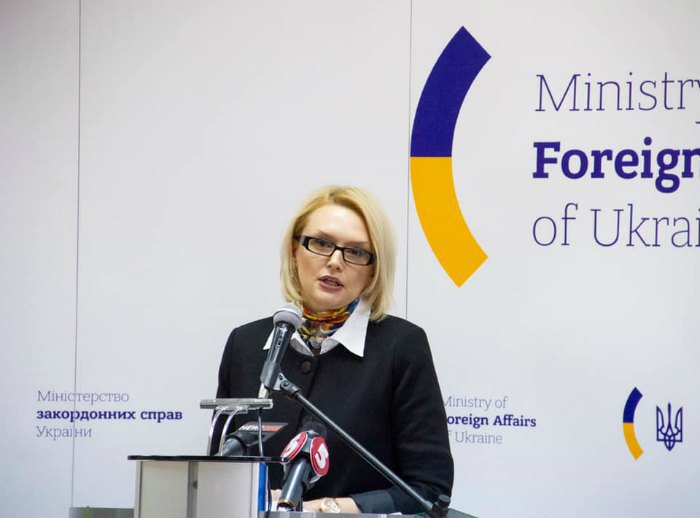 Ukrainian Foreign Ministry spokesperson Kateryna Zelenko
According to statistics from the State Border Service of Ukraine, Israel did not let in 7,730 Ukrainians in 2018, and 643 Ukrainians since the beginning of 2019 (by 4 March).
For comparison: Ukraine barred 162 Israelis from entering in the first two months of this year. And this is only because the flow of unscrupulous tourists from Israel has increased. They either do not have enough money on them, or they cannot explain the purpose and itinerary of their visit. This raises concerns among Ukrainian services considering the enhanced security measures with regard to foreigners arriving in Ukraine.
One size fits all
After a recent exacerbation of the situation when a group of 35 Israeli tourists was detained at Boryspil airport and the Israeli authorities blocked an entire plane with 140 Ukrainian passengers onboard in response, Moshe Reuven Azman, the Chief Rabbi of Ukraine, wrote a letter to the Israeli authorities in which he confirmed the problem and offered help to the Jewish community Of Ukraine. "Ukraine has proven that it is a reliable friend of Israel and it is in our interest to solve the border problem in order to maintain this relationship in the future," his letter reads.
To confirm the existence of the problem, the Rabbi attached a description of the incident at Ben Gurion Airport, when the Israeli services even detained Ukrainian Education Minister Liliya Hrynevych. They did not want to let her enter Israel, bombarded her with questions such as whether she was going to engage in illegal labour activity in the country. She was able to enter the country only after the office of the Israeli Ministry of Interior called in and demanded that they immediately let the Ukrainian minister in.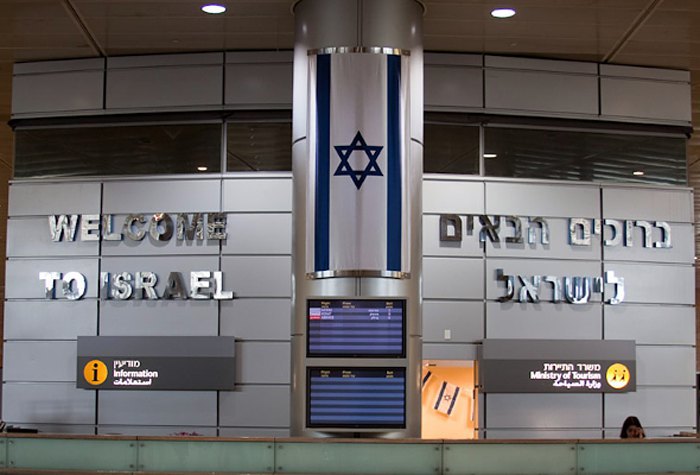 Some of the recent examples include the Israeli services' questions to members of Kyiv mayor Vitaliy Klitschko's delegation. The mayor participated in the international municipal exhibition MuniWorld 2019, which took place in Tel Aviv on 26-28 February in 2019. And as they were leaving the country, two delegation members were sent for an additional inspection as a result of which they experienced too much hassle and lost time (they almost missed their flight). And all of this was happening despite the presence of the world-famous boxer and diplomats of the Ukrainian Embassy in Israel.
In the name of the state
Kyiv and Tel Aviv are trying to settle the situation with the non-admission of Ukrainian citizens (although so far without success) by creating a centralized mechanism for legalizing the existing and recruiting new workers.
However, the situation is most badly overshadowed not so much by the high denial of entry rate but by the negative attitude of the Israeli services towards Ukrainian passengers. Not only potential Ukrainian labour migrants get in trouble with Israelis at airports but also ordinary tourists who come to see the country, or their relatives, friends, or those who visit for medical treatment, or just pilgrims.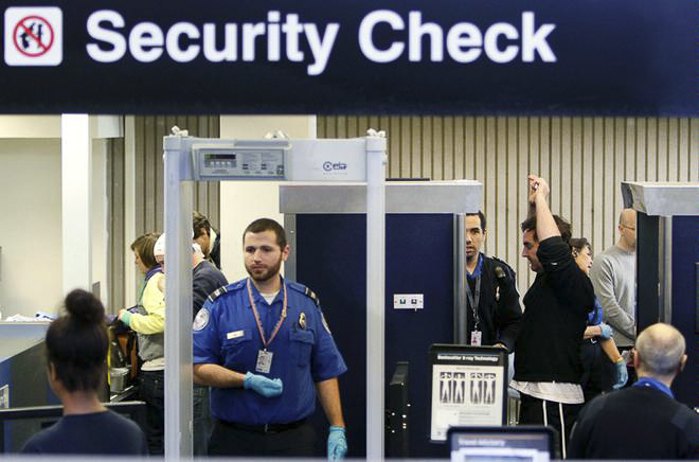 Ben Gurion inspection
Unjustified denials of entry to Israel, as well as harsh and sometimes even cruel treatment by border control officers are on the list of Ukrainian citizens' complaints about the Israel authorities' actions at Tel Aviv's Ben Gurion Airport.
In general, the problems with the Israeli services can be classified as follows:
- Artificial creation of problems during border controls (for example, the creation of long queues when there are not enough booths for the processing of passengers from Kyiv);
- A rude and cocky manner of conducting interviews, during which the Israeli services may orally abuse visitors and create excessive psychological pressure;
- Neglect of basic human needs (water, food, hygiene) while people wait for an interview and make final decisions at the airport, as well as at the Migration Centre;
- A failure to provide on-time medical assistance upon request;
- Disregard for facts and documents confirming the purpose of Ukrainians' visits;
- Denial of a chance to contact a consul or a lawyer in case of misunderstanding;
- As a rule, unjustified denials of entry to Israel are accompanied by the ban on return (for life or for a long time - 10 years). It is almost impossible to revise or cancel a decision on the denial of entry once it was made.
Another typical feaure is that many Ukrainians say that Israeli service officers explained their behavior as a "position of the state" or that it is the authorities who told them to behave with Ukrainians in such a way.
"Lucky-not lucky". Border like a roulette
The case of the crossing of the Israeli border by the Weisgeim family with their 6-year-old son Nikita received the greatest resonance. In April 2018, they flew to Israel to friends who, shortly before, came to visit Weisgeim in Kyiv. The family wanted to visit the holy places, but also to recieve a consultation with a child psychiatrist - the boy has a psychiatric illness (autism). Even before the arrival, Ekaterina consulted an Israeli psychiatrist by telephone.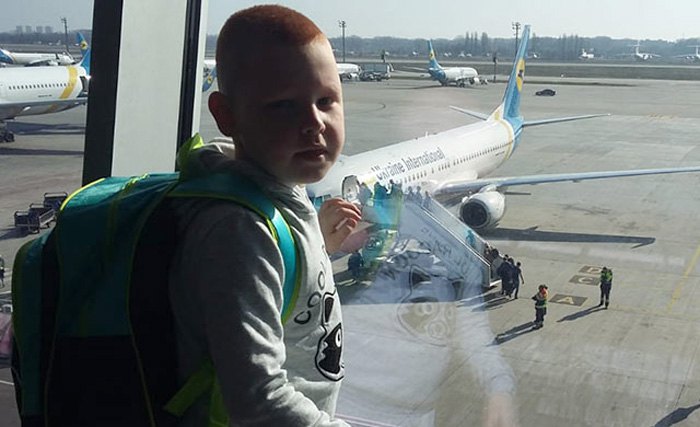 Mykyta Weisgeim
But at passport control, they were asked to go for an interview in the room where other passengers were waiting for questioning. After about an hour of waiting, the family was called in for questioning. Once in the office, Nikita, who by that time was already very tired and desperately wanted to go outside, started, according to Catherine, "brawling", grabbed different things from the table, tried to throw them away and was screaming loudly. So, Catherine was asked to "go for a walk" with the child while border guards were talking with Andrey. About an hour later, the woman was called in and was told that they were sending the whole family home. They took a photo of her, got her fingerprints and asked her to go with her husband and Nikita into the opposite room - without doors, but guarded.
Soon, according to Catherine, several men came for them and took them outside, where they put them on a bus with bars on the windows. A few minutes later, the bus drove to the complex where they are to be deported. They were asked to hand over their phones and other gadgets. Catherine and Andrey barely managed to beg the employees to leave at least a tablet for the sick child.
On their way back, when on the plane, the boy, who slept only for a few hours that day, became hysterical again, he could not fall asleep in flight. When the family returned to Kyiv, the traumatic experience that Nikita got in Tel Aviv got even worse: he couldn't sleep, the boy couldn't stop crying, showed aggression in the kindergarten, refused to remain in a room alone. Nikita's doctor came to the conclusion that the child's condition had deteriorated sharply.
Airport wars
LB.ua also asked social network users to share information about their experiences of crossing the Ukrainian-Israeli border. Continue reading this article to see some of the stories. Their reliability does not cause doubts, since they are submitted by people from different sectors of society, origin, age or territorial origin within Ukraine, are regular and typical in their essence.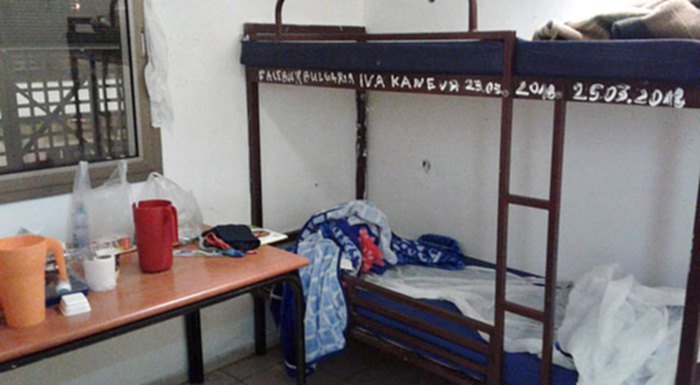 Tatiana Popova. "The first time, I was interrogated at the airport for quite a long time both when entering and when leaving the country. They wanted to know all the details. When my business partner found out about this, he advised me to answer all the questions like "Where? To whom? Why? Where were you?" with short phrases like "commercial secret" and "it does not concern you."
And I had no more problems when entering or leaving the country. Even though I came to my relatives or friends and stayed there quite often. And even without hotel reservation. Everything I showed them was a return ticket and, it seems, once I was asked to show a business card when travelling to a business meeting. "
Tetyana Shovkun. "I was lucky. They questioned and inspected me for a long time, but everyone was polite. Maybe because I was ready for this and I had answers to all their questions. However, the queue for passport control was a real nightmare. The two out of six booths were working and to the requests of citizens to call someone else, employees respond with something like "it's no big deal, you can wait".
Ruslan Mikhailovskyy. "In Boriypil: an interview in front of the reception desk with a story about yourself, demonstration of Facebook page. Questions about visiting Arab countries.
In Ben Gurion: 5 hours of waiting before an interview. Scandal with a security officer. An attempt to explain to him that I was not going to stay in Israel as illegally, and in Egypt I was a year before, so they didn't give me anything there to bring to Israel. They promised to put me on the floor in handcuffs, and I was going to leave the country on the next flight to Kyiv. I was allowed to leave. They didn't apologize. My mood was really spoiled and I have no desire to come back.
P.s. On my way back before departure, the procedure was repeated. They were looking for a Russian-speaking employee for about an hour. But I have already learned not to take it seriously. I tried to come up with clever answers to ridiculous questions. "
Valeriy and his wife, Oksana, arrived in Israel on 20 February 2019, with the intention to have a surgery, since he has heart disease. However, a border control officer didn't like the stated aim of the visit, and refused to both of them to enter. After the interrogation, the man started to feel sick, he needed urgent hospitalization. Meanwhile, his wife remained in the airport migration center. Furthermore, she suffers from diabetes, and the insulin she desperately needed was in hospital, where her husband was at that time. So, she also found herself in a critical situation.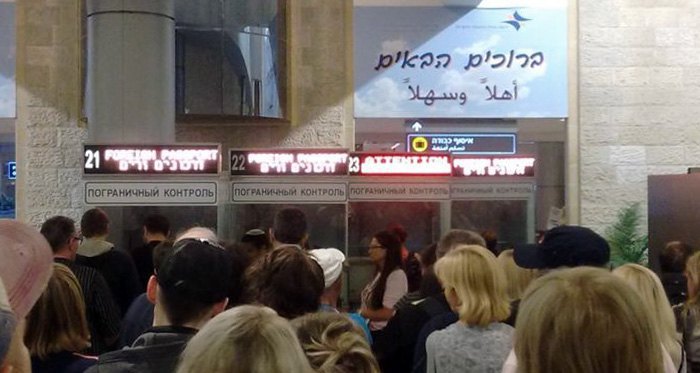 Ukrainians at Ben Gurion
Lesya K. "On June 26, 2017, me and my husband, Igor, I, (as part of a group of 17 people) arrived at Tel Aviv airport from Lublin (Poland). During customs control, the staff detained and searched us, confiscated all our personal belongings and telephones, and put us into the detainees' cells in the basement where we stayed for 24 hours. And that's all without explaining the reasons and justifying their actions in any way, without any document drifting.
The next day, four armed Russian-speaking officers came to us. They took us to another room. There, again, all our personal belongings, money, computers and telephones were confiscated. After that, one by one, we would be winded up into the rooms where we were forced to strip naked. After the inspection, with the help of mittens, they would put hands into the anus and vagina of these women.
After that, they took our clothes and forced us to change into special clothing. Then they placed us in a cell where 12 citizens of different nationalities had already been (Ethiopians in particular, who, as it turned out, were also detained on suspicion of terrorism). From there, we were taken to the basement, where the same people asked us the same questions several times. Then we were taken back.
In the cell, we slept on metal bunk beds with only a mattress and with no bedclothes. All day long we were forced to clean up the prisons and toilets. We had a cucumber and a piece of bread for breakfast; cabbage soup and a spoonful of rice for lunch, and only a carrot for dinner. In such conditions, almost everyone's health got worse. Furthermore, no one provided medical aid, only every 2 hours a policeman with a psychologist came to the window, watching if no one committed suicide. Every two hours there were rollcalls. The disobedience was punished by the cleaning about 300 square metres of prison.
We were held in such conditions for 7 days. After that, on 07/01/2017, we were released - in handcuffs and accompanied by policemen armed with machine guns, we were taken by bus to Ben Gurion Airport, where we were taken to the same plane we flew to Israel through a special corridor of armed policemen. Not all Ukrainians were put on the plane, only those who took empty seats. The flight lasted three hours; we were accompanied by one policeman. In Lublin, when we were getting off the plane, a flight attendant issued passports to all the detainees. There was a 10-year deportation mark in each of them. "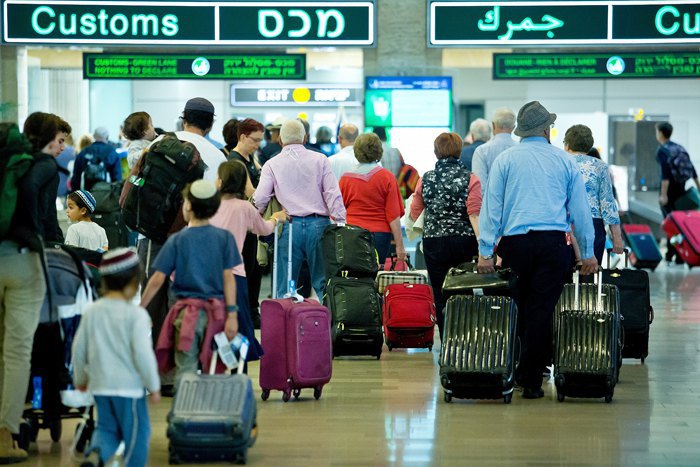 Olga A. "My husband and I signed a maintenance contract for tourist services" Christmas in the Holy Land "on 12/14/2017 with the company" ... ". We paid 1,400 euros for tourist services. The tour was supposed to take 8 days (from 01.03 to 01.10.2018).
We arrived in Tel Aviv at 13.00. When going through passport control, we were not let in and we were sent to the office for additional checks. Without any explanations, they took us to the basement, closing the doors and setting the guard. We had been there for about 5 hours, with no documents, with nothing at all. All this time we tried to find out on what basis we were detained and closed, but we received no answer, they only showed us on their fingers that they did not understand our language. Then 6 armed people came and led us into unknown direction. At the airport exit, a special bus was waiting for us. We were taken in – they were pushing us in the backs and shouting at us something in their language. They took us to prison, took away all the things we had (hand baggage), and mobile phones, so that we had no connection. Men and women were divided into different rooms with metal doors and bars on the windows. They treated us like animals, shoved us in the backs, laughed at us, didn't let us to get some fresh air, and locked us up. One person felt ill, we asked to provide some assistance, but received no reaction.
After being in prison until 4 in the morning, we were put on a bus and taken to the airport, then we were brought back to the room for checking the things. After that, they sent us by plane to Ukraine without handing over our documents. "
Viktoriya P. "From December 28 to January 7, 2018, my husband and I stayed in Israel with a pilgrimage visit, visiting Holy Places. During passport control, we answered all the questions of the Israeli policeman to my husband, my husband was given a registration card, and I was sent for additional control.
Everything would be fine - every state has the right to establish its own rules, but any actions must be carried out on the basis of human respect, honor and dignity. The thing is that the so-called "additional controls" last up to 6 hours. Personally, I was kept for 5 hours without water, food, and any explanations. When 5 hours had passed, I was invited to the so-called additional inspection room and the conversation with the Israeli policeman began.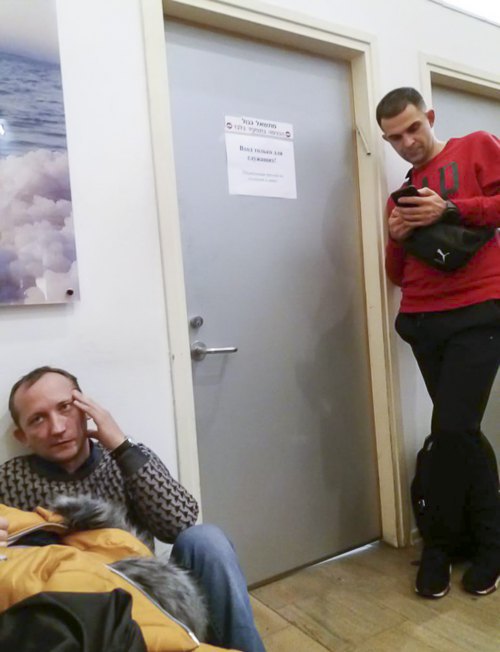 Interview room at Ben Gurion
He spoke Russian fluently, used bad language, humiliated the Ukrainian citizens as a nation, expressed disrespect for Ukraine from Israel, and stressed that the so-called visa-free regime is out of the question, it is only on the paper. According to him, his task "from above" is to do everything possible in order to create the worst possible conditions for the citizens of Ukraine, so that they lose the desire to go to Israel. He explained such his statements by the war in Ukraine and unemployment, which is why so many Ukrainians come to the country to work.
Thus, after hearing a lot of humiliation in my address in that I am a woman from Ukraine, he assured me that not letting the Ukrainians into Israel is the government position of the country.
I was surprised that after 6 hours of delay at the airport, having return tickets and a paid hotel, I would also need the help of a representative of Ukraine in Israel.
Talking to other Ukrainians, who had also been waiting for additional check, had proven that this is a permanent and established phenomenon. When arriving to the airport in Tel Aviv, many Ukrainians receive only humiliation from the authorities. At the same time, Ukrainians do not have any opportunity to file a complaint and turn to the Ukrainian official representative. "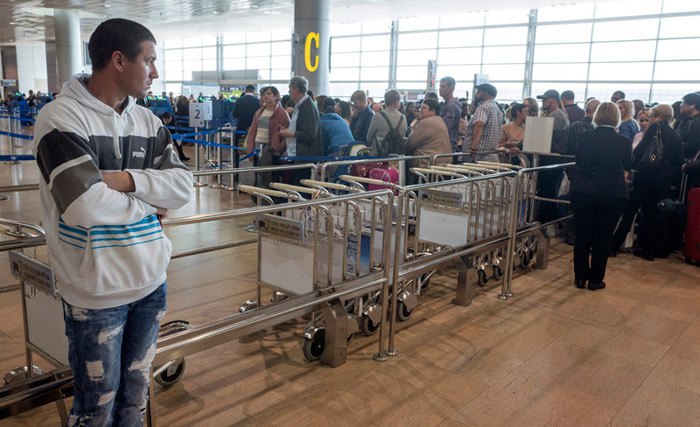 Zhanna N. "On July 17, 2018, me, my husband and daughter flew to Israel from Kharkov on the tourist's purposes. We planned to stay with our relatives who live in Rishon de Zion. At passport control, Israeli employees showed us their disrespect from the first minutes and sent us to the room of additional customs inspection. After 2 hours of waiting, one by one, we were asked for interrogation. We were treated extremely disrespectfully, we were asked tactless questions, they shouted at us very loudly, waved their arms, and threatened us with prison, despite the fact that there was no inappropriate behavior on our part.
After a humiliating 20 minute conversation, we were taken to another room and told that we would be deported soon. At our request to give us at least the reason for such a decision, the employees laughed loudly and shouted at us. After humiliating procedures and quarrels, force was applied to my husband, they even took a swing at my 5-year-old child, after which she had been crying for an hour. After 14 hours of waiting at the airport, we were deported back to Ukraine. We were told that our family was banned from entering Israel for 10 years. "
The full personal details of all the people mentioned above is at the disposal of the publisher.
Obviously, it's an extreme step to cancel the visa-free regime between Ukraine and Israel because of the existing mayhem in illegal employment in Israel and the harsh/cruel treatment of Ukrainians at the border. It is risky and is not beneficial to any of the parties, no matter how each of them tries to present the situation differently. But in order to avoid this, the Israeli side should not deny the existence of the problem, but to finally come up with a solution.
At least after their elections.