According to preliminary data, this morning, from the Caspian and Black Seas, Russia fired 76 missiles at critical infrastructure facilities of Ukraine, including 72 cruise missiles (X-101, Kalibr, X-22) and four guided missiles (X-59 / X-31P), Commander-in-Chief of the Armed Forces of Ukraine Valeriy Zaluzhnyy reported on Telegram.
"The forces and means of anti-aircraft missile troops of the Air Force and air defence of the Land Forces destroyed 60 enemy missiles. The enemy's missile terror and outrageous attempts to break through Kyiv's air defence will not make us lay down our arms," he emphasised.
The Air Force added that the peculiarity of the current attack was the launch of cruise missiles X-101/X-555 not only from the Caspian Sea but also from Saratov Region, near Engels, where strategic bombers Tu-95MS are based.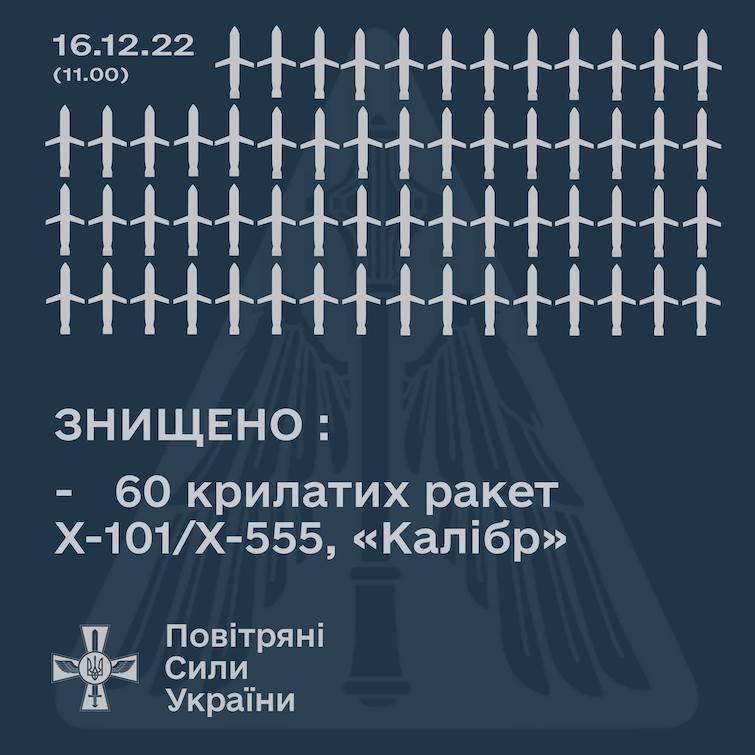 "The occupiers launched sea-based cruise missiles from the Admiral Makarov frigate from the Black Sea. Several launches of X-22 cruise missiles were carried out from Tu-22M3 long-range bombers over the Sea of Azov, and four launches of X-59 and X-31P guided missiles from the occupiers' tactical aircraft, presumably Su-35. During the massive shelling, the flight of a long-range radar detection aircraft Il-76 A-50U and the patrolling of a MiG-31K fighter- the carrier of Kinzhal missiles - were observed in the sky of Belarus," the Air Force noted.
Moreover, during the attack, the enemy struck at the frontline cities with anti-aircraft missiles from S-300 SAMs - there were about 27 launches.
40 missiles were flying at Kyiv. 37 of them were shot down. There were several hits to various infrastructure facilities. Ukrenergo (Ukrenerho) reported that they have the situation under control.