The international investigative group Bellingcat found out that Russia used the battle tank T-90 and its modifications in Donbas.
In a report, Bellingcat said reminded that these tanks have never been supplied to Ukraine. The reports that the tanks of the T-90 family were seen in eastern Ukraine began to arrive in the summer of 2014.
"Another post-Soviet development with its root in the T-72 program is the T-90 main battle tank and its variants, currently representing the peak of armored warfare capability of Russian ground forces. First production versions of the T-90 were produced in 1992, and during the lifetime of the program a few export models (e.g. T-90S, T-90SM) have been produced. These have not however been exported to Ukraine, where the domestic military industry worked on other modernizations based on e.g. the T-72 and T-80," the report reads.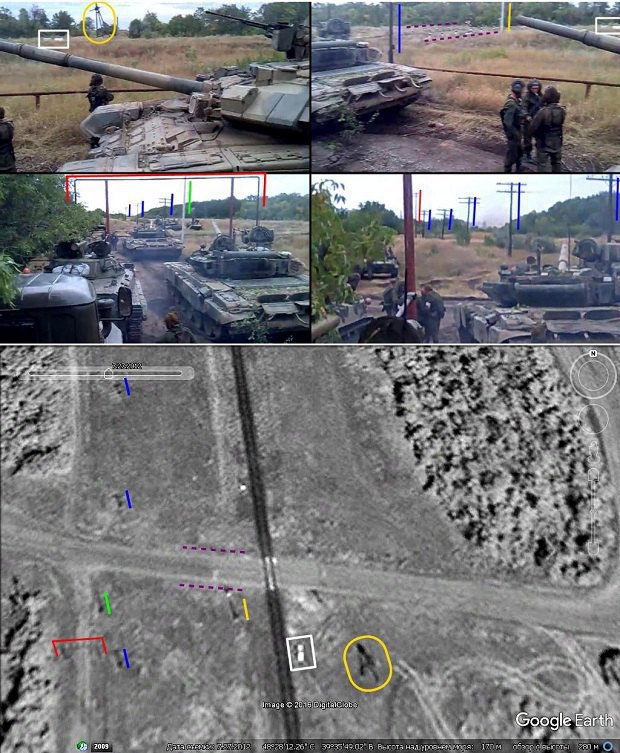 Tanks were used in the area of Ilovaisk, Luhansk airport and even in Debaltsevo. T-72B3 is a post-Soviet modification of the T-72B tank, which Ukraine has never imported or fielded.
Belingcat posted a video, which was allegedly filmed on August 25, 2014 near the railway crossing to the southeast of the village of Lyse in Luhansk Region.
The video was recorded at the end of the battle for Ilovaysk, when the terrorists conducted active military operations. It is noteworthy that during the fighting several Russian tanks were destroyed. Bellingcat notes that it is not possible to set an exact shooting date, but can be geolocated to confirm the filming location.
"The sightings and analysis compiled by Askai707 and InformNapalm during the war in Ukraine clearly documents the presence of T-90A tanks, likely from the 136th Motorized Infantry Brigade, in eastern Ukraine during the summer of 2014. At least three tanks of this type operated in the area. The T-90A is one of several examples of military equipment that appears to have been moved from Russia to the conflict zone in Ukraine to assist in the fight against Ukrainian government's forces," the report concludes.
Earlier, there were reports about the presence of T-72B3 tanks and heavy flame-throw systems of TOS-1 salvo fire in Donbas.
Bellingcat has published a report on the shelling of Ukraine from the territory of the Russian Federation.