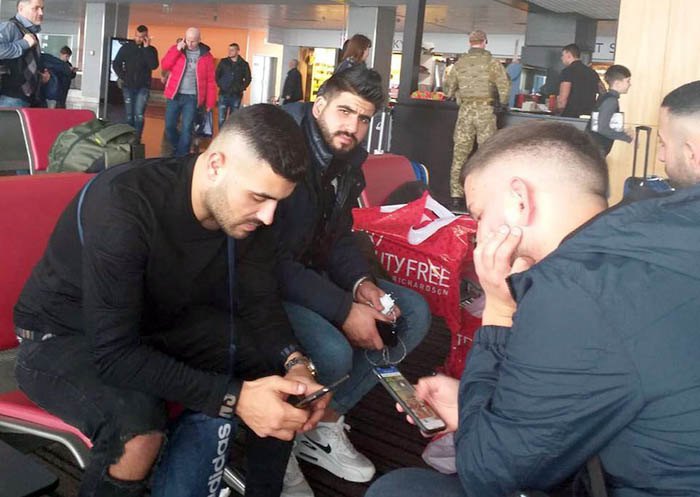 Israeli citizens who were denied entry to Ukraine at Boryspil airport
At Kyiv Boryspil airport, 35 Israeli tourists and 26 members of the ultra-orthodox group, who arrived on a flight from Israel on 15 February, were not allowed into Ukraine.
Several similar cases occurred earlier that week: on 13 February, 14 Israelis were not allowed into Ukraine and 10 more people the next day.
The State Border Service had a traditional explanation: the visitors did not have enough money and could not confirm the purpose and programme of their visit. However, these cases have become unconventionally resonant and prompted Israel to respond.
First, after 14 Israelis were denied entry to Ukraine, the Israeli authorities did not let 54 Ukrainians in, and on 15 February, they blocked the entire plane at Ben Gurion airport. 
"Israeli Interior Ministry officials told me that they had detained an entire plane from Ukraine with 140 of our citizens in protest," Ukrainian MP Heorhiy Lohvinskyy said on Facebook. He immediately arrived at Boryspil airport to help the Israeli citizens out. As a result of his intervention, 35 Israelis were allowed into Ukraine under his personal guarantees, and 140 Ukrainians entered Israel after seven hours of waiting (it turned out that seven people were barred).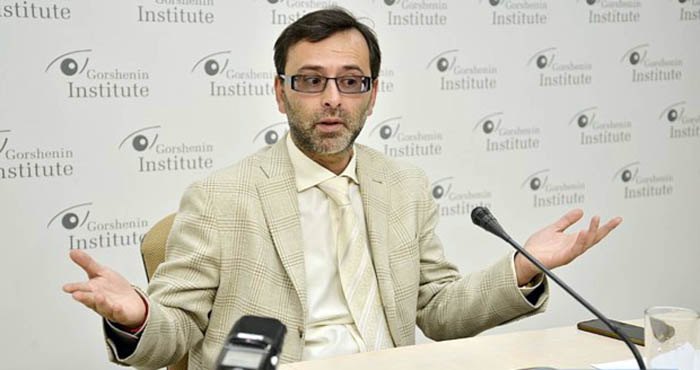 MP Heorhiy Lohvinskyy
"However, my friends, I want to inform you that if Ben Gurion airport does not change its attitude towards Ukrainians in the near future, we will continue to act according to the principle of reciprocity," Lohvinskyy added.
According to the Ukrainian embassy in Tel Aviv, everyday about 20 Ukrainian visitors get barred and sent back by Israeli border guards. About 4,000 people were not allowed into Israel in 2018. Since the beginning of 2019, some 480 Ukrainians have already been barred from entering Israel.
No harm
Ukraine denies any hidden agenda behind the denials of entry for Israeli passengers.
The State Border Service told LB.ua that there had also been cases of denial of entry for Israelis before albeit on a lower scale. The reason for the surge is the rise in the number of unscrupulous tourists from Israel.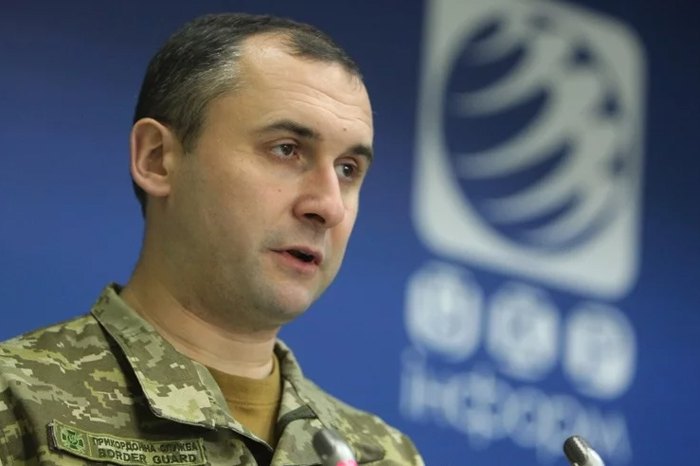 Oleh Slobodyan
"Indeed, the number of Israeli citizens who are denied entry has increased, but this is not associated with any malicious intent. [It has to do] with the fact that there are more and more unscrupulous tourists who do not have enough money on them, they cannot confirm the purpose and programme of their visit," Oleh Slobodyan, an aide to the chief of the State Border Service of Ukraine, said.
It is interesting to note: even Israelis say in private conversations that recently there has been a stream of "rude Arab sex tourists and local criminals who are not allowed to do business in Israel - 'heavies' of typical appearance with Israeli passports of unknown origin" from Israel.
In addition, the State Border Service said that Ukraine extended enhanced security arrangements for the border processing of foreigners due to the conflict with Russia. "This applies to everyone, including the citizens of Israel," Slobodyan added.
"Indeed, there were no instructions not to let Israeli tourists in. The increase in such detentions is in fact connected with the more scrupulous approach of our border service," the ambassador of Ukraine to Israel, Hennadiy Nadolenko, confirmed to LB.ua.
According to him, 318,000 Israelis entered Ukraine in 2018 (a 20% increase compared with 2017).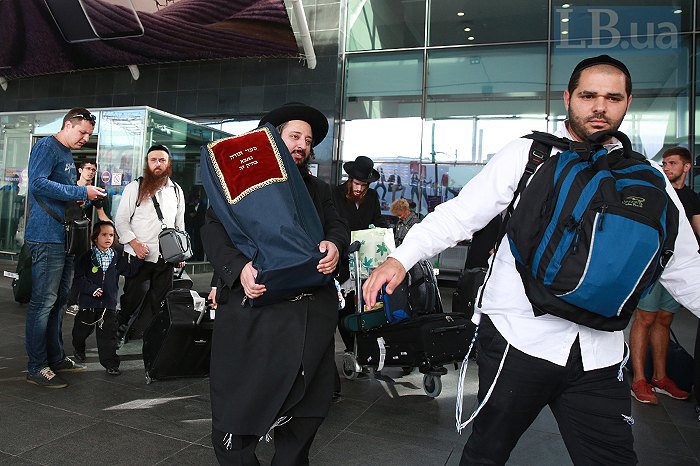 Israel position
Israeli border guards decide on non-admission if they suspect that people arriving in the country are not tourists but potential labour migrants and applicants for refugee status. And this concerns not only Ukrainians.
"Ukraine is not the only one affected by the problem. The same situation is with visitors from Russia, Georgia, Kenya or Nigeria. People enter Israel and about 10% of the total number of arriving tourists from such countries remain in the country. For example, about 11,000 Ukrainians a year stay in Israel to work illegally," Israel's ambassador to Ukraine Joel Lion said in a recent interview with LB.ua.
"If a third [of passengers] of an aircraft has a voucher for the same hotel and an invitation from the same 'travel agency' which had caught the eye of the migration department before, they will not be let in," Prof Zeev Hanin from the Department of Political Studies at the Bar-Ilan University and Ariel University in Samaria Zeev Hanin told LB.ua.
Zeev Hanin
At the same time, the Israeli expert is trying to understand the reason for the current non-admission of Israelis by Ukrainians. "Any action must have at least some motive. Young Israelis of one or another origin came with a view to behaving antisocially and having fun they can afford (not a given, but let us imagine that there are such people) and thus spoil the image of Ukraine? It is also a motive, but then it is necessary to announce this and describe those who were sent back as members of a 'potential risk group'," Hanin says.
Promised land
The reason why Ukrainians massively go to Israel is visa-free regulations between the countries which have been in effect since 2011. Given that the economic situation in Ukraine is not so good, many come to rich Israel as tourists and later, in fact, work illegally. And even if they are caught and face deportation, many immediately complain about "political persecution at home" or war and request asylum. And while their question is being considered, they continue to work quietly for several months.
By the way, the latter problem was partially removed after Israel recognised Ukraine as a "safe country": now the applicants must have especially convincing reasons to request political asylum. In particular, the number of asylum seekers fell from 7,000 in 2017 to 1,000 in 2018.
However, the problem of making Israel attractive to legal labour migrants has not been resolved, although attempts are being made.
For example, under an agreement signed a couple of years ago, up to 2,000 construction workers (with the industry needing 40,000) may enter Israel and work there legally, receiving all the necessary social guarantees and legal protection. However, only 150 legal workers used this opportunity in 2018.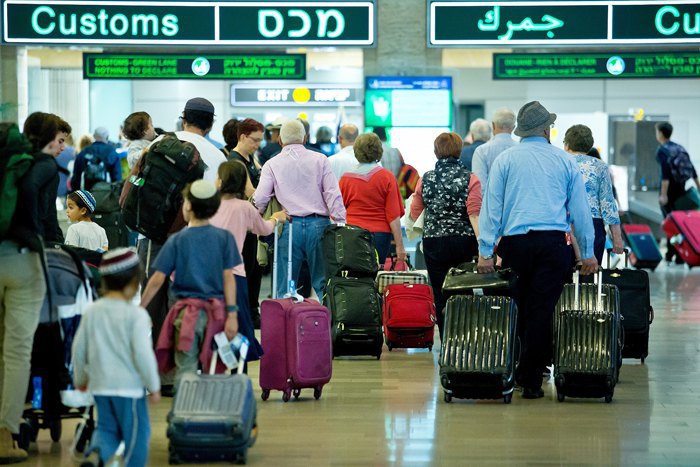 Ben Gurion airport
The reason is that few Ukrainians know about the programme (Kyiv and Jerusalem cannot decide who should arrange and pay for a pubic awareness campaign), and recruitment criteria are very strict.
In these conditions, naturally, organised groups continue to thrive, finding loopholes in Israeli law and, in collusion with Ukrainian travel agencies, supplying illegal workers to Israel, who are brought to construction sites by full buses.
Israeli law provides for strict punishment of employers who use illegal workforce: employers pay high fines, their business can be closed. But although they know about places where illegal migrants work, Israeli services hardly approach them in a systemic mannger while occasional raids fail to solve the problem.
"This is a huge volume of trafficking in human beings: they bring young girls for prostitution, illegal workers who work without medical insurance, without any social guarantees, etc. And it takes a lot of effort to expose these organisations and stop their activities," Israel's ambassador to Ukraine Joel Lion said.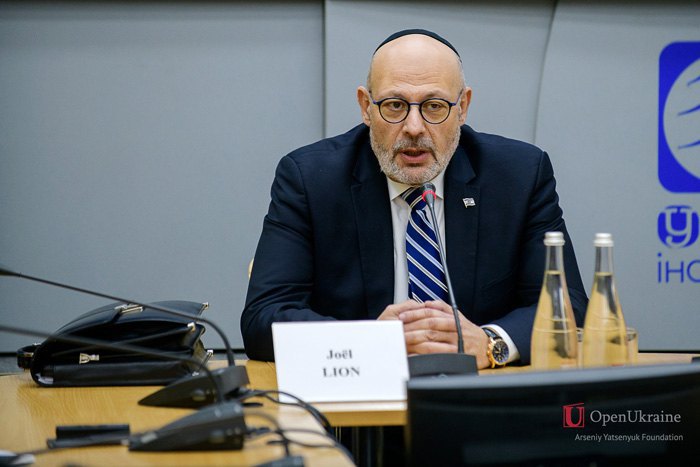 Israel's ambassador to Ukraine Joel Lion
Ukrainians work primarily in construction, in kibbutzes or hotels. They live in groups of two to 10 people. Salaries range from $1,000 to $1,500. Consider this, it is very doubtful that visitors steal jobs from locals.
In total, about 150,000 Ukrainians entered Israel in 2018, or 7% fewer than a year before.
Political problem requires a political solution
The ethical side of Israel's decision to keep 140 Ukrainian passengers in inhumane conditions for seven hours because of 35 careless compatriots is more than an critical issue. Hence the question: why has mutual bans that had long become a routine provoked such a strong reaction from Tel Aviv now, making the headlines?
One explanation is that Ukrainian tourists could become "victims" of Israel's domestic politics. Interior Minister Arieh Deri, who ordered the Ukrainian plane to be detained, is also the leader of the Israeli ultra-religious Shas party. Therefore, his active interference in the situation around the "offended" fellow believers who were stopped in Ukraine is part of his own PR campaign.
"Deportation during Shabbat is contrary to the religious canons of orthodox believers, they are strictly forbidden to fly on this day, they should only pray. We have very strict rules on this here. Although earlier they were also returned, and there were never any questions. Therefore, this incident has a religious and political background," a source in Ukraine's law enforcement told the LB.ua.
Let me remind you that Israel will hold an early election on 9 April. Arieh Deri said that his party would support incumbent Prime Minister Netanyahu.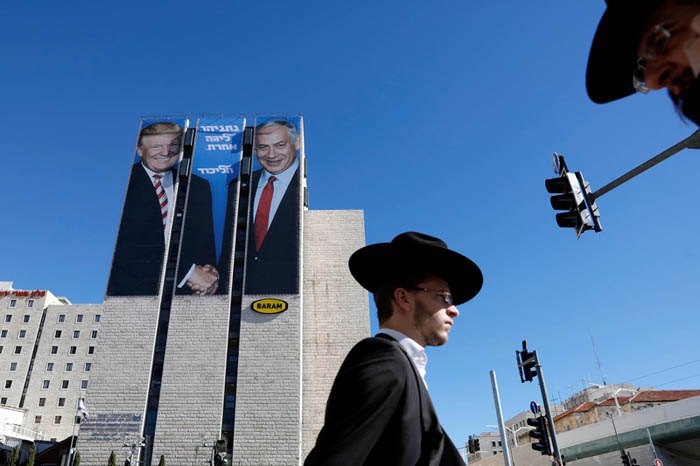 An election poster in Jerusalem on 3 February 2019
Promises to address the problems with denials of entry for Ukrainian citizens have been given at different levels - from the prime minister to the interior minister of Israel - for two years. "If there have been any positive changes as a result of our communication, they are insignificant," MP Lohvinskyy said.
"Unfortunately, the situation has not improved compared with last year. The embassy initiated consular consultations on this issue and they should be held in the near future, in March," Nadolenko said.
And while the situation is far from being settled, the embassies of Ukraine and Israel will continue to closely monitor the situation with the non-admission of their citizens and report on these cases to their capitals. After all, such nervous breakdowns and outbreaks may happen more than once. After all, both countries are about to hold the elections.