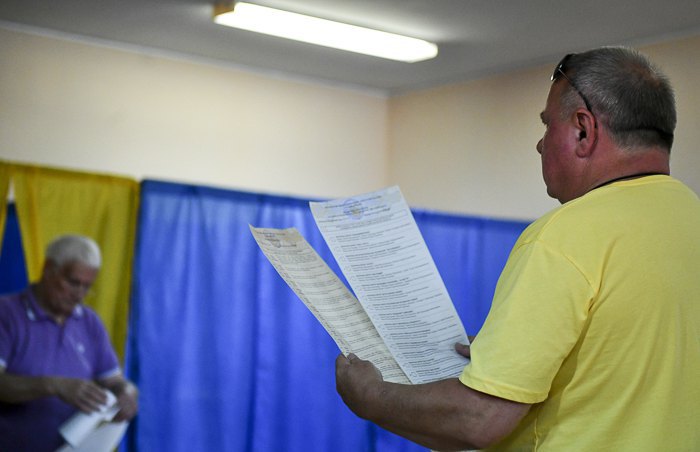 Five parties are set to make it to parliament following the 21 July snap election, according to the first exit poll findings published immediately after the polls closed at 8 p.m. local time.
According to the National Exit Poll conducted jointly by the Democratic Initiatives Foundation, Kyiv International Institute of Sociology and the Razumkov Centre (as of 6 p.m.), these are:
Servant of the People, 43.9%
Opposition Platform-For Life, 11.5%
Petro Poroshenko Bloc, 8.9%
Fatherland, 7.6%
Voice, 6.3%
They are followed by parties which seem to fail to cross the 5% threshold:
Strength and Dignity, 4.4%
Opposition Bloc, 3.3%
Shariy's party, 3.1%,
Oleh Lyashko's Radical Party, 2.8%
Groysman's Ukrainian Strategy, 2.2%
Freedom, 2.1%
Civic Position, 0.9%
Green Party, 0.7%
Self-Help, 0.7%
Agrarian Party, 0.5%
Saakashvili's Movement of New Forces, 0.4%
Power of People, 0.3%
Power of Law, 0.2%
Social Justice, 0.2%
Independence, 0.1%
Patriot, 0.1%
Fakel, 0.1%
The pollsters interviewed 10,551 respondents at 300 polling stations using secret ballot. The margin of error does not exceed 2.5% for leading parties and 0.5-1% for others.