Independence Day
Ukraine marked the 28th anniversary of its independence on 24 August.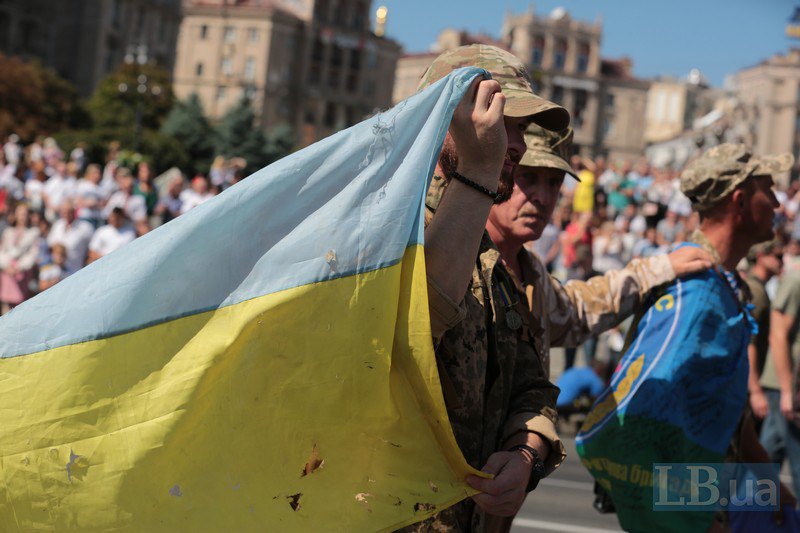 For the first time ever, Donbas war veterans, volunteers and activists held their own march separately from the official celebrations organized by the Presidential Office. The veteran march organised by veteran organisations drew thousands of participants and spectators alike, outnumbering the audience at official events manifold.
According to police, around 12,000 people took part in the march. Accounts as to the number of spectators vary from 15,000 to 50,000.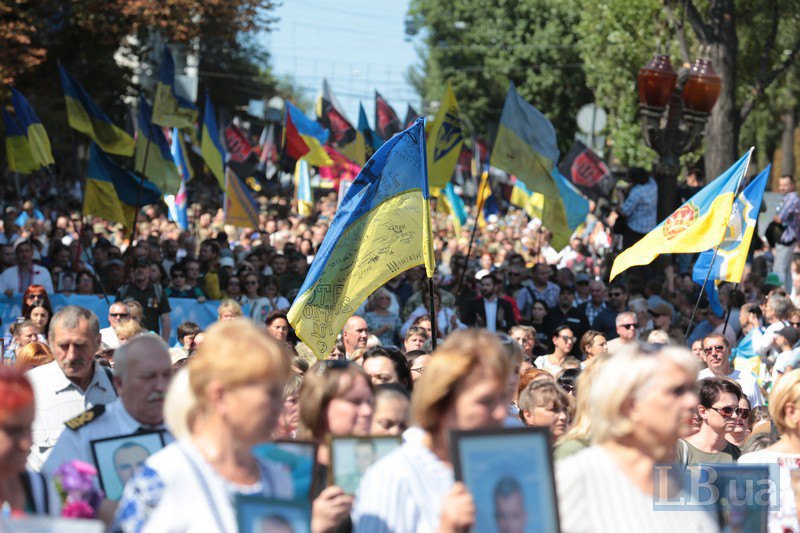 In his speech during the official part of the celebrations, President Volodymyr Zelensky said that Ukraine has a much longer history going back to the times of Kievan Rus, so it "would not be entirely correct to say that Ukraien turned 28". He also compared Crimea and Donbas to "children stolen by your neighbour".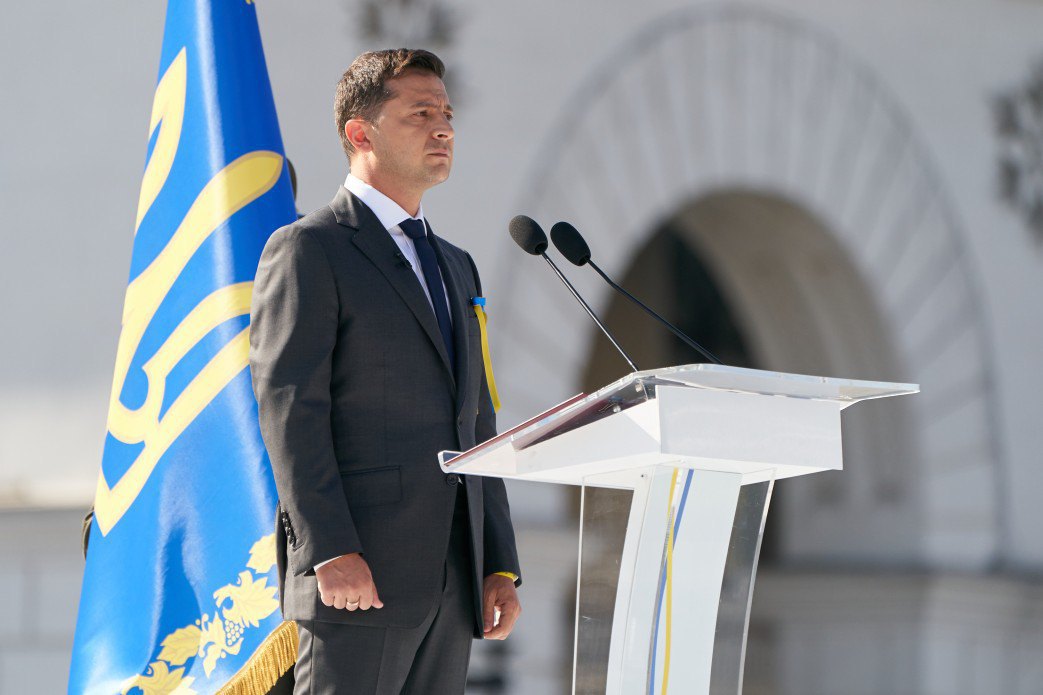 Ex-President Petro Poroshenko has said that Ukraine has to fight for its independence because Russia's Vladir Putin wants to enslave it. Speaking at the European Solidarity HQ on the occasion of Independence Day, he said: "You have to fight for independence, you have to defend independence because only slavery is easy to get."
Poroshenko did not attend the official Dignity March to mark Independence Day, unlike his predecessors. "I respect the president's right to hold or not to hold parades. It is my personal opinion that the warring country should hold [military] parades," he said.
However, Poroshenko attended the Independence Day reception hosted by President Zelenskyy. LB.ua editor in chief Sonya Koshkina made the first ever photo of five Ukrainian presidents together.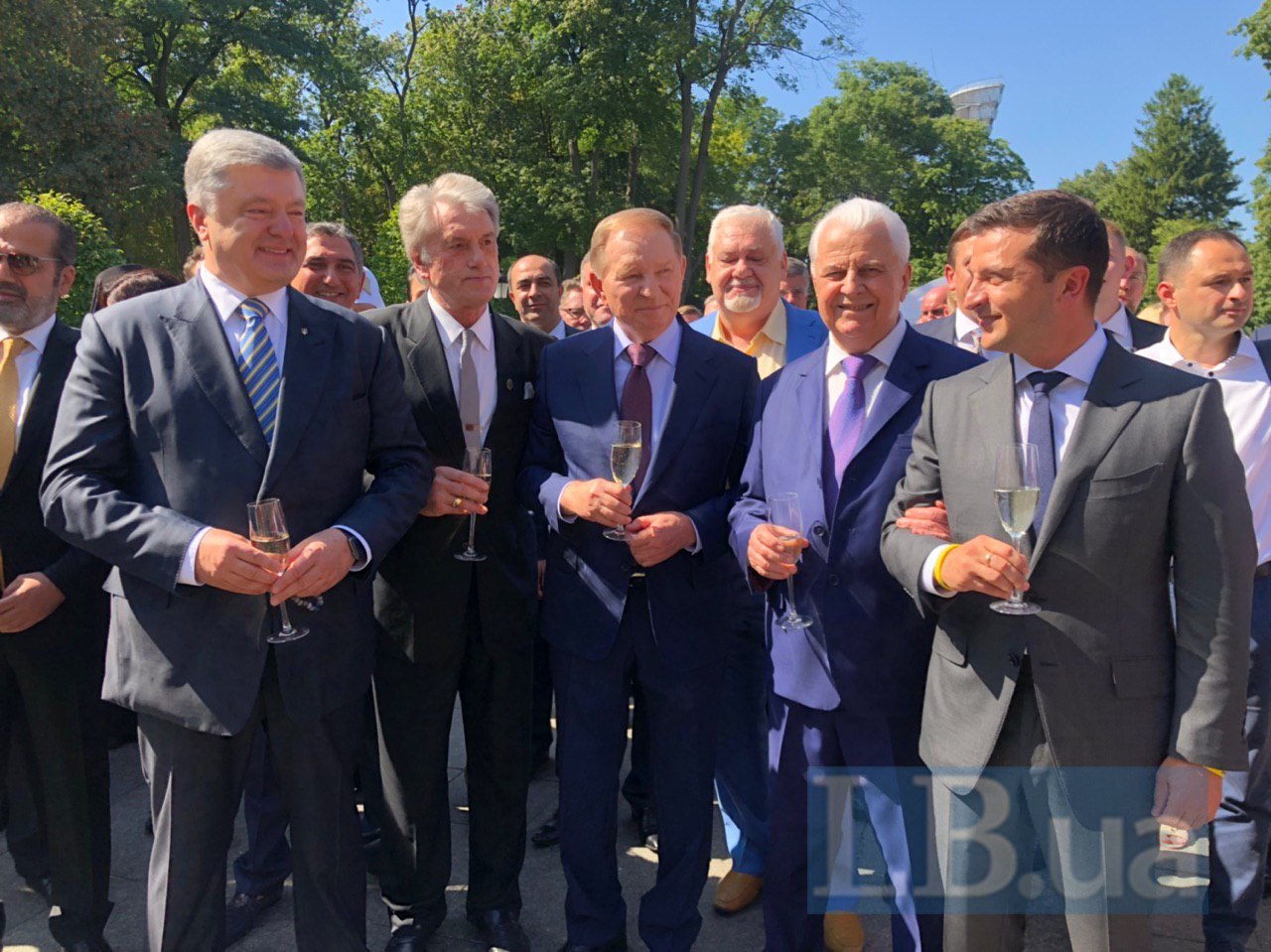 Around 150 activists took part in an event "No to Capitulation" outside the Presidential Office on 24 August. They handed a list of demands to the president. In particular, they want him to cancel Andriy Bohdan's appointment as head of the Presidential Office and rule out giving the Russian language an official status in Ukraine.
Presidential Office
Presidential Office head Andriy Bohdan has been spotted attending the wedding between Ukrainian lawyers Anna Ogrenchuk and Andriy Dovbenko in Saint Tropez, France on 23-24 August, LB.ua has learnt from a source. The president recently included Ogrenchuk in a commission on reintegration of Donbas.
President Volodymyr Zelenskyy is planning to nominate Presidential Office deputy head Ruslan Ryaboshapka for prosecutor-general, LB.ua has leart from a source. Ryaboshapka was in charge of law-enforcement and anticorruption policy in Zelenskyy's HQ.
Zelenskyy has not selected the candidate for prime minister. He said he had two candidates and would make up his mind "this week".
Foreign policy
German Chancellor Angela Merkel has said that the leaders of the Normandy Four countries (France, Germany, Russia, Ukraine) would meet in Paris. This will be preceded by a lower-level preparatory meeting. The Normandy Four leaders last met in autumn 2006.
The Ukrainian Foreign Ministry has condemned the holding of the so-called presidential election in Georgia's breakaway region of Abkhazia, occupied by Russia on 25 August. "Ukraine does not recognize these fake 'elections' and considers them as yet another attempt by the Russian Federation to legitimize the pro-Russian separatist regime of the occupied Georgian territory of Abkhazia," it said.
An event in support of the 24 Ukrainian sailors illegally held by Russia since 25 November 2018 was held outside the Russian embassy in Kyiv. The prisoners of war and activists took part in the event.
Donbas
Four Ukrainian servicemen were wounded in Donbas on 25 August, according to the Joint Forces Operation HQ. One of them died on his way to hospital. He was identified as Vitaliy Sobko from the 35th marine brigade of the Ukrainian Armed Forces.
Ukraine has stopped any work near the bridge in Stanytsya Luhanska until separatists disassemble fortifications on their side. Ukraine has made several attempts to disassemble fortifications but they were not immediately mirrored by the separatists.
Industry
Ukraine has for the first time tested the Cyclone-4-class rocket carrier. The test firing of its third stage, "the final and the most important one" before the flight, test was a success. The carrier was designed by the Pivdenne design bureau and manufactured at Pivdenmash.