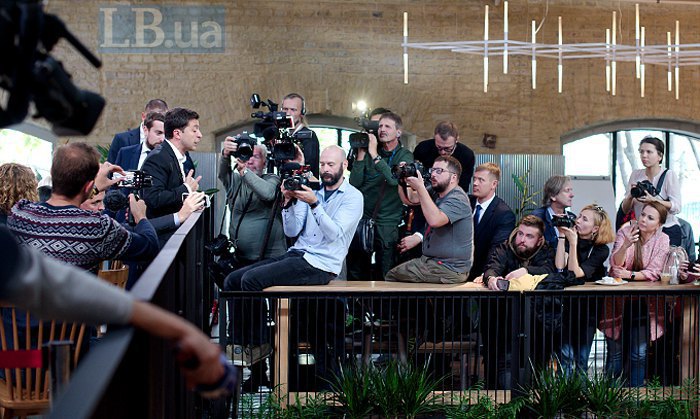 The first stick is "we will determine who is a journalist and who is not". On 6 November,President Volodymyr Zelenskyy signed a decree establishing the Council on the Freedom of Speech and the Protection of Journalists for the purpose of "ensuring the observance of the constitutional right to the freedom of speech, establishing effective interaction of state bodies, mass media, civil society institutions, in particular, in order to prevent obstruction of legitimate professional activity of journalists". Sounds beautiful, right? 
But it just sounds. Right at a preparatory meeting of the Council, journalist Maksym Krechetov, whom the official website of the head of state described as a "representative of the presidential office", said that the body should "deal with the issue of journalists' self-regulation": "This is the issue of a national press card which has been under consideration for more than one year. Because today anyone can print a press ID. Uniform standards of journalism should be spelled out. The editorial policy of each editor's office must be formalized to make it possible to register a violation of these standards by the owner, authorities or journalist." 
Once again: the body created by the president wants to determine who will have the right to be called a journalist and reap the obvious benefits of official status, such as get the answers to their queries, and who will not have them. Besides, the same body wants to dictate the "standards" of journalists' work and even interfere with internal guidelines. To "register a violation". And, of course, to punish for them. 
In the part of the world that is considered free (even given the conditionality of this definition), such functions are usually performed by media trade unions. Or no-one at all. If you are convinced that the media is breaking something, welcome to court. But the governing or controlling bodies for the media, created by the state or under the patronage of the state, are the priority of specific regimes which are called authoritarian or dictatorial.
The second stick is "show your accounting books". Servant of the People MP Oleksandr Tkachenko announced on 6 November that his faction is preparing a bill on mass media in Ukraine, one of the provisions of which will introduce "financial fair play". The idea is not new, he has already talked about it before. However, right now the ruling party came close to its implementation.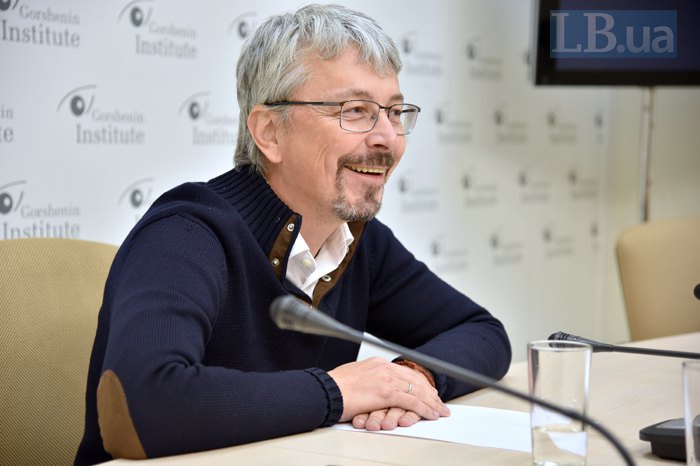 Oleksandr Tkachenko
What is it about? "Ukraine is not the only country in Europe where most of the private media are unprofitable. This creates a suspicion that the owners are influencing journalists. In football, UEFA has had the principle of so-called fair play for 10 years now. You spend as much as you earn, so to say. If, for example, the media has been consistently unprofitable for three years, there is probably a chance of applying certain sanctions," Tkachenko is confident. 
How do such rules correlate with the libertarianism that the Servant of the People supposedly declares? And what to do with Article 34 of the Constitution of Ukraine – "Everyone has the right to freely collect, store, use and disseminate information orally, in writing or in another way at their own choice"? And at their own expense, I will add. Or what to do with the media that is not supposed to generate profit by default?
But these are all sentiments, let us talk about money and losses. Mr. Tkachenko, who headed Ihor Kolomoyskyy's One Plus One media holding from 2008 to 2019, could say a lot of interesting things about unprofitable Ukrainian media. As well as about the influence of TV channel owners on journalists and their content. 
According to market participants, annual financial grants from owners of Ukraine's largest media holdings to cover losses range from $30 million to $100 million. In such circumstances, "How can I be of service?" is the only possible pose of domestic media managers in relations with their owners. 
However, if financial fair play is introduced, oligarchs and their media will suffer the least. Big businesses will always find an opportunity to "pour" money into their media, at least by increasing the volume of expensive and unnecessary advertising of their metallurgical plants on their own TV channels.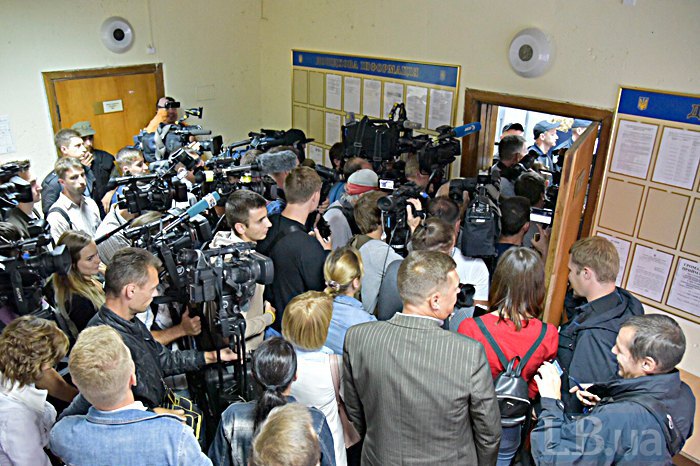 In the meantime, nominally independent middle- and small-sized media will be in jeopardy. Not because they are unprofitable: the small ones are usually more or less okay with money because the absence of a notional Ihor Valeriyovych or Rinat Leonidovych quickly teaches them to live within their means. But because the mere existence of "financial fair play" will mean the return of tax audits. 
Many, perhaps, have long forgotten, and some may not know this because of their age, but in Leonid Kuchma's times, the tax service was the main tool in dealing with disagreeable media. And it does not even matter if there were any violations or not. I well remember from my own experience how easy it was to paralyse the editorial office with tax audits and fines which could kill a small newspaper. I remember how in a matter of a month or two the tax service could scare off almost all advertisers with cross-checks. And I remember tax police officers in masks and with assault rifles who decided to confiscate editorial computers at the weekend to check their software licenses. I remember it so well as if it happened yesterday. And that is why I perfectly understand why Oleksandr Tkachenko needs financial control over the media. Pardon me, "financial fair play".
And, finally, the third stick is "you are arrested for manipulation!". On 6 November – oh, what a day! - Minister of Culture, Youth and Sports Volodymyr Borodyanskyy, who, by the way, is also a former top manager of an oligarchic media holding, said that he would initiate the registration of the bill on changes to the Administrative and Criminal Codes.
"On the concepts and criteria of manipulation of public opinion, manipulation of public consciousness and on the introduction of both administrative and criminal responsibility for manipulation, order and implementation of such manipulation," he said.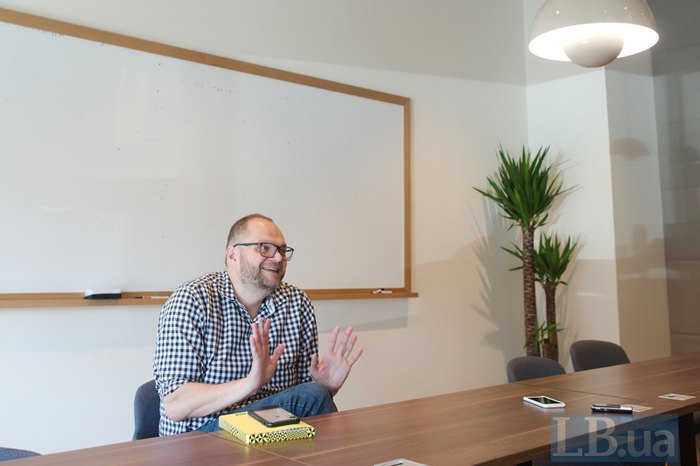 The official acknowledged that "the boundary between free speech and manipulation is thin", therefore, in his view, the state must strike a balance between freedom of speech and protection against manipulation. 
And I can already see how Kyiv's Pecherskyy district court or the district court of appeal determine that boundary in the name of the state. Ukrainian courts can determine many things. Here is an example of one of my own court cases: one of the courts in Lviv recognised the reprint of a text from Polish Rzeczpospolita as an original text since it was published in my paper… not in Polish but in Ukrainian. Therefore, our publication had to answer for the offence of the plaintiff's non-existent dignity. And that was a tricky case: the judge even summoned a philologist for examination. I am sure that they will not go to into so much trouble determining the boundary between freedom and manipulation, they will do this by eye. It cannot happen any other way because the term "manipulation" is so vague and difficult to define that, being implemented in the Criminal Code, it will create simply limitless space for abuse. And for manipulation as well, sorry for the tautology. 
If, however, Volodymyr Borodyanskyy meant punishment for spreading false information, the legislation in effect already foresees it. 
And, in general, if you punish for manipulating the public consciousness, then it should apply to everyone without exception, not only journalists. Why shouldn't the politicians who fooled the country by promising fast peace be held responsible? Like, "you just have to stop shooting"? Or, for example, should the authors and producers of one comic show, who for years have tarnished the reputation of some politicians and created it for other characters, be held responsible? Thanks to this show, by the way, Mr Borodyanskyy became a minister, but I do not know if this circumstance is a mitigating factor.
***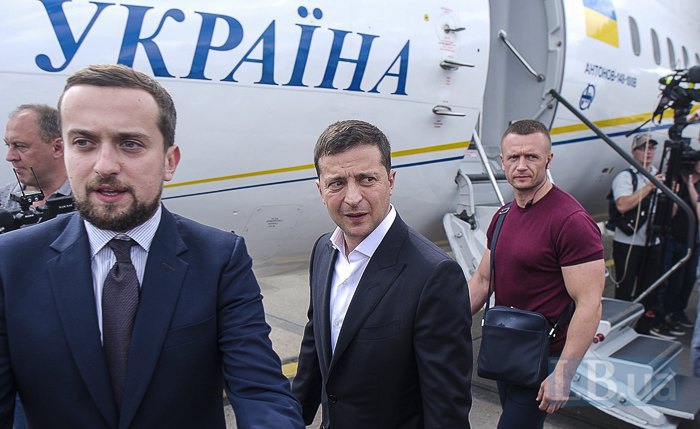 Here is a little prediction instead of conclusions. The team of Volodymyr Zelenskyy will be able to implement the announced changes for the media. The president, as the head of his office says, is extremely sensitive about the negative in the media. And he would surely be glad if there was less criticism. The same is true for MPs from the Servant of the People faction, almost each of whom already has a personal grudge against journalists. Believe me, not only Bohdan Yaremenko would be happy if these annoying creatures got sentenced to three to seven years. 
And all of this will happen with the total "approval" of voters. Let me rephrase Zelenskyy: "Go outside and ask: are journalists lying or not? For sure: if you ask 100 people, 100 people will say yes."
Will the media community be able to hinder these plans? No. Certainly, not. The media community simply does not exist. There are servile and barren "journalistic organisations" and there are some media societies the level of animosity between which is just off the charts. For journalists from large holdings, the problems described above will not increase the level of discomfort because they are accustomed to working under numerous restrictions. The small ones will hope that they will not get noticed. Several organisations will be happy to receive additional grants to fight for free speech. 
And for a while the authorities will think that they have got what they wanted and their goals have been achieved. That all have lined up and are ready to praise them. Yanukovych and his team thought almost as much in 2010-2012 when they thought there were there in earnest and for long.