Belarus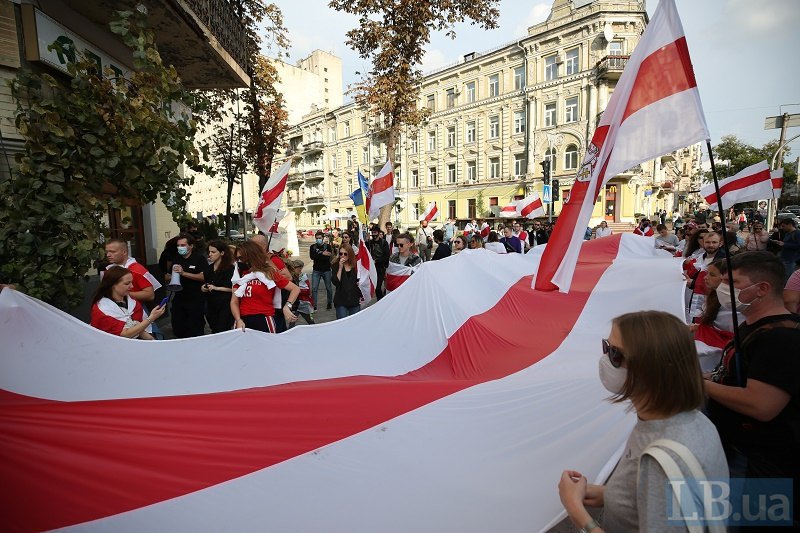 Activists protested outside the Belarusian embassy in Kyiv, urging ambassador Ihar Sokal to resign. Some of the protesters told an LB.ua correspondent that Sokal was allegedly considering resignation in protest against the usurpation of power by Alyaksandr Lukashenka.
President Volodymyr Zelenskyy has instructed the Cabinet of Ministers to legally permit Belarusian IT and other high-tech experts, whose immigration meets Ukraine's interests, to stay in Ukraine for another 180 days. Regulations on obtaining temporary residence permits for them will also be relaxed.
Donbas
None of the Normandy Four leaders doubts the expediency of another meeting, Ukrainian presidential chief of staff Andriy Yermak has told Ukrayina 24 TV. "Then the rhetoric differs only in that someone says: let's do first what was agreed in Paris. There is logic to this. A lot of this has already been done. Someone says that a meeting can already be held. So my personal opinion: this meeting is very much needed, and it is needed precisely in order for concrete decisions to be made," Yermak said.
According to Yermak, it will be up to Ukraine's top negotiator Leonid Kravchuk to decide who will replace his deputy Vitold Fokin in the trilateral contact group on Donbas.
Tank crewman Bohdan Pantyushenko, who had spent five years in militants' captivity and was released during the December 2019 prisoner swap, has returned to his unit on the front line. He said on Facebook that while technical supply was adequate, there was no patriotic upbringing and Ukrainian TV signal was intermittent at best, being overtaken by Russian signal.
Coronavirus
Ex-President and European Solidarity leader Petro Poroshenko has been admitted to hospital with double pneumonia, his wife Maryna Poroshenko has said. She added that one of their daughters had also contracted the coronavirus and is being treated at home.
Local elections
MP Mykhaylo Dobkin has quit the election run for Kharkiv mayor in favour of incumbent Hennadiy Kernes. He said that now that Kernes was recovering from the coronavirus and would seek re-election, he no longer needs to campaign.
Controversial media manager and MP Oleksandr Dubinskyy will head the list of pro-presidential Servant of the People candidates in the election in Kyiv Region.
Law enforcers have detained a group of people who were bribing voters in Bakhmach, Chernihiv Region. The lists of voters found in their car cover over 5,000 people.
Wildfires
Firefighters have put out the fire, which has been raging in Luhansk Region for five days, in all places except the village of Smolyanynove. Eleven people were killed and 11 hurt in the wildfires.