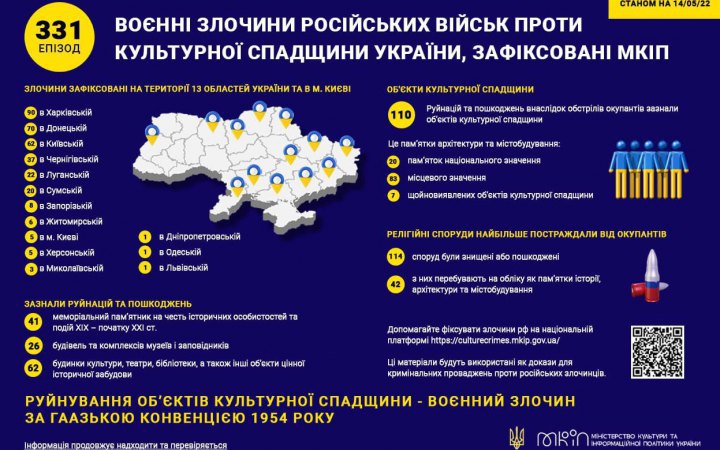 The Ministry of Culture and Information Policy of Ukraine registered 331 war crimes of russians against Ukraine's cultural heritage.
This was announced by the minister Oleksandr Tkachenko.
Most of the incidents occurred in the Kharkiv region – 90.
"During a short period after the statistics of recorded crimes committed by russians against our cultural heritage were updated, they hit the Jewish cemetery in Hlukhiv with a rocket. How do they differ from the fascists who exterminated Jews 80 years ago?"- he noted.
On the Day of Remembrance and Reconciliation, they completely destroyed the St. George Skete of the Holy Dormition Svyatohirsk Lavra of the moscow Patriarchate in the Donetsk region.
In Odesa, an architectural monument of the early 19th century – the Vorontsov Palace - was damaged.
"The occupiers hit the island of Khortytsia, a sacred place for the Ukrainians, once more. It is only barbarians who can destroy our culture so ungodly," the minister added.
The National Museum of Hryhoryi Skovoroda in the village of Skovorodynivka in the Kharkiv region was destroyed being hit directly by a russian missile on the night of 7 May. However, the collection was not damaged – it was removed earlier.