Defence Minister Oleksiy Reznikov released an infographic assessing the remaining missile arsenal of the Russian occupational forces.
In his Twitter, he noted that the Russian missile arsenal has four enemies:
Ukraine's brilliant air defence forces;
inept Russian missile forces;
sanctions;
time.
"Let's demilitarize the terrorist state to live in peace!" Reznikov called.
According to the published statistics, among the ground-based missiles, the occupiers have only 119 Iskanders out of 900 that they had at the beginning of the full-scale aggression of the Russian Federation, and another 48 manufactured during this period (13%), 347 (74%) 3M-55 Onyx out of 470, and 6 thousand 980 (87%) S-300 out of 8 thousand missiles of this type.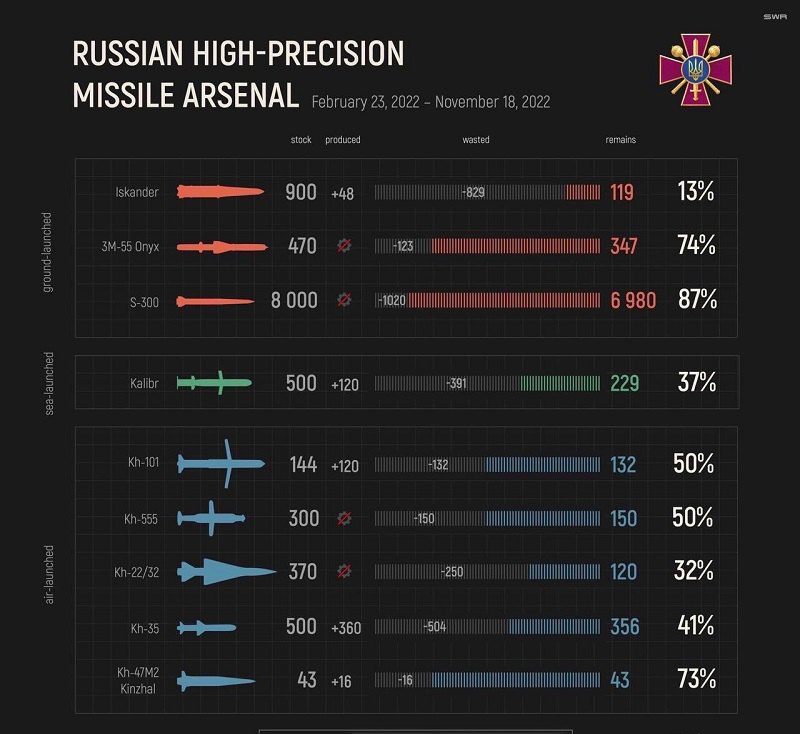 Earlier, President Volodymyr Zelenskyy stressed that over 270 days of the war, Russia had fired more than 4700 missiles at Ukraine.