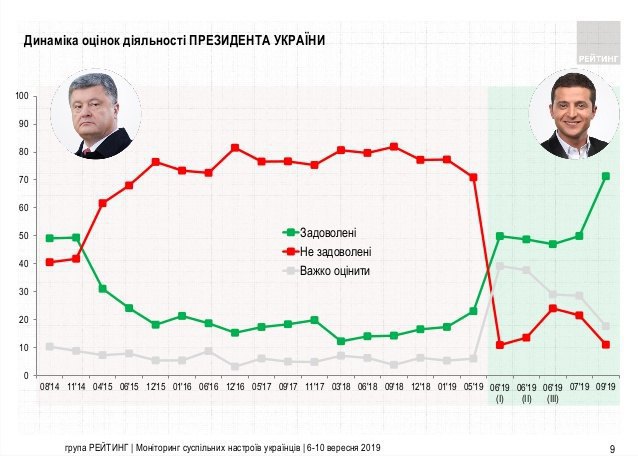 A survey by the Rating sociological group on 6-10 September has found that 71% of Ukrainians approve of President Volodymyr Zelenskyy, 11% disapprove of him and 18% could not make up their mind.
Overall, 55% of respondents said that Ukraine was going in the right direction, 18% said it was a wrong direction and 26% could not make up their mind.
Young people and Servant of the People voters are more optimistic in this regard while senior supporters of Petro Poroshenko's European Solidarity party and the pro-Russian Opposition Platform-For Life party are more pessimistic.
Some 29% of Ukrainians approve of Oleksiy Honcharuk's government, 11% disapprove and two thirds could not make up their mind. At the same time, 39% of respondents approve of parliament and 16% disapprove. Some 45% of respondents could not make up their mind.
Most respondents (over 90%) support an early termination of MPs' mandates over voting for others and truancy, the reduction of the number of MPs from 450 to 300, and the lifting of MP immunity from prosecution.
The survey was held among 2,500 respondents by means of personal interview. The sampling error does not exceed 2%.