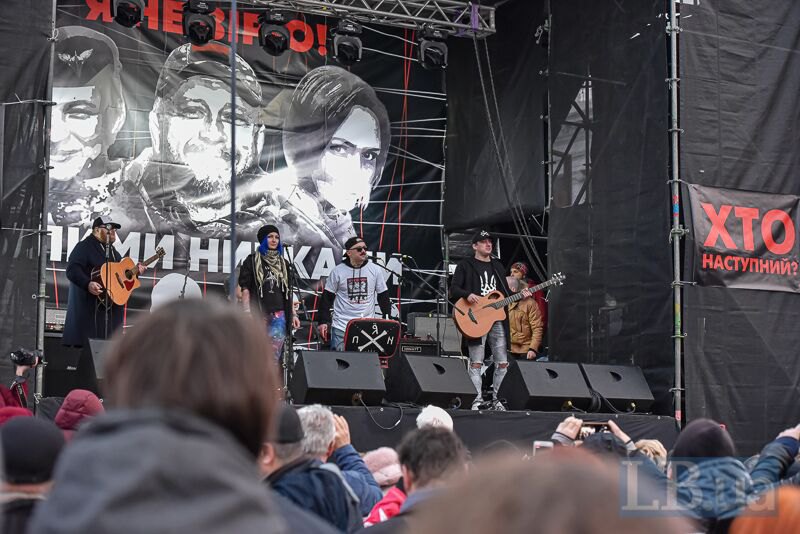 Music protest
A music marathon in support of rock musician Andriy Riffmaster Antonenko, children's surgeon Yuliya Kuzmenko and serviceman Yana Duhar suspected of murdering journalist Pavlo Sheremet in 2016 was held in central Kyiv under the motto "I do not believe it! Who's next?" on 22 December.
A rally demanding the dismissal of Interior Minister Arsen Avakov was held outside his office on 22 December. Over a dozen of activists accused the minister of failing law-enforcement reform, selective vetting, unprofessionalism and falsification of investigations.
Casualties in Donbas
One Ukrainian serviceman was killed and another wounded in Donbas amid five attacks by pro-Russian militants on 22 December. The attacks took place near Pisky, Talakivka, Krasnohorivka, Krymske an Novoluhanske. On 21 December, there were six ceasefire violations.
All Ukrainian servicemen, regardless of their ranks, will study English as of 2020 to be able to understand staff manuals and communicate with their colleagues during international exercises, according to General Staff deputy chief Serhiy Nayev.
Gas deal with Russia
Naftogaz Ukrayiny will act as an intermediary between Russian Gazprom an Ukraine's new gas transport system operator, according to Naftogaz executive director Yuriy Vitrenko, who signed a gas protocol agreed by Ukraine, Russia and the EU. Gazprom will have to sign a five-year contract with Naftogaz on the transit of a certain volume of gas for which Naftogaz will book the gas transport system operator's capacities. Gazprom will pay Naftogaz which will then pay the operator. A new gas transport contract for 2020-2024 is expected to be signe by 29 December. At least 65bn cu.m. will be transported in 2020 and 40bn cu.m. in 2021-2024.
Reaction to Putin
Ukrainian Foreign Minister Vadym Prystayko told off Vladimir Putin over his remarks about some regions of Ukraine being "original Russian territories" and warned him of a "bad end for those who eye someone else's land".
Money problems
The State Treasury has unblocked budget transfers to the regions, according to the head of the Lviv regional council, Oleksandr Hanushchyn. However, he was not sure the budget could handle all end-of-the-year payments. Earlier, the Finance Ministry restricted the financing of expenditures because of Ukraine missing its budget revenue targets.
The presidents of a number of national Olympic sports federations, such as rugby, ice-hockey, basketball, boxing and track-and-field, complained to President Zelenskyy and speaker Dmytro Razumkov about the suspension of funding. They said that given that some federations have accumulated debts for services delivered in 2019, some athletes have to cancel training camps during the final stage of preparations for the Olympics.
Border queues
Lorries have formed a queue stretching for several kilometres on the Polish-Ukrainian borer. In some places, according to various media reports, the queues span several dozen kilometres, with vehicles waiting in the line for a couple of days. The head of the State Customs Service, Maksym Nefyodov, apologized and said 12 checkpoints will be reconstructed or completed next year.
Local elections
Eighty-six united territorial communities in 21 regions had their first local elections on 22 December. Over 380,000 voters are expected to take part. Twenty-nine political parties are running.
Hanukkah
President Volodymyr Zelenskyy congratulated Jews on Hanukkah, "the holiday full of joy from communication in the family circle, good deeds and sincere hopes for the Lord Almighty's merciful love". The organisers of the concert are confident that the charges do not hold water, suspecting political motives and attempts to suppress the active members of society.
Cyber defence
Zelenskyy enacted a decision of the National Security and Defence Council (NSDC) to step up Ukraine's cyber defence capacity. NSDC Secretary Oleksiy Danilov will be in charge of this. No details of planned cyber defence efforts are provided.